Diplomatic doldrums: green policy gets the short straw
07/09/2012
It has just been bad news followed by more bad news for the environment this week.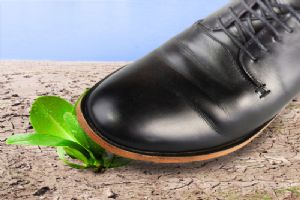 A reshuffle that couldn't have put two fingers up to the planet any more emphatically has really got greens livid. These were moves by the Government that just make no political sense other than clinging on to power for powers sake.
"Let's just shuffle around the less important jobs to show the public that we are in control of this Coalition," must have been the hurried mutterings of David, George and Co. And of course the 'less important jobs" were naturally environment, transport, planning, waste – it's harder to count the heads that haven't rolled than it is the heads that have.
It seems surrealistically silly that some green lobbyists have welcomed (albeit cautiously) the appointment of Owen Paterson as the new head of Defra. Caroline Spelman had her foibles, notably attempting to sell-off our forests, but it can safely be said that many of the green persuasion thought she was just starting to serve her sector well. She pushed through compulsory carbon reporting requirements and was helping to broker an international agreement on biodiversity and wildlife protection.
Owen Paterson on the other hand is an on-the-record renewables opposer. He wanted to end all energy subsidies, fast-track the exploitation of shale gas and review airport expansion policy. He also said that wind farms were "clearly a "massive waste of consumers money." This after just last week when a report from an influential think tank proved that wind power could reduce carbon emissions and is a reliable source of energy for the UK: 'unequivocally'.
I suppose it's true that green groups have no choice but to welcome the new head of departments – you may as well not pick a fight before one has begun (one that you are almost certain to lose).
Andrew Pidleton, spokesman for Friends of the Earth told me that "politicians say all sorts of things when not in office," so they were not concerned. For me, though, that's not how it should work – leaders who have such a crucial say on our environmental impact should have integrity and backbone. It sounds naïve I know, but you either care about the planet and the future, or you couldn't give two hoots – I'm afraid you can't change with the wind on that one.
Privately though? Greens will be getting hot under the collar. There is no doubt that green-energy, waste and everything they hold dearly has become the casualty in a war a few former Bullingdoners are waging in a bid to stay in power.
Just look at the last minute arbitrary sacking of the waste minister yesterday. Many greens were genuinely sad to see him go.
Steve Lee, chief executive of the Chartered Institution of Wastes Management, tweeted: "Sorry to see Lord Taylor go as waste minister - seemed pretty genuine. Not yet known who is taking over or if same remit. Lets wait and see."
We've covered the Heathrow expansion U-turn extensively; it's plain for all to see what's going on there – if the Government gets its way there will be a third runway at Heathrow. Just not until after 2015.
Justine Greening apparently shouted at Cameron when he did a Lord Sugar at her and quite rightly so. She had only been in office for 10 months and her position on Heathrow expansion, the same one as the Government manifesto, was something she wouldn't back down on. Loyalty clearly doesn't pay with George and Dave.
The new planning Minister's appointment strays into the manifestly bizarre but it is certainly journalistic gold dust. Nick Boles, the planning Minister who denies there could ever be a role for planning – now we've heard it all.
Here's Boles in 2010: "I mean, bluntly, there comes a question in life – do you believe planning works? That clever people sitting in a room can plan how people's communities should develop? Or do you believe it can't work?

"I believe it can't work, David Cameron believes it can't, Nick Clegg believes it can't. Chaotic therefore in our vocabulary is a good thing." - The rest is here for your amusement.
Meanwhile, the case of the energy Minister Charles Hendry who bent a sympathetic ear to the plight of those concerned with cutting carbon is just sad. Greens are up in arms over his departure and who comes in? Another enemy of wind power of course - John Hayes.
What we've got here is a doomed desperate Government that is hanging on to power at the sake of the environment. Like Tony Blair recently said, reshuffles are hard. They require the diplomatic finesse of an Ecuadorian residing in the British consulate in Sweden but it seems like Cameron is disgruntling more than he is placating.
Desperate attempts to clutch back popularity seem to have taken priority while green policy from the, let's not forget, 'greenest ever' government is falling by the wayside.
Conor McGlone
Conor McGlone