Floods - the first step is admitting we have a problem
13/02/2014
Ignorance is bliss they say. But when you're a CEO wading through two feet of water, watching your business quite literally sink, ignorance is no longer an option.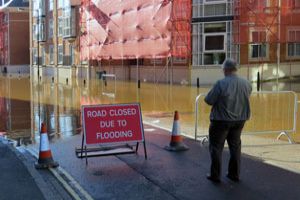 The extreme weather of late is creating anxiety amongst businesses and communities in the UK with those at risk keeping a close eye on the terrible flooding experienced in the South West.
One by one, MP's have waded their way through parts of the country like Somerset, where the storms have been worst felt. With some in wellington boots and others in shiny brogues, the MPs are speaking to farmers, business and the public on what needs to be done.
Just last week, communities' secretary Eric Pickles apologised for the "mistake" made by the Environment Agency to not dredge the rivers.
Since then, a media frenzy, fuelled by the slanging match between Government departments and agencies, has developed, doing little for those who have fallen victim to the floods. Disasters like this often become a 'who done it' scapegoat mission, with little energy left over to establish a feasible and sustainable solution.
The only positive that could come out of these terrible events is that MPs, businesses and the public receive enough of a shock (and potentially a window into the future) to begin establishing long-term solutions. Admitting that we have a problem – not just a short-term problem, but a potentially long-term problem that is likely to get worse – is the first step to overcoming the challenges.
"None of us can afford to continue with our heads in the sand – flooding is here to stay," says Dr Tim Harries, a leading expert on the public response to flood risk based at Kingston University.
Harries says we must get better at dealing with this type of weather.
He is currently conducting government-funded research to find out why so few small and medium-sized businesses plan for possible flooding, and how they can be encouraged to do so.
"Flooding is becoming part of normal life in the UK and we need to accept that and adjust to it. Previously, we've tended to view floods as 'acts of God' – something that shouldn't happen and very rarely did.
"If we accept this new reality, we will also be more able to adapt to it using the many practical and organisational means at our disposal."
Like most climate change related action though, it seems again that it has taken a terrible event, impacting thousands of people, to prompt any real efforts into how we're going to live in a more volatile climate.
Leigh Stringer