Is business developing a drinking problem?
12/08/2013
Growth can be a dangerous thing when you've got a consumption problem. The more money in your pocket the less of an issue it is to go out and heavily consume. The two go hand in hand; and to maintain this level of cash flow you have to consume more'¬¦it's simple mathematics.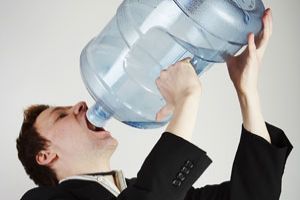 Like an alcoholic, businesses are struggling to cut their consumption. Unlike the majority of alcoholics, their wallets are growing. Despite the economic troubles of the last few years, many major businesses have strategically expanded and continue to increase their bottom lines.
This has come at a cost and although the majority of businesses, in many cases, are highlighting their sliding CO2 emissions, water consumption in some industries is rising.
The reasons behind this vary, but the trend is plain to see.
In June, global business and financial information provider Bloomberg reduced its 2013 water reduction target by 6.3 million gallons after the company concluded that the initial goal was 'too aggressive'.
Major diamond company De Beers recently announced that it used 42.9 million cubic metres (m3) of water in 2012, a 5.8% increase on 2011.
Another increase was announced by Johnson Matthey who reported an 11% increase in water consumption in 2012/2013 compared with 2011/12, primarily due to an increase in production and new plants coming on-line in India and the US.
Last week, Australian telecommunications company Telstra's announced that its water consumption rose by 7.5% year-on-year in 2012, mainly due to increases in data load in the network and associated use of air-conditioning.
It gets worse. Telecommunications giant Orange revealed that its water consumption actually increased by 7.8% in 2012 from 2011, despite the company officially reporting a reduction of 36%, an error uncovered by edie in June.
Some worrying tendencies from some of the world's largest firms but it's not all bad news, as on the other side of the coin some of the particularly water intensive industries are making some considerable progress.
Ahead of the pack, for obvious reasons, is the beverage industry. Coca-Cola, Diageo and Bacardi, for example, have made substantial dents in water use.
Diageo announced that it is on track to reach its water efficiency improvement target of 30% by 2015 after seeing progress of 7.2% in 2011.
Coca-Cola Enterprises (CCE) continues to lead most major companies on water efficiency, recently recording its lowest level of water used to make one litre of product. CCE achieved a water use ratio of 1.4 litres of water per litre of product, down from 1.43 litres per litre of product in 2011.
Bacardi improved its water efficiency per unit of product by 11% in 2012 compared to 2011, due to increased production volumes and water efficiency measures.
Although water use is rising up the corporate agenda, the physicality of actually making improvements is proving challenging for many in the business world. Those who have carried out extensive research and fully understand their water use are succeeding while others are still trying to get to grips with their data and reduction measures. What is reassuring, however, is that everyone, from SMEs to major corporations are climbing aboard to raise corporate awareness and tackle this increasingly important issue.
Leigh Stringer