'The plan is working' says Osborne but is it working for the environment?
06/12/2013
Yesterday's Autumn Statement was unsurprisingly awash with facts and figures on the UK's previous, present and future economic situation. Equally expected was the little mentioning of how the Government's fiscal plan is incorporating environmental security.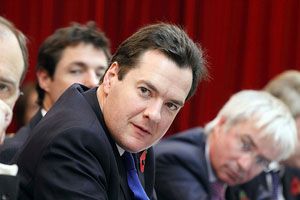 As usual, the Chancellor skimmed over the pressing matter of environmental conservation and resource security, fundamental to our economy, in favour of stabilising the UK's debt crisis through austerity measures.

Don't get me wrong, the economic situation needs to be addressed with fierce attentiveness but when the Chancellor talks about creating a sustainable economy without mentioning concerns around resource scarcity and climate change, it's hard to take the man seriously.
For the past few years businesses and sustainability professionals have been screaming from the hill tops that for economic prosperity, environmental considerations must be incorporated. We've heard it time and time again - the 'two go hand-hand'.
But has the Government heeded these calls? I'm not so sure. Again, it's hard to accept the Coalition's strategy when it barely mentions the need to cut carbon emissions in spending plans covering the next five or so years, particularly when it claims to be the 'greenest Government ever'. Ok, the Chancellor mentioned shale gas and nuclear but are these the answers to reaching our carbon emissions targets?
The Government's plans to roll-back green levies such as ECO, and instead provide tax breaks for shale gas firms is going to anger environmentalists across the land but will they find solitude in the fact that offshore wind power is getting the backing the industry has been calling for? Or will they sink their teeth into the Government's decision to cut onshore and solar subsidies? I know which one my moneys on.
You would have expected, with the recently published research from the IPCC and WMO, which provides clearer evidence that man (and woman!) is largely responsible for climate change, that the Government would step up to the plate and get behind securing our resources and natural habitat, not only for the good of the country but to encourage a renaissance of a once booming economy.
The Chancellor said that part of a Government's role was to make difficult decisions and see them through to the end – but if Mr Osborne continues down this road the end may be more in sight than he thinks!
Quite an exaggeration you might say but funnelling this in to the language of economics and you soon realise that 'green growth' is a term battling its way through the political cosmos and the likes of Cameron and Osborne don't seem convinced quite yet.
Leigh Stringer