The turbulent future of drinking on planes
11/04/2013
Many of you will have enjoyed a glass of wine on a comfortable long haul flight to some exotic destination - for many it's the beginning of a much deserved break. Unfortunately, both luxuries could be next on the climate change hit list.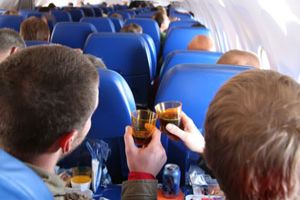 Published this week, a study by Conservation International found that a warmer climate would make growing grapes in the traditional wine countries far more difficult.
It also predicts severe declines in wine production from some of the world's most beloved wine regions, such as the Bordeaux and Rhone regions in France, Napa Valley in California and Tuscany in Italy.
However, a lack of wine is not the only inconvenience to booking a flight. Unfortunately, the wrath of climate change is going to affect the journey itself. According to a separate report, published on Nature Climate Change, climate change will increase the strength of turbulence by up to 40% by 2050.
"Our results suggest that climate change will lead to bumpier transatlantic flights by the middle of this century. Journey times may lengthen and fuel consumption and emissions may increase.
"Aviation is partly responsible for changing the climate, but our findings show for the first time how climate change could affect aviation".
Speaking to wine enthusiasts and those with a fear of flying, both reports have clearly dampened the mood this week. However, it's the industry's that are likely to take a hit, as investors look elsewhere for potential wine havens and travel customers look to other forms of transport for their holidays.
A cause for concern perhaps, but delving a little deeper and it seems that wine production is not necessarily on its last legs. Climate change may simply shift wine production to areas that have previously been considered unsuitable, while those producing in the potentially impacted areas have looked at different cultivation methods such as heavy misting of vines in the dry seasons.
The aviation industry seems equally prepared as many of the major airlines claiming that pilots are well-trained in dealing with and often avoiding turbulence – it also says technological advances will continue to help airlines tackle the issue.
All is not lost it seems but what is clear is that simple luxuries that we take for granted on a daily basis are being affected by climate change. Not only this but some of our oldest industry's must now look to the future and prepare for a potentially different way of operating in a rapidly changing climate.
Leigh Stringer