Water crisis sends ripples through the corporate world
01/11/2012
The word 'crisis' usually stirs up mass hysteria and many use it in a haphazard manor to gain the public interest. However, there are times when it is used under appropriate circumstances and this week clarified, for me, the need to use the word 'crisis' when it comes to global water risk and scarcity.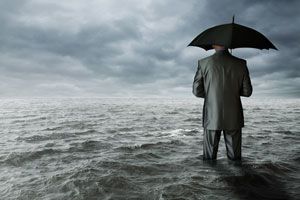 This week I attended the Corporate Water Risk 2012 conference in London and spoke to several sustainability managers about the increasing challenges businesses and, more dramatically, the earth's population face when it comes to the future of water security.

Some interesting points were made but one discussion stuck in my mind. Commercial director of Thames Water, Piers Clark, showed the audience what the future may hold in terms of supplying the UK with fresh water.

Fairly outrageous ideas have been proposed, such as floating tankers that hold millions of gallons of Icelandic water which are carried down to the UK coast to act as large water balloons, available for us to tap into in times of water scarcity - some may think a ridiculous concept but a genuine vision. It gets worse.

An image of a small ship dragging a huge iceberg across the ocean was also shown. Apparently one of the few ideas on the table is to drag icebergs from the Arctic to the shores of the UK.

As the crowd laughed hysterically, Clark pointed out that these are genuine ideas and that water is becoming such a valuable resource that we need to take drastic measures. It was also made clear that reducing water consumption is now essential if we are to ensure future generations have a clean water supply.

The earth is covered in 70% water but only 0.7% of global water is fresh and available to the population. This, to me, immediately causes concerns, especially when climate change is severely changing weather patterns.

This year the UK recorded some of the strangest weather to date. Down pours went on for days while huge signs warned us of the terrible draught we were facing. However, delving a little further and you soon realise that just because you have a few days of rain it doesn't mean your water supply has been nicely topped up. It can be months before a down pour reaches our taps.

Another point that was made is that wet summers and dry winters are bad for our water supply. A wet summer does little for our supply as the heat lifts the water straight back into the atmosphere leaving little fresh water to store. We rely heavily on wet winters and as climate change continues to pick up pace, wet winters are certainly not a guarantee.

As these concerns were raised it was a relief to hear that many of the people in the room, of which a high percentage were management of SME's and large corporations, viewed reducing water consumption and becoming water efficient as a high priority.

This was also made clear in early October when business leaders, responding to a survey by edie and Temple Group, said that water efficiency has climbed up the corporate agenda, ranking it fifth in their efforts to improve resource efficiency.

According to the study, Why are business leaders prioritising sustainability?, almost half (49%) of the survey respondents will be carrying out more detailed water footprint analysis by 2014.
These figures suggest that maybe the word crisis has proved useful in this sense and with more and more businesses realising the need to become 'water positive', we can now take the bull by the horns and tackle the water issue head on.


Leigh Stringer