Will the apparent pause in global warming threaten sustainability?
09/01/2013
Last year we were engulfed with reports suggesting that global warming is getting way out of hand, while preventing a significant rise in temperature is apparently near impossible.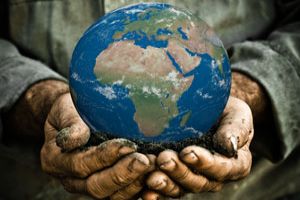 This year, however, we have been gifted with some New Year cheer, if the latest research is to be trusted.
In the first few weeks of 2013 – a year where the world was in fact supposed to end – we heard that global warming may have 'paused', or at least slowed down.
The Met Office revised its global warming predictions recently and claimed that over the next five years temperatures may not rise to levels previously expected.
Lowering global warming predictions to 0.43°C above the long-term (1971-2000) average during the period 2013-2017, from the previous estimation of 0.54°C, may not mean we've fixed the issue but it is the first sign of progress reported in some time.
Sceptics may say this is insignificant and that short-term predictions mean little for the future of the planet. They may be right but why not jump on this thread of optimism and use it to push progress even further.
Adding to this encouraging news, the World Meteorological Organization (WMO) said in late December that the Antarctic ozone hole was smaller than in recent years.
On 28 December 2012, the WMO said: "The temperature conditions and the extent of polar stratospheric clouds so far this year indicate that the degree of ozone loss will be smaller than in 2011".
It doesn't stop there – last week, the Wall Street Journal published a story suggesting that satellites are now confirming that the amount of green vegetation on the planet has been increasing for three decades.
"This will be news to those accustomed to alarming tales about deforestation, overdevelopment and ecosystem destruction," it adds.
According to the report, between 1982 and 2011, 20.5% of the world's vegetated area got greener, while just 3% grew browner, adding that the "rest showed no change".
This hopeful and encouraging start to the year is certainly a welcome contradiction to the worry and concern seen in 2012.
But, what impact will this have on our drive to become a sustainable planet?
You could argue that the 'scare factor' has actually pushed the drive for sustainability at a public, corporate and governmental level and that this flurry of encouraging announcements could actually slow the need to tackle environmental issues.
The concern comes with those who may take the view that this progress is a chance to relax and take a step back from environment and sustainability programmes and choices, when in fact we should be working harder to make this impact even bigger.
If the reports are accurate, we should be celebrating the fact that we are more capable of creating change than previously thought.
It is a sign that the hard work being carried out, through government legislation, corporate sustainability programmes and the socially responsible choices made by the public, are all having the positive impact that some were sceptical about.
Leigh Stringer