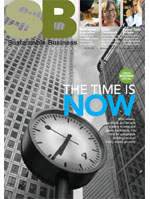 Editor
Will Parsons
tel: 01342 332 069 will.parsons@fav-house.com

Sales manager
David Baldock
tel: 01342 332 068
david.baldock@fav-house.com

Publisher
Angela Himus
tel: 01342 332 060
angela.himus@fav-house.com


Sustainable Business understands the need for sustainability to influence core business strategy. And through comprehensive case studies, analysis, interviews and commentary, we aim to help companies reduce the risks - and find the opportunities - thrown up by the low-carbon and sustainability agendas.

Launched in 1994 (as Environment Business), SB has evolved to keep pace with shifting corporate strategies and changing business models, delivering information and education in a refreshing, authoritative and accessible way. SB's readership encompasses senior executives and decision-makers across a range of important and influential sectors - professionals that are responding to, and helping to shape, the global sustainability agenda.

Keen to get away from corporate sustainability as a concept, SB explores 'smarter' corporate strategies that adopt green thinking; it needs to be about doing business better and smarter, as opposed to greener, if sustainability is to be truly embedded into the decision-making process of companies the world over.

At the heart of the SB offering is a fantastic bank of case studies, something our readers continuously tell us are invaluable in their quest for solutions, ideas, help, advice and information.

Sustainability in business is a huge subject, but by focusing hard on the core strategic issues of: corporate strategy; supply chain management; stakeholder engagement; brand, reputation and communications; technology and innovation; policy and standards; and investment, SB aims to give readers a consistent editorial framework for news and features, alongside interviews, practical advice and guidance, cross-sector benchmark-ing, 'blue skies' thinking, market intelligence and technological solutions that will genuinely provide sustainability leadership for business.

These are exciting times in the evolution of corporate sustainability and SB will continue to be the number one destination for those seeking best practice, analysis and commentary on smarter strategies that place sustainability at the heart of the business response to today's challenging economic, social and environmental issues.

We hope you will join us in leading the sustainable business community through this new paradigm.