Government calls for industry feedback as it prepares for CCS deployment
The Government reaffirmed its commitment to establishing a strong Carbon Capture Storage (CCS) industry in the UK with a scoping document released today (August 7) which summarises the CCS policy and calls for industry feedback.
The document sets out Government aims to continuing engaging with the industry in order to seek views for the second phase of CCS deployment.

It states the current White Rose and Peterhead projects could form the first phase of CCS deployment in the UK by testing the technology and creating the infrastructure needed for subsequent projects. DECC said the Government was thinking ahead to future phases of CCS deployment and called for views on the policy.

The UK is currently working on a £1bn CCS commercialisation programme as well as investing £125m in research and development as part of the Government's 2012 CCS Roadmap. Developments in CCS include the Peterhead project in Scotland which will capture 85% of the CO2 from an existing gas fired power station and the White Rose project in Yorkshire which aims to capture 90% of the CO2 from Drax's coal and biomass plant.

The document set out questions for the industry in order to further develop CCS. One of the key questions was how to stimulate private investment in providing an effective infrastructure to support CCS.

Government commitment

DECC Secretary of State Ed Davey said: "The UK is leading the world on CCS and the Government wants to make sure that Britain will be in first place to export this knowledge to a decarbonising global economy."

"The Government is strongly investing in developing a CCS industry in the UK that can compete on cost with other low carbon technologies. CCS will help us reach our goal of reducing carbon emissions by 50% from 1990 levels more cheaply while supporting over 15,000 jobs per year."

Davey called for industry responses to the document to help the Government plan the UK's future energy infrastructure.

Next steps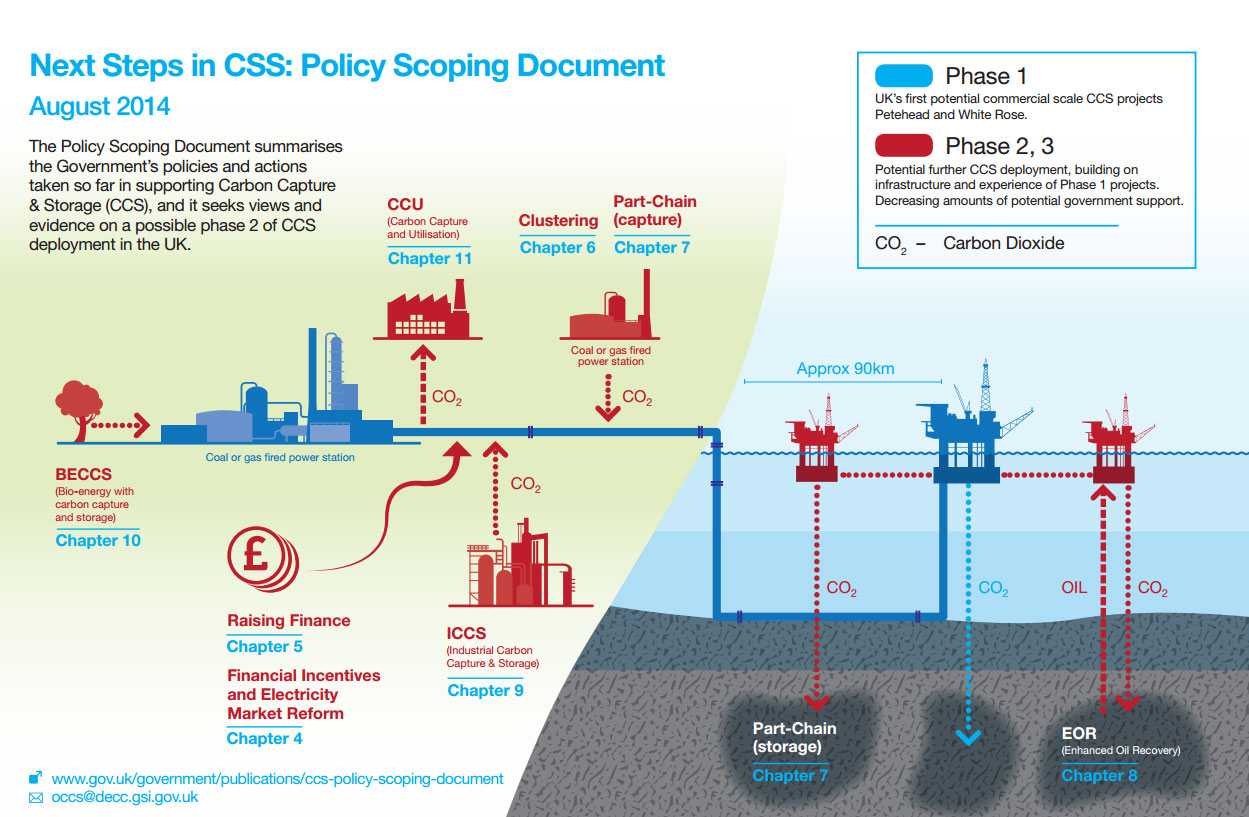 The announcement was welcomed by the Energy Technologies Institute (ETI), which represents energy industry giants including BP, EDF and Shell. ETI programme manager for CCS Andrew Green said: "We have long argued over the importance of CCS to address long term emissions reductions and provide a potentially strong economic prize to the UK. Without a national CCS infrastructure the cost of reaching UK Climate Change targets will double.

"We welcome DECC's leadership to create a policy framework and financial support for this fledgling industry: this scoping document reflects both the complexity of developing an all-encompassing policy framework and DECC's commitment to work collaboratively with all stakeholders to make CCS a compelling economic case for the UK to implement."

Davey concluded his message to the industry by calling for their engagement on furthering the deployment of CCS in Britain: "I offer this Policy Scoping Document to stimulate discussion and look ahead to further engagement over the coming months on how we can make Phase 2 of CCS deployment in the UK a reality."

You can download the Government's full report here: Next Steps in CCS - Policy Scoping Document.

Matt Field
© Faversham House Group Ltd 2014. edie news articles may be copied or forwarded for individual use only. No other reproduction or distribution is permitted without prior written consent.