Air Pollution Solution and Prevention
The single point solution for air pollution control plant and incinerator service and spares. We can supply proprietary and OEM spare parts competitively, many from stock. Our knowledge base is second to none for the services we offer and are able to provide you.

This product listing page has now expired, for more information please contact Envirocombustion Systems Limited


Related Products & Services

Until recently, city administrators and planners believed that the use of construction techniques involving surface trenching was the only option for the construction and repair of utility services. It was assumed that existing services were in good condition unless there was evidence to t


AAC NITROSORB is an independently tested and verified dry chemical scrubbing product that is designed to help planners and developers to comply with the EU Directive 2008/50/EC (The CAFE Directive) European Union Air Quality and Clean Air for Europe 2008.


At AAC Eurovent we have extensive experience in the design, manufacture and supply of standard and bespoke Carbon Filter products for the effective removal of Hydrogen Sulphide in sewage treatment applications.


AAC Eurovent design, manufacture and supply a full range of low cost Carbon Filter products.


Extensive research and development have enabled us to specify, select and blend ceramic materials to withstand sudden temperature changes with substantial resistance to chemical attack. We use the highest performance ceramics to manufacture components for use in specialist underground drainage


Footroom is the UK's first fully automated system for making use of excess wind-generated electricity, benefiting businesses that can adjust their operational regimes to utilise wind energy at the time it is generated.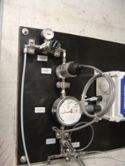 Calibration of DO3 monitors are carried out in two ways. In air calibration of the sensor using the relative response of the sensor to ozone and oxygen or the simpler and traceble method of measuring the actual ozone concentration in a sample and setting the monitor to this value.


Bristol Water uses dissolved ozone for the disinfection of potable water. Offering ultimate flexibility,ease of use and accuracy, ATi's analyser has reduced the amount of energy required for the ozone disinfection process, thus minimising the associated costs while also improving the quality of Bris

N.B. The information contained in this entry is provided by the above supplier, and does not necessarily reflect the views and opinions of the publisher