PleatJet II Horizontal Dust Collector
Optimised Opti-Pulse™ Cartridge Cleaning System Delivers Optimal Dust Collector Performance

This product listing page has now expired, for more information please contact Sly Filters Europe Ltd


Related Products & Services
We offer Weighing Equipment service and repairs to all users of Weighing Equipment and spares for all manufacturers weighing equipment.


The AAC DFV200 Drum Filter Vessel offers high quality odour control and hydrogen sulphide removal from air and gas streams.


The AAC Colourcell Media Filter System uses state-of-the-art technology to provide end users and maintenance personnel with an invaluable first stage analysis of the condition of installed activated carbon.


Basic Overload Protection designed to give a warning of approaching and exceeded legal load limits on individual axles and Gross Vehicle Weight. Using spring deflection, it is usually not as accurate as loadcell based systems, but still falls well within the guidelines for VOSA enforcement of overlo


Overload Protection suitable for Vehicles up to 8.2 Tonnes GVW. The Limitlite Plus is an efficient, simple to use Axle Load Indicator, which has been designed to provide the driver of a vehicle with information to help prevent exceeding their legal weight limit. This covers Front and Rear Axles, as


Enhanced aerobic bioremediation technologies such as Oxygen Release Compound (ORC?) and ORC Advaned? are used to accelerate naturally occurring in-situ bioremediation of petroleum hydrocarbons, and certain fuel oxygenates such as methyl tertiary-butyl ether (MTBE), by indigenous microorganisms in th


We have spent over twenty years in the business producing standard product and bespoke, factory-built & tested packages for the treatment of water and wastewater.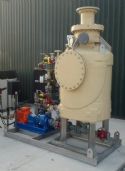 ERG (Air Pollution Control) Ltd. in Horsham has just installed another new V-texTM gas scrubber unit at a major pharmaceutical manufacturer in Ireland. Some pharmaceutical manufacturing processes can produce gases laden with aggressive acid and volatile organic compounds (VOCs). These must be treate




N.B. The information contained in this entry is provided by the above supplier, and does not necessarily reflect the views and opinions of the publisher