Enterprise cuts a hole to mend a leak
PMP (Planned Maintenance Pennine Limited ) were recently appointed by Enterprise to carry out repairs to leaking pipeline joints at Burholme Farm in the Trough of Bowland, Ribble Valley.

This product listing page has now expired, for more information please contact PMP Ltd


Related Products & Services

Enhanced aerobic bioremediation technologies such as Oxygen Release Compound (ORC?) and ORC Advaned? are used to accelerate naturally occurring in-situ bioremediation of petroleum hydrocarbons, and certain fuel oxygenates such as methyl tertiary-butyl ether (MTBE), by indigenous microorganisms in th


We have spent over twenty years in the business producing standard product and bespoke, factory-built & tested packages for the treatment of water and wastewater.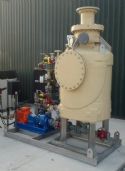 ERG (Air Pollution Control) Ltd. in Horsham has just installed another new V-texTM gas scrubber unit at a major pharmaceutical manufacturer in Ireland. Some pharmaceutical manufacturing processes can produce gases laden with aggressive acid and volatile organic compounds (VOCs). These must be treate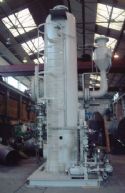 ERG's APC Process Engineering division has been awarded a 1million contract to supply two gas conditioning plants for a major project in the Gulf State of Qatar. The equipment is destined for use on the fertiliser plant expansion project, QAFCO 5. This latest contract continues the company's unbroke


Always keen to be a good neighbour, Scottish Water have recently completed a 330,000 project to install a new odour control plant at their Perth waste water treatment facility. Designed and installed by leading odour control specialist ERG Air Pollution Control, the plant, which will come on stream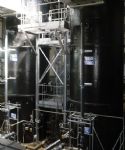 ERG (Air Pollution Control) has completed a major 300k project to refurbish the odour control plant at the East Worthing Wastewater Treatment Works belonging to Southern Water. The project was undertaken on behalf of main contractor Barhale Trant Utilities, and is in addition to the regular preventa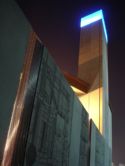 When a metropolitan area is regenerated or major development takes place that expands or installs a new sewerage and wastewater system, care must be taken to prevent an odour nuisance to the local population. For this reason, effective yet compact odour control equipment is a key component.


ERG continues to build on its strong performance in supplying odour control systems around these gulf states. As the population grows, along with urban expansion, this is leading to a significant number of water and waste water projects being undertaken




N.B. The information contained in this entry is provided by the above supplier, and does not necessarily reflect the views and opinions of the publisher