2TWh of hydrogen and 37 million EVs: How can the UK reach net-zero emissions?
The National Grid Electricity System Operator (ESO)'s latest Future Energy Scenarios (FES) report has outlined four potential scenarios for decarbonisation in the UK, three of which would see the UK reach net-zero emissions by 2050. Here, edie outlines what is required to meet the legally binding target.
---
One of the primary aims for this iteration of the report was to highlight what steps could be taken that would enable the UK to meet the Sixth Carbon Budget, which mandates a reduction in emissions of 78% by 2035. Doing so would put the UK on course to reach its legally binding target of net-zero emissions by 2050.
According to the ESO, three out of four future scenarios would enable the UK to reach net-zero by 2050 or sooner, and two would see it reach the Sixth Carbon Budget. According to the Climate Change Committee, who recommended the target, meeting the Budget would require all new cars, vans and replacement boilers to be zero-carbon in operation by the early 2030s. UK electricity production must then reach net-zero by 2035, in line with the National Grid ESO's existing vision, and the majority of existing UK homes will need to be retrofitted in some way also.
The UK is already on course to exceed its fifth carbon budget and the CCC had warned that more action was needed to meet the original Climate Change Act targets – let alone the updated, more ambitious net-zero aim. 
However, the National Grid ESO explains that an overhaul to societal norms and new infrastructure can help the UK meet its future carbon budgets and the net-zero target.
The National Grid ESO's head of strategy and regulation Matthew Wright said: "Our latest Future Energy Scenarios insight reveals a glimpse of a Britain that is powered with net-zero carbon emissions, but it also highlights the level of societal change and policy direction that will be needed to get there.
"If Britain is to meet its ambitious emissions reduction targets, consumers will need a greater understanding of how their power use and lifestyle choices impact how sustainable our energy system will be – from how we heat our homes, to when we charge our future cars – and government policy will be key to driving awareness and change.
"Britain is making significant progress towards achieving net-zero. The fundamental changes outlined in our latest FES insight show just how important a coordinated approach will be between policymakers and industry if we're to capitalise on that momentum."
Net-zero options
The new report examines four pathways for decarbonisation – Steady Progression, Consumer Transformation, System Transformation and the most ambitious trajectory, Leading the Way. Only the Steady Progression pathway, which focuses on slow decarbonisation, minimal behaviour and market shifts and a failure to decarbonise heat, would not reach net-zero emissions by 2050.
The 'consumer' and 'system' transformation scenarios both reach net-zero by 2050, but one focuses on behaviour shifts as to how the public engages with energy efficiency, smart devices and low-carbon transport, while the other delivers a radical overhaul to heating and grid flexibility. The most ambitious pathway is largely a combination of these separate methods and enables the UK to reach net-zero by 2047.
Meeting net-zero across all scenarios would see the power sector achieving "negative" emissions by 2034, with no unabated combustion of natural gas for power being used beyond 2035 under the most ambitious scenario.
The net-zero ambition would require around 77GW of new wind and solar generation in 2030, according to the ESO. This would need to be complemented by as much as 13GW of new storage capacity to help balance the grid due to the intermittent nature of renewables. Up to 6GW of flexible residential demand will need to be catered for in the highest ambition.
Across all scenarios, between 31 GW and 47 GW of offshore wind will need to be connected by 2030 – as well as at least 16 GW of interconnector capacity. By 2035, 2TWh of hydrogen storage is required in net-zero scenarios.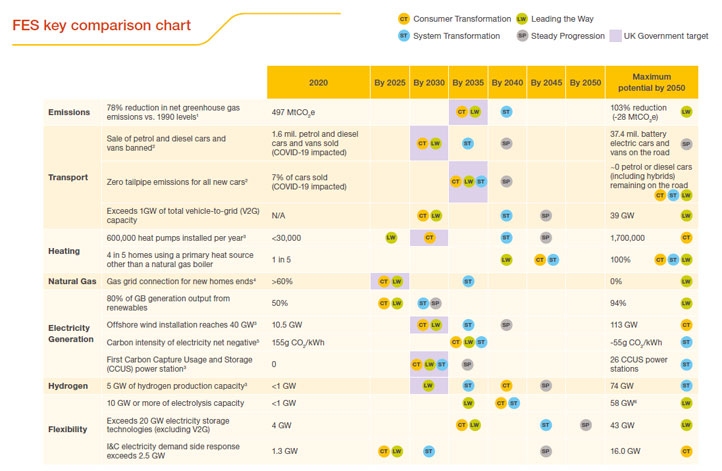 The ESO notes that hydrogen is crucial across all scenarios. Electrolysis – where surplus renewable energy is converted into hydrogen – would increase grid flexibility, while hybrid heat pumps and hydrogen boilers would be used to replace some forms of natural gas.
Currently, businesses do not believe the Government is being ambitious enough in efforts to create a "world-leading" hydrogen market, with the commitment of 5GW of green and blue hydrogen by 2030 failing to generate confidence within the private sector.
Under the Government's Ten Point Plan, the UK will aim to generate 5GW of low-carbon hydrogen production capacity by 2030. Up to £500m will be invested in a bid to create a Hydrogen Neighbourhood in 2023, a Hydrogen Village by 2025 and to create the first town running entirely on hydrogen. The ESO claims that the village aspiration could be realised under two scenarios before the end of the decade. However, fossil-based hydrogen currently represents more than 95% of the global market.
Sixth Carbon Budget
For the two scenarios that meet the Sixth Carbon Budget, the Government would need to reach its pledge to install 600,000 heat pumps annually – with as many as 2.6 million installed by 2025 and more than 25 million by 2050. However, the ESO notes that this pledge will require policy support on retrofitting thermal efficiency measures in homes.
Under the most ambitious decarbonisation scenario, consumers in 2050 would be reducing heat demand by 13% by turning down their thermostats by an average of 1C. Additionally, more than 80% of households would be using and charging electric vehicles (EVs) and responding to flexible energy tariffs to access cheaper, renewable electricity that reduces demand on the grid.
In terms of EV use, up to 37.4 million of them would be on UK roads by 2050, which would need to be combined with a 60% reduction in energy demand for road transport compared to current levels. The ESO notes that reducing energy demand from transport by this level would be achieved across even the slowest decarbonisation scenario.
Other measures include deliver a 30% improvement in consumer-based energy efficiency through switches to LED lighting and smart appliances.
Matt Mace
© Faversham House Ltd 2023 edie news articles may be copied or forwarded for individual use only. No other reproduction or distribution is permitted without prior written consent.