Hazard Alerts Hail Prizes!
14 April 2016, News release from Stanton Bonna
Campaign reduces accidents plus rewards staff and local charity
This groundbreaking initiative, now in its fifth year, has seen Stanton Bonna reduce its on site accidents and near miss incidents by over 75% since it began in 2008.

The scheme known as the 'Near Miss and Hazard Alert (NMHA) Initiative engages the whole workforce.

It encourages the 130 employees to complete a NMHA card to inform the Health & Safety Department of near misses and hazard alerts exactly as it says on the tin! Examples include unsafe equipment, regular spills and unsafe practices - appropriate actions or new procedures can then be put in place.

Stanton Bonna donates £1 to a local charity for each card submitted. This year the Health & Safety Committee, which includes management and staff representatives, chose The Ben Parker Trust Fund - more commonly known as the charity behind Ben's Den.

The charity was set up in memory or Ben Parker who passed away in 2003 after battling leukaemia. The money raised goes to two caravans named Ben's Den 1 & 2 which are sited at Haven in Mablethorpe and provides children diagnosed with cancer or leukaemia a holiday with their family in one of the caravans. You can find out more about the charity at www.bensden.com.

A total of 498 cards were submitted so £498 was presented to Dave & Marie Parker on behalf of The Ben Parker Trust Fund.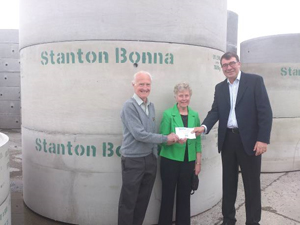 Photo left to right: Dave & Marie Parker, The Ben Parker Trust Find with Mike Ogden, Stanton Bonna Managing Director

As a reward for submitting the cards staff are entered into a free prize draw. Each month a winner is drawn for a prize of £25 worth of vouchers. Then once a year all those who have entered cards in at least 4 previous months out of 12 are automatically entered into the annual draw. This year's draw took place on 21st May and the winners were selected by Marie Parker from The Ben Parker Trust Fund.

Prizes and winners were:
1st Prize went to Gary Hewitt, Maintenance Department, for reporting a large build up of dirt and sludge making it unsafe to handle gas bottles in the maintenance gas store. From a choice of prizes he selected a weekend away for two.

2nd Prize was won by Keith Knowles again from the Maintenance Department who submitted a card about a dumper truck that was blocking a pedestrian door and he won a Samsung Tablet Computer.

3rd Prize also went to Gary Hewitt, for spotting a locking pin fault on a Fork Lift Truck and he won an Adrenaline experience and can choose from 30 white knuckle experiences. He kindly donated this prize to Ben's Den to support their fundraising.

Congratulations to the winners!

Stanton Bonna's reputation for Health and Safety initiatives has been recognised by many prestigious awards. Recent awards include:

The British Precast Best Practice Awards 2013

Winner Outstanding Contribution to Health & Safety: Gran Rowe, Stanton Bonna Concrete.

Winner Concrete Targets: Gold Award - 6th consecutive year for Health & Safety initiatives and accident reduction.

Highly Commended: Health & Safety Best Practice for work on reducing noise and vibration.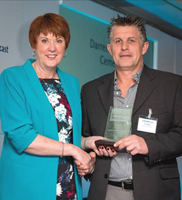 Photo left to right: Judith Hackett, of HSE with Gran Rowe, Shift Manager Stanton Bonna
The Mineral Products Association's Health & Safety Conference and Awards 2012
Winner Frank Davies Trophy for Health and Safety Initiatives, for companies with less than 1,000 employees.

Runner Up Engineering Initiatives Stanton Bonna submitted a video to demonstrate the initiative with a Safer By Design offloading system. You can view the Stanton Bonna video on YouTube at http://www.youtube.com/watch?v=OF9nxzGkYTI


For further information please email Stanton Bonna