A big week for B Corps and the UK's first 'shared' solar park: The sustainability success stories of the week
As part of our Mission Possible campaign, edie brings you this weekly round-up of five of the best sustainable business success stories of the week. In this week's edition, a milestone for the UK's first co-operative solar farm, and much more.
---
Published every week, this series charts how businesses and sustainability professionals are working to achieve their 'Mission Possible' across the campaign's five key pillars – energy, resources, infrastructure, mobility and business leadership.
Across the UK and across the world, leading businesses, cities, states and regions are turning environmental ambitions into action. Here, we round up five positive sustainability stories from this week.
ENERGY: UK's first 'shared' solar park given the green light in Devon
The UK Government recently accepted Chris Skidmore MP's Net-Zero Review recommendation for the nation to host 70GW of solar by 2035.
It will need to convene an industry taskforce to map out a pathway to delivery. In the meantime, there's positive news from Devon, where Ripple Energy and RES this week secured planning permission for the new 42MW Derrill Water Solar Park.
Ripple Energy will act as the co-operative for the facility. It has ringfenced 10% of the park's ownership for households and businesses in the surrounding area, which have two weeks to purchase shares in the project. The households and businesses can then apply savings to their energy bills based on how much electricity their share of the solar park generates.
Ripple Energy's chief executive Sarah Merrick said: "By offering consumer ownership, Derril Water Solar Park will become a completely different kind of solar park, one owned by the people it supplies low cost green power to. We want Derril Water to become a blueprint for consumer-owned solar parks around the world."
Last spring, Ripple opened what it claims is the UK's first consumer-owned wind farm in Codely, South Wales. It initially received the support of 907 local homes and businesses for the Graig Fatha wind turbine.
RESOURCES: Bradford residents get discounts on takeaways in reusable packaging
Given that only 9% of all plastics produced have been recycled, an increasing number of businesses are exploring reusable alternative to single-use plastic packaging.
This movement has been clear to see in the UK's food-to-go space. Uber Eats has launched a new resuable packaging trial in Camberwell, London, with a home collection service for empties. This is being supported, in part, through the Hubbub and Starbucks 'Bring it Back' fund, which supports innovative reusable projects.
Also supported by the fund is Green Street, which has this week launched a new reusable takeaway container scheme in partnership with independent cafes and restaurants in Bradford. Through the scheme, called Borow, customers will pay a returnable deposit of between 50p and £1 on each beverage or dish they purchase in a reusable container. But they also receive a discount on their orders.
Retail Sector council member Victoria Robertshaw said: "Consumers want to make a positive difference. We need to make it easier for all of us to make greener choices and Borrow has been designed to be as simple as possible for the general public. We are aware of the financial challenges many people are facing at the moment too, and hope that by offering small incentives and discounts, people will try the greener options as it will also save them money as well as being better for the environment."
Around 58 million food and drink items are sold in the UK every week in single-use plastic. On average, the packaging is disposed of 15 minutes after purchase.
MOBILITY: UK's first cycling proficiency scheme for e-bikes set for London
The Climate Change Committee (CCC) and other bodies have urged the UK Government to approach the decarbonisation of road transport not by swapping petrol and diesel car journeys 1:1 with electric car journeys, but by supporting modal shift to public and active transport where possible.
E-bikes will doubtless be part of the modal shift. They are proving popular because they do not need to be taxed, and are cheaper to buy and insure than cars. Moreover, the electric boosts make longer journeys, and journeys where the rider is carrying cargo, less taxing.
But, according to bike rental scheme Swapfiets, a major barrier to adoption is low confidence around cycling on urban roads, especially on an e-bike. To that end, the business has this week launched the nation's first e-cycling proficiency course.
The course is free to attend and there are beginner, intermediate and advanced courses. Initial classes will be held in Shoreditch, London, on Saturday 29 April, with other dates and locations to be announced.
Swapfiets' co-founder and sustainability director Richard Burger said: "Riding in any major city can often feel daunting due to busy roads, buses, and complex road layouts. By preparing our cyclists with the skills necessary to navigate the city, we hope to give people the power to own the city with confidence."
THE BUILT ENVIRONMENT: Velux showcases ultra-energy-efficient homes in Copenhagen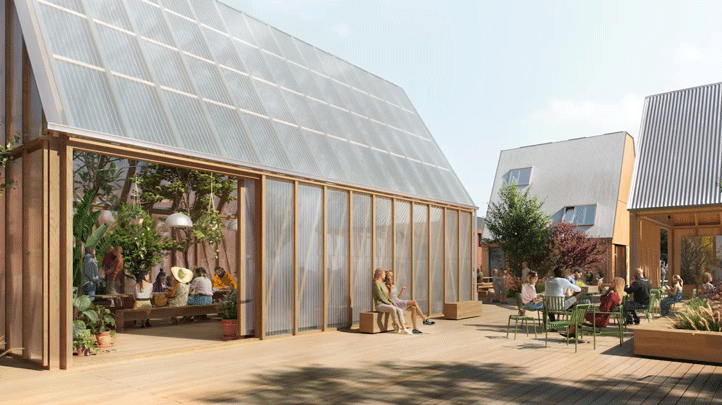 The energy price crisis has writ large the importance of making homes more energy efficient. As well as having wellbeing benefits for residents, this is necessary to the delivery of the Paris Agreement – the International Energy Agency's (IEA) 2050 net-zero scenario entails a doubling of the rate of energy efficiency improvements in buildings and industry.
To showcase what the energy-efficient home of the future could look like, Velux has opened a series of prototypes in Copenhagen, which are open to the public now and will host events throughout the spring and summer,
The 'Living Places Copenhagen' project consists to two finished homes in full scale plus five additional pavilions. Each home and pavilion has just one-third of the embodied carbon of homes built to current Danish standards. They are also designed to be low-carbon in operations, with electric heating and lighting and modern insulation, windows and doors to prevent energy loss.
Crucially, the homes could be delivered at the same market price as typical detached or terraced houses. Velux Group and project partners EFFEKT, Artelia and Enemaerke & Petersen have also focused on the wellbeing of residents, building in features to improve natural lighting and indoor air quality.
BUSINESS LEADERSHIP: Fat Face and more certify as B Corps in time for Earth Day
B Corp month (March) may have come to a close a few weeks ago now, but several brands are still celebrating through their own certifications, joining more than 6,000 certified businesses across the world.
One is British clothing brand Fat Face, which has more than 200 stores worldwide. The brand stated to Drapers that it did not need to undertake a "big overhaul" to certify, but did identify numerous areas for fine-tuning its sustainable business approach. One of these areas was forging partnerships for good. Fat Face has partnered with Thrift+ to offer an easy-to-use resale option for used clothes and accessories within the past year, and is also a long-term partner of the National Forest.
Also celebrating B Corp certification this month is Crosta & Mollica, which claims it is the first UK-based Italian food business to achieve certification. It bagged a B Impact Assessment Score of 88.1 points, well over the 80-point minimum.
Another newly certified business is the Sussex-based, family-owned Rathfinny Wine Estate (pictured above). The Estate is self-sufficient in water, thanks to a wastewater recycling system, and almost self-sufficient in energy thanks to onsite solar. It works with the National Trust, South Downs National Park and Natural England on habitat conservation and restoration.
Rathfinny vineyard manager Cameron Roucher said: "B Corp only works when staff embrace it at all levels to create a culture change and that has happened at Rathfinny which has been truly amazing — it is not something you can impose from the top down. I think it is the greatest achievement of this whole process and one we are truly proud of.
"I hope that others, particularly in the burgeoning English wine trade, will follow our lead and we'd be pleased to share our journey with them. This industry has the ability to transform the rural landscape of Britain, particularly the South, in a sustainable and ethical way."
© Faversham House Ltd 2023 edie news articles may be copied or forwarded for individual use only. No other reproduction or distribution is permitted without prior written consent.