A funding boost for UK renewables and a high-speed retrofitted train: The sustainability success stories of the week
As part of our Mission Possible campaign, edie brings you this weekly round-up of five of the best sustainable business success stories of the week from across the globe.
---
Published every week, this series charts how businesses and sustainability professionals are working to achieve their 'Mission Possible' across the campaign's five key pillars – energy, resources, infrastructure, mobility and business leadership.
With the dust now settled on COP26, businesses are keen to show that they can turn environmental ambitions into actions – potentially moving further and faster than national governments. Here, we round up five positive sustainability stories from this week
ENERGY: UK CfD auctions to take place every year
In light of the energy price crisis, with wholesale gas prices in the UK now four times higher than they were last winter, Ministers have been facing pressure to take a more holistic look at long-term clean energy plans as well as providing immediate financial assistance to households.
It was welcome news, then, when it was announced on Wednesday (9 February) that funding auctions through the Contracts for Difference (CfD) scheme will occur annually, rather than every two years. The CfD auctions have been critical in bringing down the costs of clean energy in the UK. Since their introduction, the per-unit price of offshore wind has fallen 65%.
With solar, tidal and onshore wind now allowed to compete after more than five years of virtual exclusion, we may well see similar price trajectories for other technologies. Read edie's full story on this announcement here.
Image: Vattenfall
RESOURCES: Aussie wine brand removes 10 million plastic bottles from oceans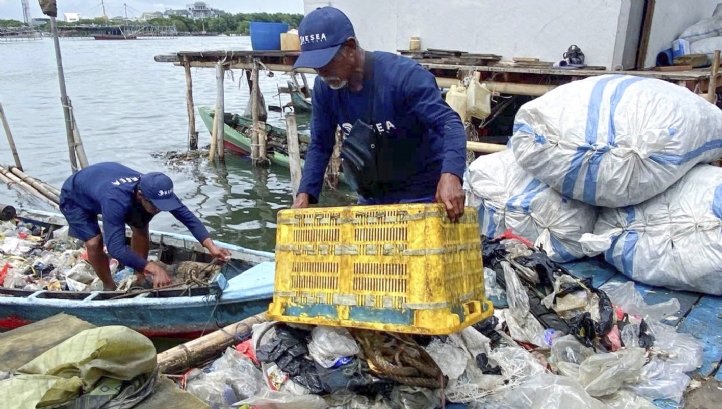 An edition of this weekly roundup in August 2020 covered a commitment from Australian wine brand The Hidden Sea to remove ten plastic bottles from marine habitats for each bottle of wine sold. The brand partnered with the ReSea Project to deliver the plastic removals and recycling.
On Monday (7 February), The Hidden Sea announced that the partnership has enabled the collection and recycling of ten million plastic bottles in Southeast Asia. It is ultimately targeting a billion bottles.
"Going above the 10 million bottle mark within such a short space of time is both rewarding and reassuring to see how well our product and mission resonates with consumers," said the Hidden Sea's co-founder Justin Moran. Moran's co-founder is Richie Vandenberg.
MOBILITY: UK's fastest battery-retrofitted train enters operation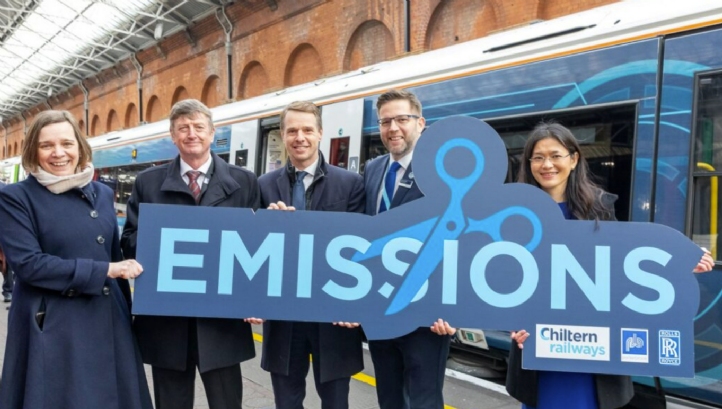 At COP26 in November, edie's content editor Luke Nicholls took a trip on the UK's first hydrogen-ready train, called HydroFLEX and retrofitted by Porterbrook.
This week, Porterbrook announced that the fastest ex-diesel train now fitted with an electric battery pack has entered operation, marking another step towards low-emission public transport. Called the HybridFLEX, the train is a 20-year-old diesel Rolls-Royce train that has been retrofitted so that it is now a hybrid. It is capable of reaching speeds of up to 100 mph, which is touted as a UK first for hybrid train technology.
Porterbrook is expecting that the train will generate, on average, 25% less CO2 per journey due to the retrofit. NOx reductions of 70% are also expected, as well as a reduction in noise of up to 75%. HybridFLEX will run primarily between Aylesbury and London.
"The entry of our hybrid battery-diesel train into passenger service is great news for Chiltern Railways and its customers," said Porterbrook's chief executive Mary Grant. "It's a significant first step in demonstrating how improvements to this fleet can reduce emissions and improve air quality both at stations and other locations across the network."
Image: Chiltern Railways
THE BUILT ENVIRONMENT: Office development in Greater Manchester unveils ambitious NABERS target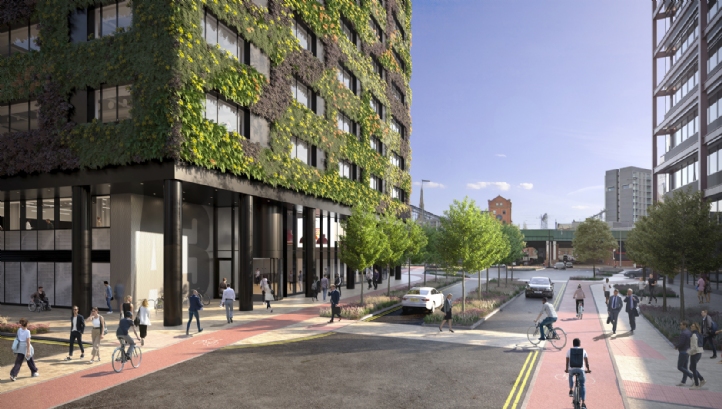 September 2021 saw the energy rating scheme for offices, NABERS, officially launching in the UK. The news was welcome given that 85% of commercial buildings in England currently do not meet Energy Performance Certificate (EPC) Band B or higher.
This week, development partnership the English Cities Fund confirmed that it is targeting a 5.5-star Nabers rating for its Eden office development in Salford, out of a possible six stars. The 12-storey office block has already achieved BREEAM 'Outstanding' certification.
Eden will feature the UK's biggest living wall and be built to the UKGBC's 2035-2050 Design for Performance standard, which sets out best-practice requirements in topics including energy efficiency, water stewardship, biodiversity and user wellbeing.
"There are currently no other buildings in the UK, whether granted planning consent or under development, that has a NABERS 5.5 rating," said the English Cities Fund's development director Leon Guyett.
"We see NABERS as becoming ever-more significant. Potential future commercial and office building occupiers have historically considered size and location as key deciders, but more and more are now asking developers questions about efficiency and sustainability."
BUSINESS LEADERSHIP: Alpkit sustainability report reveals strong progress on emissions, resources and social sustainability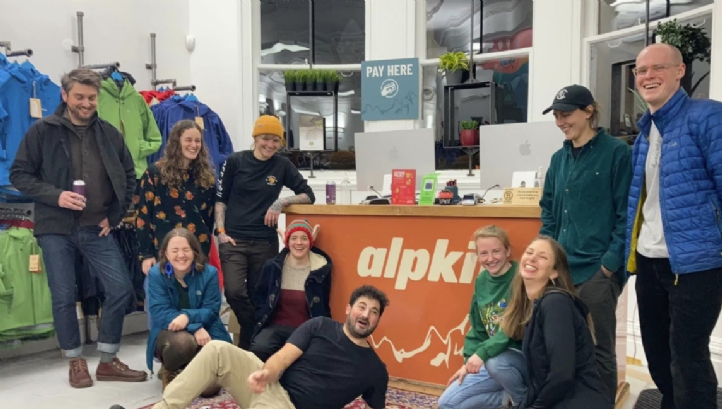 Outdoor brand Alpkit is one of more than 400 certified B Corps in the UK and is shortlisted for three categories for edie's 2022 Sustainability Leaders Awards, including SME of the Year.
Following on from edie's interview with co-founder and chief executive David Hanney last year, the brand has sent the edie team it's latest sustainability report, detailing numerous examples of sustainable business leadership.
The report details how Alpkit has rehomed five tonnes of used gear; eliminated plastic from all packaging; operates on a zero-waste-to-landfill basis and is transitioning its factories to renewable energy. It also lists all of Alpkit's tier-one factory information and documents its journey towards mitigating its carbon footprint across the value chain and across the life cycle.
To this latter point, after achieving carbon neutral certification in 2019, Alpkit last year completed work to estimate its entire carbon footprint across the business's whole lifetime, across the environmental value chain. It completed this footprinting work with help from UCL.
"We see carbon neutral as just a moment in time; The near-absolute decarbonisation of Alpkit is our goal and we'll reduce our end-to-end footprint by a minimum of 15% per year to get there," Hanney told edie.
Sarah George
© Faversham House Ltd 2023 edie news articles may be copied or forwarded for individual use only. No other reproduction or distribution is permitted without prior written consent.