Achieving Mission Possible: The Green Recovery Inspiration Sessions
Event Date: 23/09/2020 1:00 pm
Hosted as part of edie's brand-new Mission Possible: Green Recovery campaign of digital content and events, the Green Recovery Inspiration Sessions offer up an afternoon of live, interactive webinar presentations and discussions – all dedicated to delivering a socially and environmentally sustainable recovery from the coronavirus pandemic.
The green recovery refers to the opportunity for government, business and society to recover from the Covid-19 pandemic in a way that is environmentally and socially sustainable. So, what exactly should the green recovery look like through the lens of sustainability and energy professionals? And how can they go about achieving it?
This exclusive online event, sponsored by Centrica Business Solutions, PHS Group and Inspired Energy, will explore how businesses can converge the solutions to coronavirus and climate change in a way that accelerates the transition to a net-zero-carbon, circular economy.
Registrants will gain access to three live and interactive webinar sessions: a Q&A debate (1pm–1.45pm); a selection of best-practice case studies (2pm–3pm); and a 45-minute masterclass (3.15pm–4pm). Registrants can choose to tune into one, two or all three webinar sessions on the day – and the full collection of sessions will be available to watch on-demand afterwards.
Full details of the three webinar sessions are as follows:
1) The Big Green Recovery Debate: Shaping sustainability in a post-pandemic world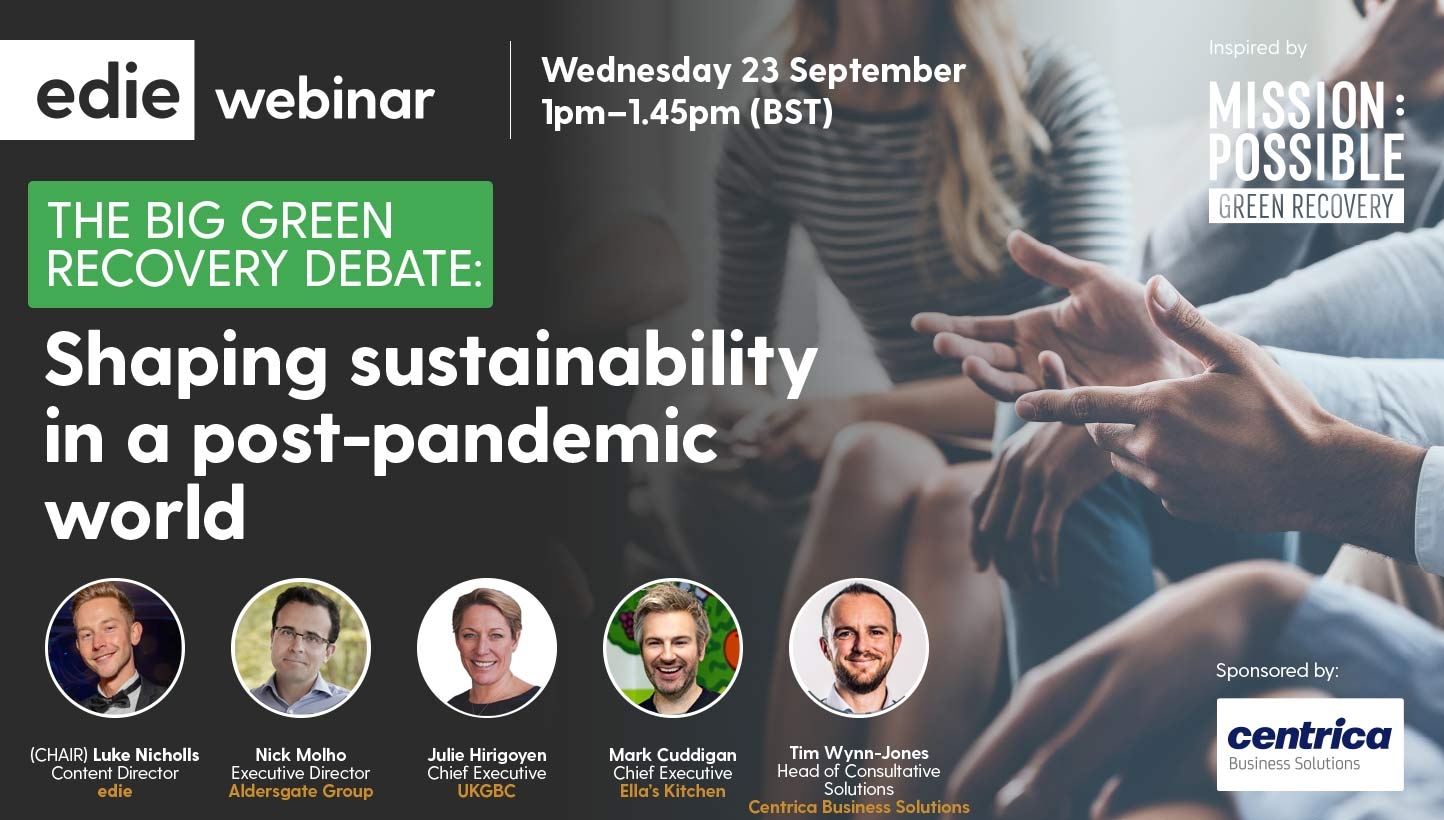 Timings:
1pm-1.45pm (BST)
Synopsis:
Kicking off our Green Recovery Inspiration Sessions, a selection of revered sustainability leaders and policy experts will discuss what a 'green recovery' actually means in the context of environmental and social sustainability, and what must happen at a corporate and political level in order to build back better.
Speakers (provisional):
Luke Nicholls, Content Director, edie (CHAIR)
Nick Molho, Executive Director, Aldersgate Group
Julie Hirigoyen, Chief Executive, UKGBC
Mark Cuddigan, Chief Executive, Ella's Kitchen
Tim Wynn-Jones, Head of Consultative Solutions, Centrica Business Solutions
Discussion points:
The policy enablers (and barriers) to drive a green recovery
Turning the challenges of Covid-19 into sustainability opportunities
How to recession-proof your sustainability and CSR strategy
2) In Action: Practical case studies of building back better through sustainable business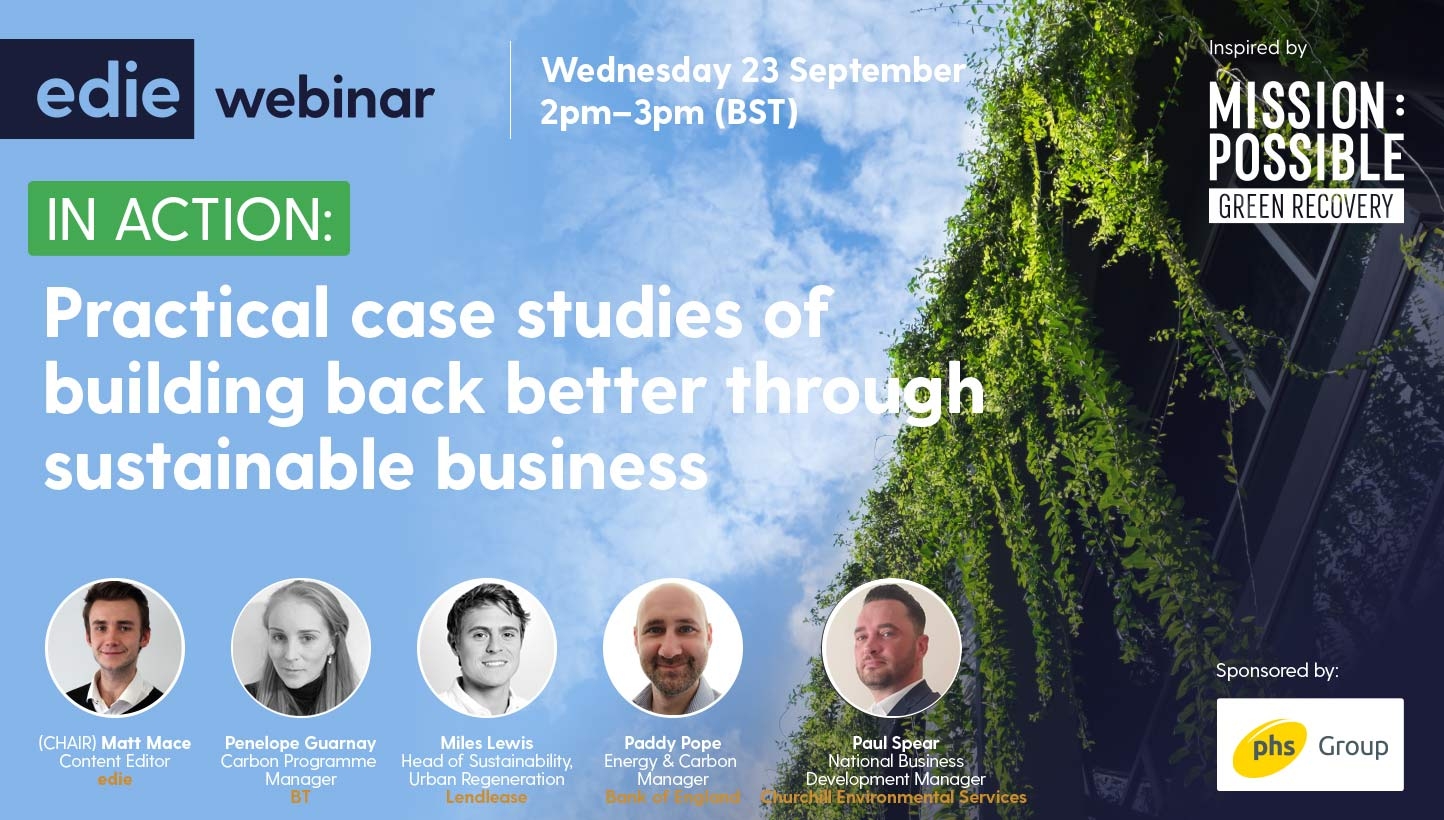 Timings:
2pm-3pm (BST)
Synopsis:
Our opening session explored the what and the why, and now we move onto the how. This second Session will bring together sustainability and energy experts from a variety of industries who are each in their own way driving a green recovery through their people, products and processes. 
Speakers:
Matt Mace, Content Editor, edie (CHAIR)
Penelope Guarnay, Carbon Programme Manager, BT
Miles Lewis, Head of Sustainability, Urban Regeneration, Lendlease 
Paddy Pope, Energy & Carbon Manager, Bank of England
Paul Spear, National Business Development Manager, Churchill Environmental Services
Discussion points:
The role of compliance in building back better and cutting carbon
The 'new normal': What green buildings and sustainable transport looks like
How to accelerate climate action through effective collaboration
3) 45-Minute Masterclass: Engaging with key stakeholders in the wake of Covid-19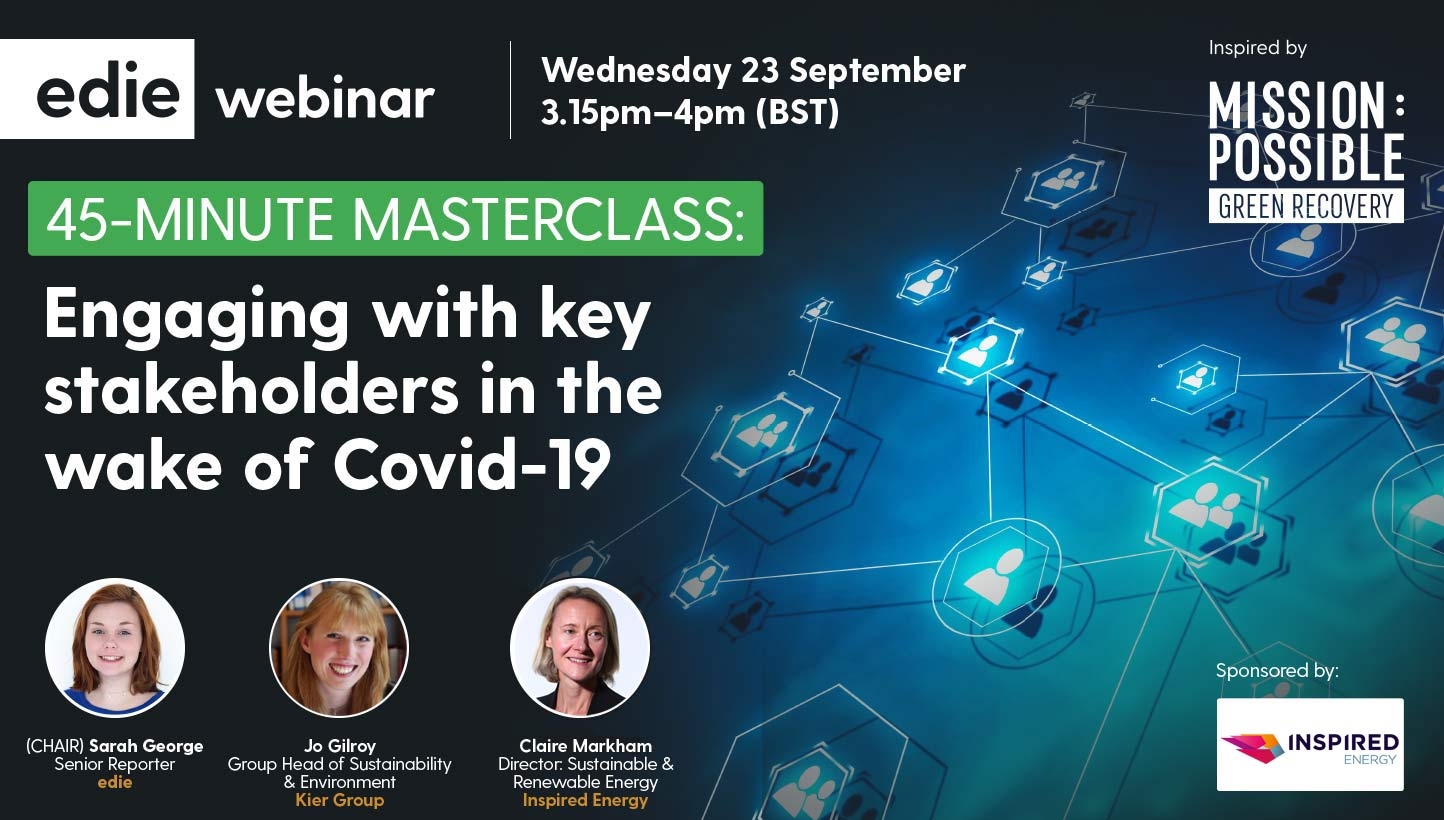 Timings:
3.15pm-4pm (BST)
Synopsis:
Our third and final Inspiration Session is all about you. This masterclass-style webinar will explore how sustainability and energy professionals can overcome engagement and behaviour change challenges in order to drive a green recovery within their business.
Speakers:
Sarah George, Senior Reporter, edie (CHAIR)
Jo Gilroy, Group Head of Sustainability & Environment, Kier Group
Claire Markham, Director: Sustainable & Renewable Energy, Inspired Energy
Discussion points:
Driving engagement in the working-from-home economy
Securing boardroom buy-in for sustainability during the recession
Identifying the barriers to innovation and change, and overcoming those barriers
Action inspires action. Stay ahead of the curve with sustainability and energy newsletters from edie
Subscribe