Available to watch on-demand: edie's Circular Economy Inspiration sessions
Experts from the Ellen MacArthur Foundation, Ikea, Innovate UK and The Body Shop took part in The Circular Economy Inspiration Sessions - an afternoon of live, interactive presentations and discussions on Thursday 25 March.
---
The event took place on Thursday 25 March and is targeted at individuals who are looking to enhance their approaches and strategies to product manufacturing and procurement to encourage a transition to a circular economy.
The online event effectively combined three edie webinars into a single afternoon. Each webinar session had its own edie chair and selection of independent expert speakers, with each session taking a particular format. 
Please note: You must pay to access the recordings of this online event. On-demand access costs £25+VAT. 
The online event formed part of a dedicated week of action inspired by edie's Mission Possible Plastics Hub – the content-driven campaign which supports sustainability and resource efficiency professionals on our collective mission to eliminate single-use plastics.
Online event: How it works
Brought to you in association with our event sponsor Zero Waste Scotland and ERP UK, this exclusive online event gives registrants access to three live and interactive webinar sessions about the circular economy: a big circularity Q&A debate; a selection of in-action case studies; and a 45-minute masterclass.
Registrants can still register to watch all three webinar sessions on the day. You can register for to watch the on-demand recordings here.
Full details of the three webinar sessions are as follows:
1) The Big Circularity Debate: Resource efficiency in the post-pandemic era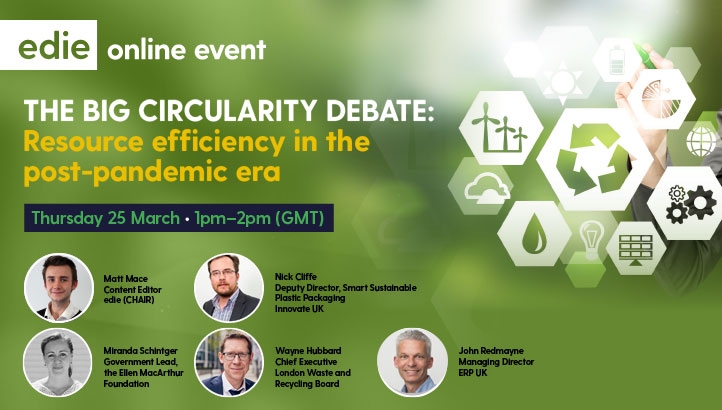 Synopsis:
Kicking off our Circular Economy Inspiration Sessions, sponsored by ERP UK, a selection of industry experts will take part in a live panel discussion and Q&A about some of the biggest issues facing circularity in the UK – from the challenges of the Covid-19 pandemic through to new business model opportunities.
Discussion points:
The circular economy challenges – and opportunities – posed by Covid-19
Policy, regulation and COP26 – Unlocking the resource revolution
Re-thinking business models to achieve zero waste
Speakers:
Matt Mace, Content Editor, edie (chair)
Nick Cliffe, Deputy Director, Smart Sustainable Plastic Packaging, Innovate UK
Miranda Schintger Government Lead, the Ellen MacArthur Foundation
Wayne Hubbard, Chief Executive, London Waste and Recycling Board
John Redmayne, Managing Director, ERP UK
2) Circularity, in action: Learning from the business leaders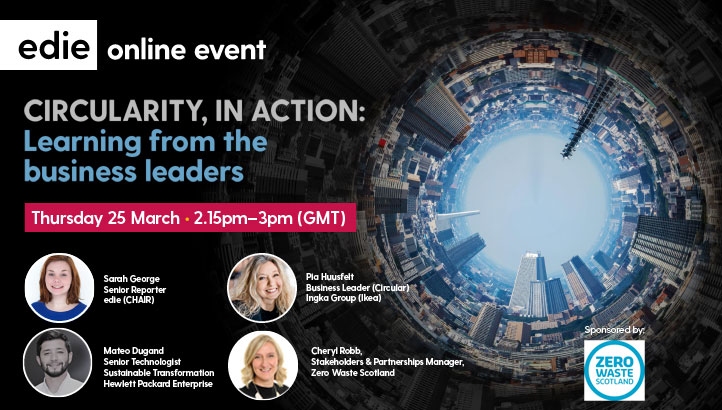 Synopsis:
It's time for some quick-fire case studies. Sponsored by Zero Waste Scotland, our second Inspiration Session will hear from a spread of businesses that are accelerating the circular economy transition by redesigning systems, shaking up business models and embracing a 'zero-waste' philosophy.
Discussion points:
The key ingredients for a winning circular economy strategy 
Real-life examples of business model transformation to eliminate waste
Engaging consumers and suppliers on your resource efficiency journey
Speakers:
Sarah George, Senior Reporter, edie (chair)
Pia Huusfelt, Business Leader (Circular), Ingka Group (Ikea)

Mateo Dugand, Senior Technologist, Sustainable Transformation, Hewlett Packard Enterprise
Cheryl Robb, Stakeholders and Partnerships Manager, Zero Waste Scotland
3) 45-Minute Masterclass: How to eliminate single-use plastics from your business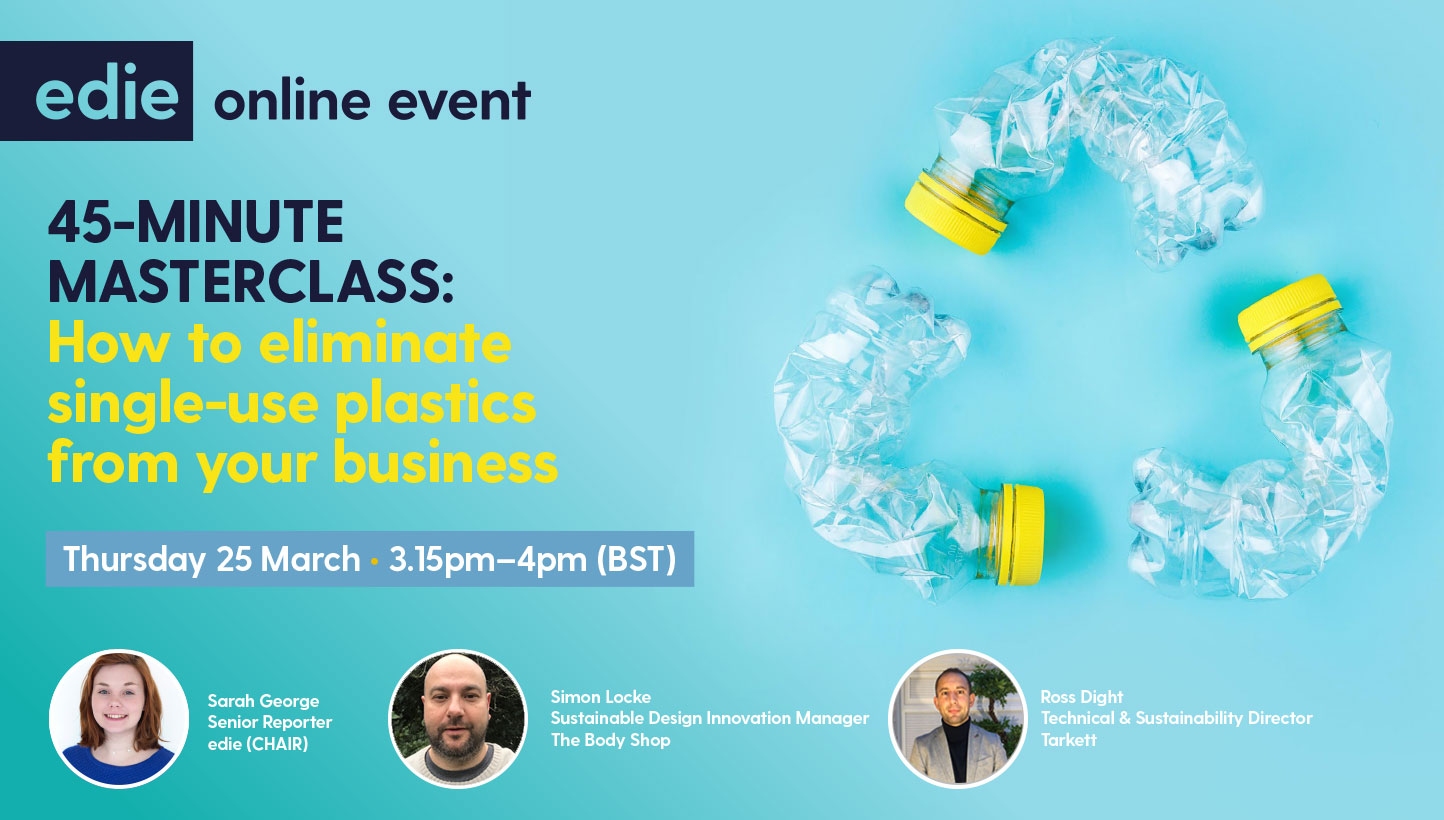 Synopsis:
Our third and final Inspiration Session was all about unleashing innovation within your organisation when it comes to managing resources and waste. The masterclass-style webinar will equip you with the practical knowledge and skills to manage the transition towards a circular economy.
Discussion points:
Overcoming key challenges on your single-use plastics journey
Harnessing innovation to switch to alternative materials
Engaging employees to create a 'plastic-free' culture
Speakers:
Sarah George, Senior Reporter, edie (chair)
Simon Locke, Sustainable Design Innovation Manager, The Body Shop
Ross Dight, Technical and Sustainability Director, Tarkett
Please note: You must pay to access the recordings of this online event. On-demand access costs £25+VAT. 
edie staff
© Faversham House Ltd 2023 edie news articles may be copied or forwarded for individual use only. No other reproduction or distribution is permitted without prior written consent.