Available to watch on demand: The ENGAGE reporting and communications sessions
Sustainability, reporting, and behaviour change experts from companies including Virgin Media, Aviva, Toast Ale and Clear Channel answered key question on sustainability communications as part of an afternoon of back-to-back live events that can still be watched on-demand.
---
Hosted during edie's special Engagement Week of online content and events, the Sustainability Reporting and Communications Sessions offered up an afternoon of live, interactive webinar presentations and discussions – all dedicated to helping sustainability and CSR professionals drive stakeholder engagement through robust reporting and captivating communications.
Please note: You must pay to access the on-demand version at a reduced cost of £25+VAT. 
The online event effectively combines three edie webinars into a single afternoon, with each webinar session taking a particular format. The first session (45 mins) will be a Q&A-style debate; the second session (one hour) will be a series of quick-fire case studies; and the third session (45 mins) will take a 'masterclass' format.
Registrants can watch all three webinar sessions on the day. Full details of the three webinar sessions are as follows:
1) ENGAGE Q&A: Shaping your Purpose-Driven Reporting and Communications Strategy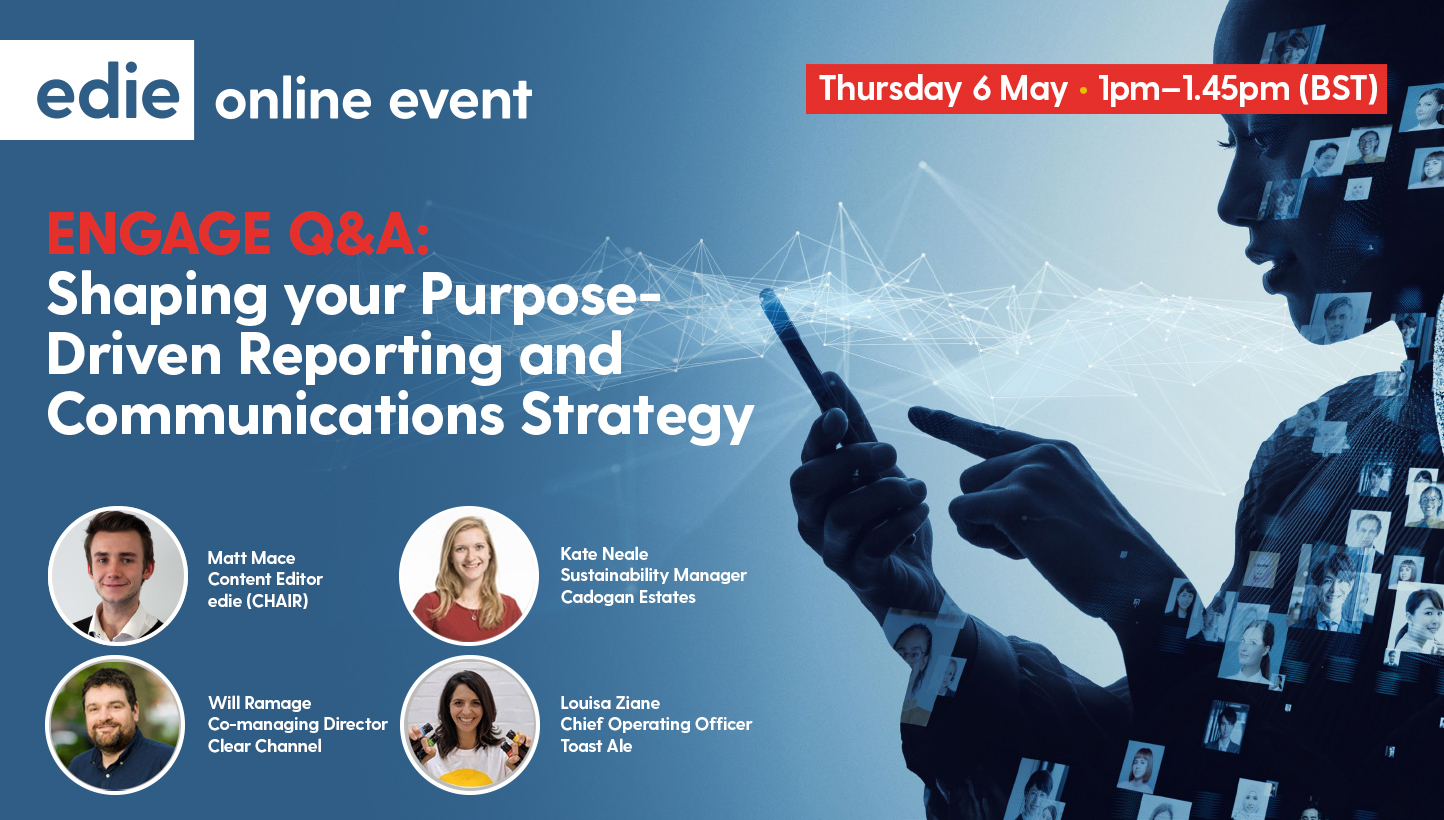 Synopsis: 
Kicking off our Inspiration Sessions, a selection of CSR leaders and reporting and communications experts discuss how to drive meaningful engagement in the age of coronavirus, and the importance of aligning your reporting and communications strategy with the company purpose.  
Discussion points:
What great sustainability engagement looks like in the wake of the Covid-19 pandemic
Taking a purpose-led approach (whilst avoiding purpose-washing)
Seizing the opportunity of COP26 to engage colleagues and customers
Speakers:
Matt Mace, Content Editor, edie (CHAIR)
Kate Neale, Sustainability Manager, Cadogan Estates
Will Ramage, Co-managing Director, Clear Channel
Louisa Ziane, Chief Operating Officer and Sustainability Director, Toast Ale
2) The Communications Power Hour: Best-Practice Case Studies to drive Engagement and Change Behaviours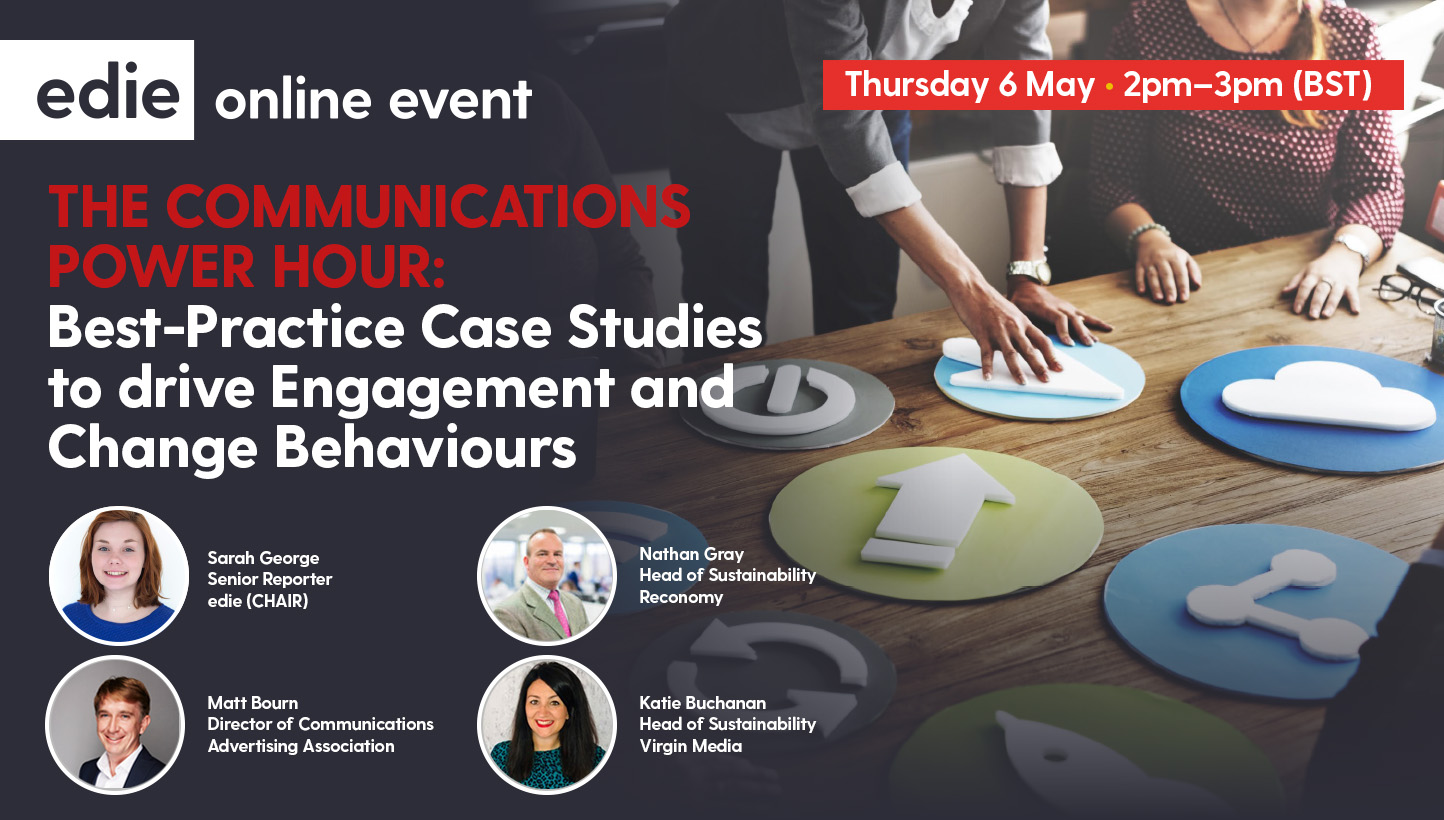 Synopsis:
Our second Inspiration Session offers up a series of never-before-seen, quick-fire case studies, hearing from some of the individuals and organisations that are unleashing the power of purpose to engage stakeholders, spark behaviour change, increase transparency and build trust.
Discussion points:
Building stronger relationships through transparency
Telling the right story, to the right people, at the right time
Measuring the impacts of any engagement and behaviour change strategy
Speakers:
Sarah George, Senior Reporter, edie (CHAIR)
Nathan Gray, Head of Sustainability, Reconomy
Matt Bourn, Director of Communications, Advertising Association
Katie Buchanan, Head of Sustainability, Virgin Media
3) 45-Minute Masterclass: Taking your sustainability reporting onto the next level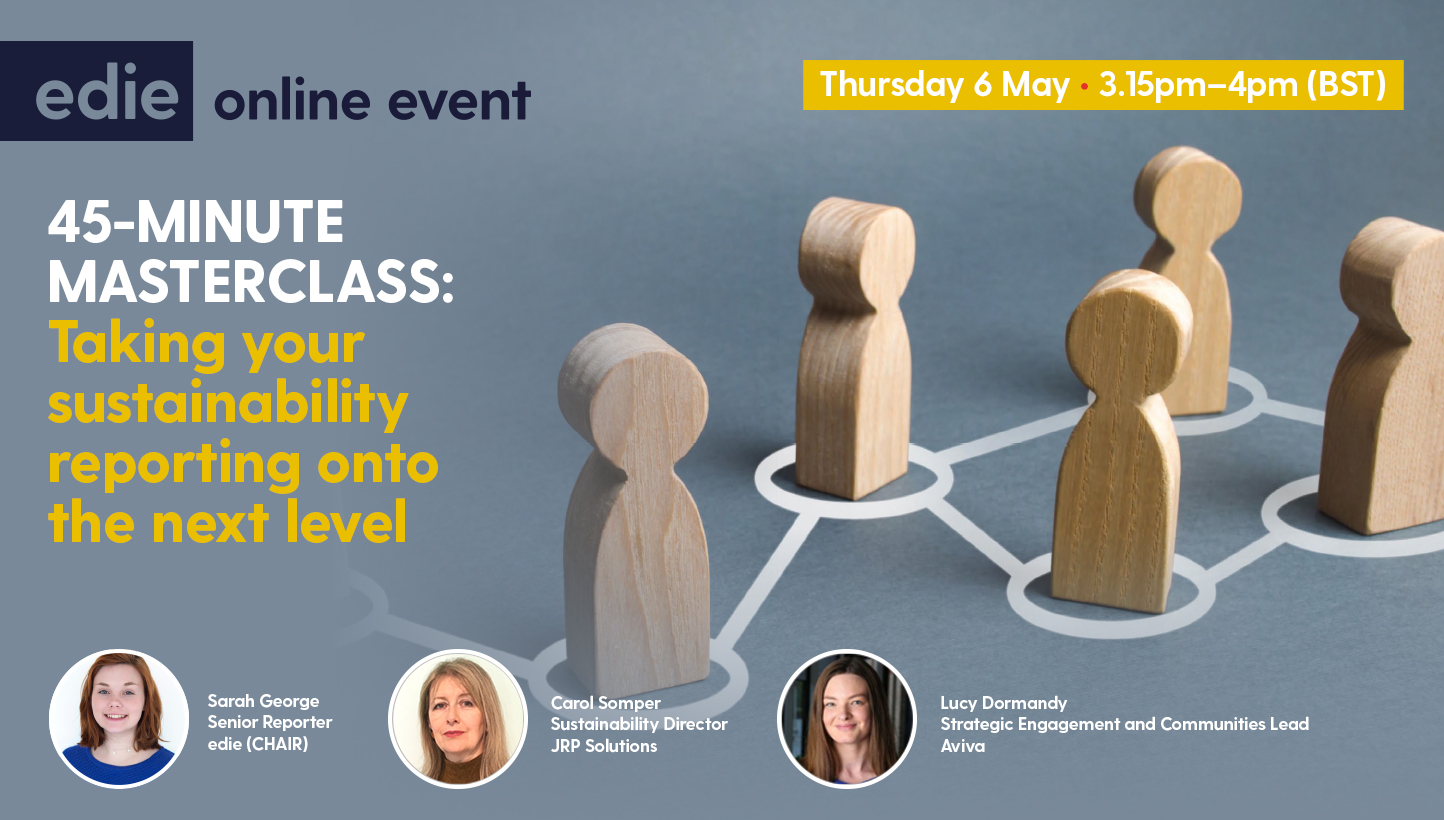 Synopsis:
Our third and final Inspiration Session will equip you with specific tools and practical  techniques to evolve your sustainability reporting strategy – new standards and frameworks through to ESG and climate-related disclosures, this masterclass-style session has it covered.
Discussion points:
TCFD and climate disclosures: Bridging the sustainable investment gap
Reporting on the "S" in ESG: What great practice looks like
Standards, frameworks and assurance: The future of sustainability reporting
Speakers:
Sarah George, Senior Reporter, edie (CHAIR)
Carol Somper, Sustainability Director, JRP Solutions
Lucy Dormandy, Strategic Engagement and Communities Lead, Aviva
Tickets cost £25+VAT
 edie staff
© Faversham House Ltd 2023 edie news articles may be copied or forwarded for individual use only. No other reproduction or distribution is permitted without prior written consent.