BEIS: Energy efficiency installations increased in 2019
New figures from the Department for Business, Energy and Industrial Strategy (BEIS) show nearly 220,000 energy efficiency measures were installed through the Energy Company Obligation (ECO) and the Green Deal framework in 2019 - a 5% year-on-year increase.
---
However, installations remain well below the peak of nearly 800,000 in 2014. As of December, around 2.8 million measures had been installed in 2.1 million properties, mostly through ECO.
For its third phase beginning in 2018, ECO was refocused on tackling fuel poverty, meaning all of the 221,800 measures installed last year were delivered through the Affordable Warmth strand of the scheme. Installations were concentrated towards the North West and North East, central Scotland and parts of the West Midlands and Wales.
Energy efficiency installations by scheme and year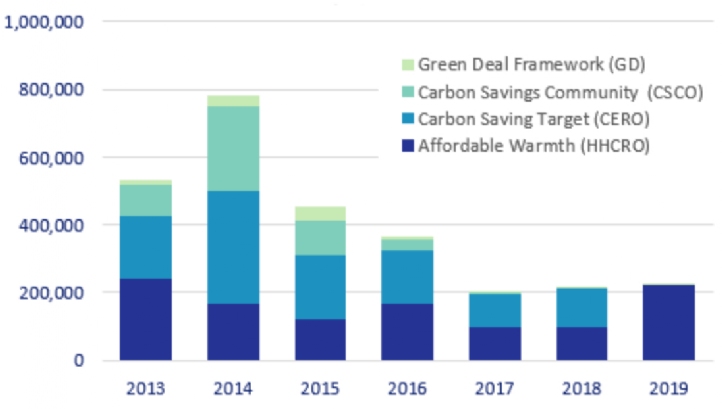 There was a sharp rise in the number of new boilers being fitted under ECO. They accounted for 30% of installations during the year – up from 16% in 2018.
Cavity wall insulation, which was previously the most common measure, saw its share of installations drop from 38% to 19%. The second most common – solid wall insulation – fell from 19% to 12%. 
By the end of the year, BEIS said 70% of properties with a cavity wall (14.1 million) had cavity wall insulation, two-thirds of those with a loft (16.4 million) had the relevant insulation and so did 9% of those with solid walls (764,000).
ECO installations by type and year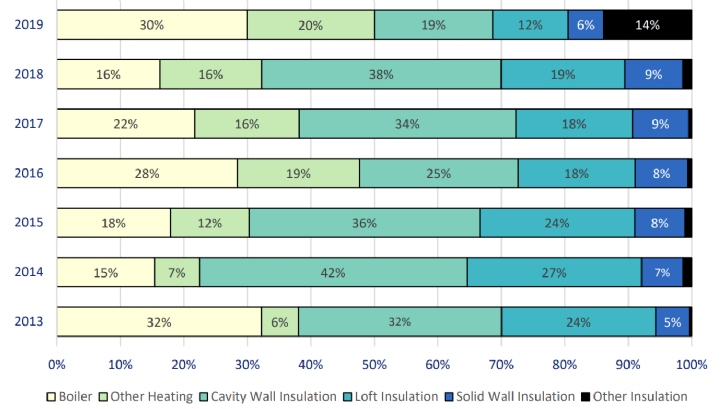 The ECO scheme was originally worth £1.3bn per year (2009 prices) when it began in 2013 but was reduced in value to £820, per year (2013 prices) for the second phase and then £640m per year (2017 prices) for the third.
According to the figures from BEIS, suppliers spent £421m on the scheme in 2019, including £40m on administrative costs.
Tom Grimwood
This article first appeared on Utility Week.
Utility Week is our subscription-only sister service, offering utility leaders and their teams access to unrivalled news, insight and impact analysis on key areas including regulation, strategy and technology. To find out more about membership options please contact JoNikiforov@fav-house.com .
© Faversham House Ltd 2023 edie news articles may be copied or forwarded for individual use only. No other reproduction or distribution is permitted without prior written consent.