Beyond Carbon: The $500m plan to create a low-carbon US, with or without Trump
EXCLUSIVE: President Donald Trump may have officially kickstarted the process to withdraw the US from the Paris Agreement, but there is a movement of cities, states and businesses that is driving the nation towards 100% clean energy, with or without support from the federal government.
---
On Monday 4 November 2019, the Trump Administration officially sent the relevant paperwork to the UN to commence a one-year process of exiting the Paris Agreement. Trump will be able to finalise the withdrawal on November 4 2020, one day after the presidential election, in which Trump is seeking a second term.
Green groups and critics of Trump have vehemently chastised the decision, with the Earth Day Network's president Kathleen Rogers claiming that it puts the "current US administration on the wrong side of history".
However, amidst the cutbacks to green legislation issued over the last three years by the Trump Administration a counter narrative exists, one pulling the collective power and purchasing decisions of US businesses, cities and states together to ensure the world's largest economy doesn't renegade on the global climate fight.
Michael R. Bloomberg, C40 Board President, UN Secretary-General's special envoy for climate action, and Mayor of New York City between 2001-2013 has been vocally against many of Trump's decisions when it comes to relaxing laws for coal production, water quality and rolling back efficiency standards for vehicles.
He is also the founder of Beyond Carbon, a programme to drive the US towards a 100% clean energy economy – and close all coal-fired power stations within the next decade. He has already made a $500m cash injection into the campaign, as he aims for Beyond Carbon to ignite state and local policy changes that enable the transition to electric vehicles, building pollution, and low carbon manufacturing.
According to Antha Williams, who leads the environment programme at Bloomberg Philanthropies, which is steering the Beyond Carbon movement, the appetite for clean energy amongst US citizens, cities and businesses means that the country can still plot a course to the low-carbon economy despite repeated efforts from the Trump administration to do otherwise.
"We see cities and businesses charging forward, regardless of what is happening in Washington, and that's because the public is demanding action on climate change," Williams tells edie.
"There's been a tonne of momentum since the launch of Beyond Carbon. We've closed nine coal-fired power plants in the US since the launch. Coal is still the leading source of climate emissions globally, and the rate that we're closing them is the same as under Trump as under Obama, it's essentially the demand of citizens who want clean energy that is driving this change, and local decision makers."
Beyond Carbon's launch in June 2019 follows Bloomberg's collaboration with the Sierra Club in 2011 to launch Beyond Coal, which assisted in coal plant closure. To date, 289 of 530 of North America's coal plants have shut and Beyond Carbon will accelerate work on this front, using strategies from the former campaign, as well as preventing the construction of gas plants as an alternative.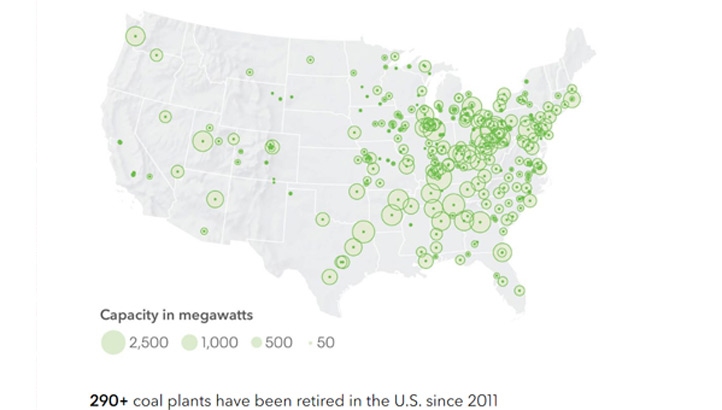 The programme is the largest-ever coordinated campaign against climate change in the US, focusing on a bottom-up approach that engages US citizens on climate change, which sparks demands for new policies and actions from states and businesses.
City focus
Williams notes that the renewables transition isn't the only focus of the programme, electric vehicle uptake, eliminating building emissions and ensuring those working within the fossil fuel sector can find jobs within a booming green market are all key priorities.
Research suggests that extreme weather events cost the US economy more than $306bn in 2017, and that future climate-related events could drive more than 100 million people into poverty by 2030.
Moody's has also estimated that if $69trn in damages by the end of the century could be caused if global carbon emissions are not reduced. Both of these estimates act as the economic need for US cities to alleviate climate change through robust, low-carbon policies.
When Bloomberg was elected New York mayor in 2001, his PlaNYC initiative led to a city-wide change that reduced New York's carbon footprint by 14% and added more than 850 acres of new parkland.
Many more city mayors are now aware of the opportunities this transition can bring and are hoping to replicate Bloomberg's success.
Newly elected C40 Chair, Los Angeles Mayor Eric Garcetti, recently challenged national leaders, business chief executives and global investors to ramp up ambitions to deliver a new global practice for climate action.
Garcetti noted that the urgency of today could combine with a human ability to innovate in a way that could create a "marriage of the economic and ecologic" that helps achieve the Sustainable Development Goals, spur the green economy and collectively enact a Global Green New Deal that sparked a "decade of climate action".
Elsewhere, the American Cities Climate Challenge, set up in 2018 by Bloomberg, focuses on city-level approaches to combatting carbon emissions. A total of 25 cities, including Boston, Seattle and San Jose, have all been accepted into a two-year acceleration programme to help them meet – or beat – their near-term carbon reduction goals. If 100 cities were enrolled in the programme, Bloomberg Philanthropies claims that those cities' contribution to the Paris Agreement would be met. 
In fact, Williams adds that since the launch of Beyond Carbon, seven states have introduced new clean energy laws of some kind.
"At a state level we've seen a real change in the focus on clean energy," Williams adds. "We know from the American Cities climate challenge that if 100 cities were to adopt this climate playbook, they could actually meet their targets under the Paris Agreement.
"Of course, we could get there much faster and move much further with support from the federal government and long-term imagine what we could do it we weren't swimming against the tide, but actually flowing in the right direction?"
Future activism
As part of the Nationally Determined Contribution submitted by the former Obama Administration, the US had agreed to cut its climate footprint by at least 26% below 2005 levels by 2025. But Trump has largely reversed the climate progress of previous administrations.
One of the first moves from the Trump Administration was to remove all references to climate change from the White House's website, with the Environmental Protection Agency's (EPA) website devoted to explaining climate change later pulled. By the end of 2017, Trump announced that the US would no longer regard climate change by name as a national security threat.
In March 2017, Trump signed an executive order to review the Clean Power Plan, in a move that sought to dismantle much of the work on climate change delivered by the Obama administration. The Plan, which mandated the US power sector's carbon emissions to fall by 32% from 2005 to 2030, was scrapped in October 2017, with Pruitt claiming that "the war on coal is over". However, a report by policy research firm the Rhodium Group found that the US is still on track to achieve the Plan's initial goal.
Through this move, the US effectively ceded leadership on the issue to other countries, including China and France, whose President Emmanuel Macron led the responses from other nations with a "Make Our Planet Great Again" slogan. Directly after the announcement, a whole host of US states and corporates displayed solidarity with the 'We Are Still In' pledge. 
More than 900 companies, including Nike, Tesla, Google and Microsoft, joined Bloomberg's We Are Still In declaration and along with cities have spurred demand for renewables that has seen clean energy capacity double in the US since 2008.
Yet Williams believes that clean energy can be spurred further, and next year's presidential elections will act as the battleground for an America that is either all in on the net-zero transition or an America that needs a grassroots uprising to ensure clean energy still has a place on the political agenda.
"We're seeing at the local level that there is a huge number of people who are energised and mobilised," Williams adds. "We see cities and businesses charging forward, regardless of what is happening in Washington, and that's because the public is demanding action on climate change. They're demanding it because green energy is cleaner, cheaper and better for their health.
"Beyond Carbon, in Michael Bloomberg's direction, recognises that the problems that we face on climate change aren't technical problems, they're political problems. So, we'll engage in a deep way in the US elections in 2020 to support candidates for office that are really strong on climate action, and to oppose those who are moving in the wrong direction and that's all the way down to the local level."
---
edie's Net-Zero November
This article forms part of edie's Net-Zero November, a month of content and events to inform and inspire sustainability professionals to push towards net-zero. You can read all our Net-Zero November content here.
Additionally, if you have a net-zero carbon target, or a commitment to set one, that has recently been announced you can add it to our Mission Possible Pledge Wall here.
Matt Mace
© Faversham House Ltd 2023 edie news articles may be copied or forwarded for individual use only. No other reproduction or distribution is permitted without prior written consent.