2017 green policy review: A year of progress and pleasant surprises
20/12/2017
What a difference a year makes. Let us briefly cast our minds back to the halcyon days of January 2017 - who would have thought that a widely-ridiculed Jeremy Corbyn would soon become favourite to be the next PM; that a divorced mixed-raced American actress would be about to enter the Royal Family, or that a vastly experienced England cricket team would succumb to a humiliating Ashes defeat Down Under before the Boxing Day test?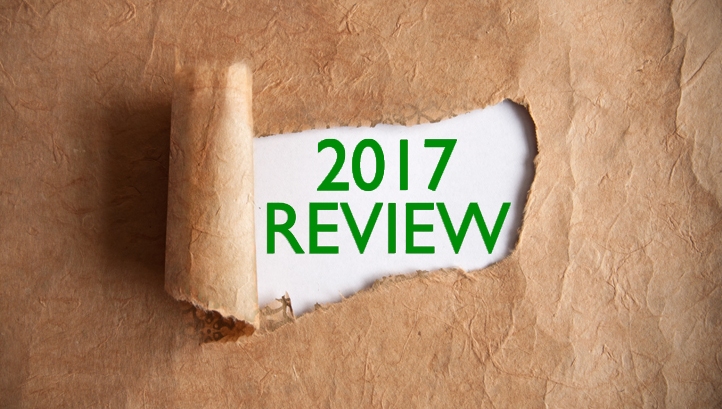 All of these eventualities seemed barely conceivable 12 months ago. But then again, 2017 has been a year full of surprises - and energy and environment policy is a case in point.
As we march full steam into the festive period, and prepare for the yearly routine of contrived extended family small-talk and gluttonous mince pie consumption, it is worth taking stock of just how different the complexion of the green policy landscape looks now compared with the start of the year.
"Uncertain", "confusing", and "damaging".
Those were the same words invariably on the lips of any energy or sustainability professional asked to describe the domestic and global political backdrop back in January. The international community was in a state of flux; there lay a palpable concern that the whims of an ostensibly unhinged newly-elected US president could collapse the terms of the Paris Agreement before it had even a chance to take shape.
On a domestic level, meanwhile, ministers from BEIS and Defra received a daily barrage of criticism from members of the green community (and press) over yet more delays to long-overdue legislative action on emissions reductions and the UK's critical air quality crisis. As MPs returned to the Commons after the 2016 Christmas break, we were still no further forward with plans to trigger Article 50, while a myriad of warnings were sounded over the "cocktail of risks" that Brexit would undoubtedly pose for the UK's environmental protection.
Fast-forward to the present day. While admittedly not every single one of these concerns have been entirely addressed, the signs look far more encouraging. Donald Trump's universally-condemned decision to pull the US out of Paris only galvanised the rest of the global community to move faster in its efforts to halt the devastating effects of climate change. A whole host of US states and corporates displayed solidarity with the 'We Are Still In' pledge, while only this week China's launch of the world's largest carbon market sent a clear signal to the White House that the world remains committed to tighter restrictions of fossil fuel pollution.
The recent outlook for the UK's sustainability agenda can also be regarded as a whole brighter. Landmark triumphs such as record-low offshore wind costs and the launch of the first subsidy-free solar farm point towards a Government realising the opportunities of the low-carbon transition, supporting both the creation of new jobs and continued investment in the clean energy industry.
Strangely enough, the upturn in the UK's green policy fortunes coincided with a cabinet reshuffle forced by the crushing Tory loss of a Westminster majority, which triggered the arrival of several progressive figures into the ministerial fray.
New Climate Change Minister Claire Perry, for one, has played an instrumental role in ensuring the UK's voice remains strong on the international climate change scene. This was demonstrated by Britain's leading role in last month's launch of a global alliance to phase out coal, reportedly cooked up by Perry and her Canadian counterpart over a flat white in a New York café. Commentators also widely recognise Perry's heavy involvement in raising the ambition of BEIS's flagship Clean Growth Strategy, the long-term blueprint for the UK's push towards its future carbon budgets.
Perhaps the biggest surprise of the past six months has been the assiduous work carried out by the new Defra Secretary who, according to close allies, has been transformed from a "shy green" into a "full-throated environmentalist". Ever since Michael Gove's Green Alliance speech in July - where he pledged to exploit Brexit to redevelop green policies that "puts the environment first" - his strong rhetoric has been matched impressively by equally robust policy measures.
There has been a ban on bee-harming pesticides, a consultation on a plastic bottle deposit return scheme, and the promise of a new independent watchdog as a centrepiece reform to ensure a "Green Brexit". Cynics warn that Gove is posturing on a series of cheap environmental wins merely to establish himself as a sheep, before revealing himself as a wolf. However, few could argue that he has already completed much in his early stint as Defra chief than many of his predecessors (yes, we mean you, Andrea Leadsom) in their entire tenure.
Gove's department gave another unexpected lift to those in sustainability circles in July with a proposed ban on new diesel and petrol vehicles by 2040. This, alongside plans to establish a £400m charging infrastructure fund and an extra £100m in the plug-in grant, has crystallised the Government's vision of a future British transport sector steered by low-carbon innovation. These measures highlight the benefits of clear political leadership, with major car manufacturers Volvo, Jaguar Land Rover and BMW all subsequently announcing decisions to decarbonise their respective portfolios.
As one of the four central pillars of the recently launched Industrial Strategy, it is clear that clean growth is seen by the Government as playing a key role in boosting the UK's long-term economic prospects. This message struck home during the Chancellor's Autumn Budget speech, an event which almost every year without fail routinely ignores the sustainability agenda. November's speech was different, however, with Philip Hammond dedicating a good chunk of his time at the despatch box outlining plans for green innovations to build an economy "fit for the future".
Those in the green sphere will be buoyed by Business Secretary's Greg Clark's comments that battery technology will form the cornerstone of this ambition. Indeed, the fresh four-year £246m investment – known as the Faraday Challenge – is set to provide a much-welcome helping hand to businesses seeking to capitalise on the benefits of energy storage and the EV boom. Minister Perry's comments at a recent BEIS select committee hearing gave an encouraging indication that, unlike previous governments, the incumbent administration recognises the need to intervene when necessary.
Nonetheless, there are of course key areas where sustainability professionals would wish to see green policy improvements in 2018. As it stands, the UK is in line to miss its fourth and fifth carbon budgets, and there are specific topics that must be addressed to bring the country back in line. The low-carbon housebuilding sector, for instance, has been in dire need of a fresh approach since the previous Government's axing of the zero-carbon homes policy. Meanwhile, big question marks still hang over the future of onshore wind. And we are still yet to see how ministers intend to reinvigorate the renewable heat market or replace the Levy Control Framework, both of which are crucial factors in providing certainty for long-term investment.
And then there is Brexit. There remain many unanswered questions, such as whether the UK will remain a member of the EU Emissions Trading Scheme. Moreover, will we adhere to the features of the imminent EU Circular Economy Package and, if not, how can the UK look to resuscitate its flagging recycling rates and reduce its food waste figures? The latter of these conundrums will hopefully be resolved in the upcoming 25-year environment plan, expected to be published at the start of 2018.
Let us hope that Gove stays true to his word and makes it his New Year's resolution to deliver the post-Brexit environmental protection sorely needed. Now is the time for the UK Government to build upon the solid policy frameworks established this year and create the platform for the British business community to thrive in a low-carbon, resource-efficient economy. Here's to 2018, and the many more pleasant surprises it could bring.
George Ogleby