An old technology fit for the future?
21/06/2016
Could an old technology give us the edge for the future of sustainable energy generation? The Stirling Engine - power from heat.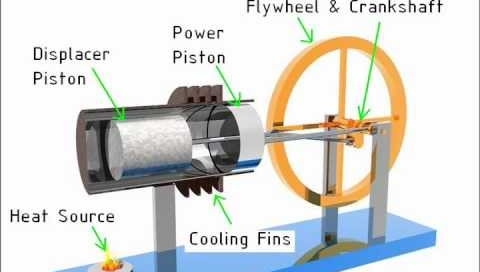 At the weekend, I came across a very intresting technology called the Stirling Engine. This peculier engine was being displayed by a bunch of enthusiasts who were using several models to power small water craft with a few display versions running purely on the heat of the sun.
The basics of the system is thermal expansion and contraction of a fluid. This drives pistons which in turn drive a crankshaft that rotates a flywheel. Hook this flywheel up to an alternator (or in the example of a boat a propeller) and you get power. Depending on the size of the engine and the temperature differential there is a potential to generate a significant number of amps to charge a battery power system.
Not bad for something that was invented by a clergyman in Scotland 200 years ago.
Domestically could this system work off the hot air lost up the chimney/flue from central heating systems or solid fuel burners thereby extracting more power per unit mass? With the hot side in the chimney and the cold side outside the wall the difference in temperature could be quite dramatic. Even if the warm side was just inside the average house (~20C) during a normal winter the difference could be 10C, 20C or even more.
Given that solar PV suffers in winter due to the reduced number of daylight hours, wind turbines don't do much when it is really cold as it's normally calm too and the average home is heated for longer, adding a Stirling Engine powered alternator to the domestic mix could help balance the power needs of a home. Imagine charging your domestic batteries on a cold, calm night just because you had the heating on.
Theoretically a Stirling Engine could also generate electrical power from the Ground Heat Pump process. With one side buried under the ground and the other unit above ground with cooling fins it would use the "stored" heat in the ground in winter to heat the fluid and the cold air to cool it. In summer the process would actually be reversed and you could add a solar concentrator to enhance the heating effect.
Could it also be scaled up to add extra generation capacity to traditional power stations by tapping the heat in the chimney stacks? As many power stations are located close to rivers for cooling water and as running water has a much higher cooling effect that air this could be a very efficient addition.
Perhaps to power the future we need to look back to the past.
Keiron