Can we re-develop old power stations for the new world?
05/11/2016
Driving home from a ride around some local woods, I passed the now-closed Longannet Power Station on the River Forth. For those not familiar with this particular power station, it was one of Scotland's main electricity generating stations until it was closed down due to restrictions on the burning of coal.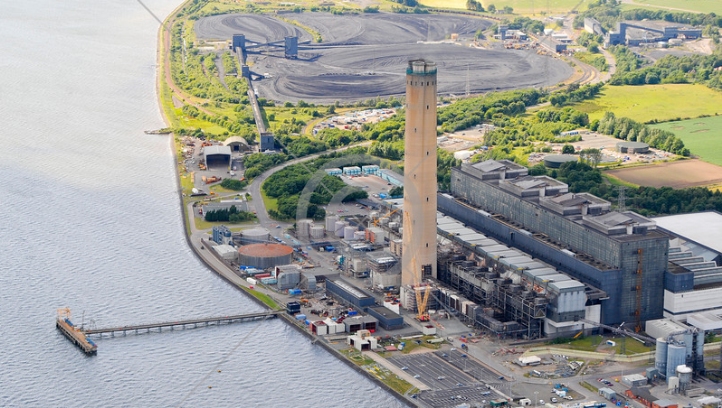 Longannet (pictured above) was capable of burning coal, gas, biomass and sewage sludge and generated 2.4GW (in 2012 it produced 9525 GWh). It is due to be demolished sometime in the next few years.
Seeing it standing there got me thinking about what the site would be used for after it was demolished. Given the contaminated nature of the site and the coal storage alongside, it is highly unlikely that it could ever be used for housing or industrial land - it would cost too much to clean it up - but as it is already a power generation site could it continue to be used for this?
Initially, I thought about a major solar farm on the site, which is approximately 30 hectares (74 acres). It is south facing, on the River Forth and is not overlooked by housing so would not create an eyesore locally. Also, it already has the transmission infrastructure in place to deliver power to the grid.
Then, I thought about the usual problems with solar power, namely it doesn't generate anything at night and on those cloudy days so common in Scotland you can have millions of panels but still generate bugger all. That said, I'd still rather a massive solar farm on the site than wind turbines.
What about doing something different? Instead of building a new generating site how about building something to help the existing renewables be more effective. What about building the UK's first energy storage plant? Scotland has a history of engineering and it was James Watt who fired the Industrial Revolution, so it seems appropriate to start the 'energy storage revolution' here.
A compressed air energy storage plant does not need anything ridiculously new in terms of equipment or technology. A compressor, a pressure vessel and a turbine along with associated valves, pipes etc. All of which can be obtained 'off-the-shelf'.
So, we build a compressor house with four high-efficiency compressors using the pre-existing cooling water system from the River Forth. Next to this, build a turbine house with four high-efficiency, purpose-designed air turbines. Around the rest of the site, build the pressure vessels to store the compressed air. Link it all with insulated high-pressure pipes. Job done.
A quick bit of math and assuming the original power station was 20 metres high (so therefore our vertical limit for pressure vessels to avoid disturbing the visual environment further), we can build cylinders of any diameter. Using 20 metres and 30 metres as examples, we can create a storage volume of 6,283m3 and 14,137m3 respectively. At 256bar (3763psi), this would give a storage capacity of 1,608,495m3 and 3,619,114m3 atmospheric equivalent - that is the amount of air we can compress into the tanks.
I'm not sure what sort of flow rate would be required to power the turbines,but assuming the turbines are purpose-designed using lightweight materials and ultra-low-friction bearings to maximise the efficiency, a rate of 100m3/s would seem realistic (100m3/s is the flow of the Thames at Caversham Lock, for example). I have no idea what the generation capacity would be from this flow rate, but 3,619,114m3 at 100m3/s gives 10 hours of flow. Seventeen of these 30x20-metre tanks would hold enough air to provide 10m3/s flow for a week. Sixteen tanks would cover a surface area of 14,400m2. As we have 300,000m2 of land surface to play with, there's loads of space for storage tanks.
Is this a viable idea? No clue, but I think it should be something to seriously consider and it would show the world that Scotland and the UK are serious about sustainable power and breaking away from 'burning' things to generate our power.
Keiron