Can you eliminate plastic in the workplace?
16/04/2020
Back in 2017, WWF-UK pledged to eliminate all unnecessary single-use plastic throughout the organisation. Environmental Manager Lauren Wiseman explains how this year, that target was achieved.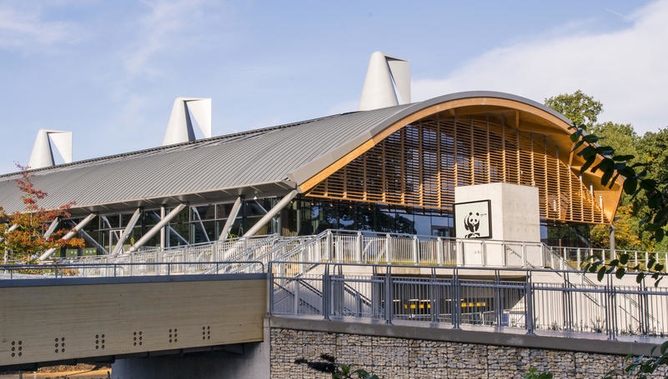 Removing single-use plastics probably won't be on anyone's list of priorities just now.
However, with the hope that we will be returning to a version of 'business as usual' in the near future, now is a pivotal time for us to work together to safeguard the future of our planet by changing where and how we work to promote sustainability.
For the past two and a half years at WWF-UK we've been on a journey to eliminate avoidable single-use plastics from our operations, products and supply chain. We've detailed how we have successfully met this target in our new single-use plastic report which is now available.
It's been a challenge and has come with its share of problems but, as an organisation dedicated to fighting for our world, it's been a necessary journey for us to undertake. We've been honest with our report and tried to give as much detail as possible to enable others to undertake similar challenges.
Removing single-use plastics from any organisation is complicated. For a start, not all plastics are bad; some serve a very specific and useful purpose and can have environmental benefits over other materials. The issue is resource consumption. We are consuming beyond the means of our planet – which has finite resources available – and then wasting those resources by choosing disposable options which are quickly thrown away. Plastics also derive from fossil fuels, which we want to keep in the ground to reduce the effects of climate change.
It's essential to follow the waste hierarchy, reducing and preventing waste wherever possible, and striving for a circular economy where resources are kept in use for as long as possible. At WWF-UK we aim to reduce our waste as much as possible, recycling everything we possibly can. Eliminating single-use plastics (designed to be used once, or for a short time, before being disposed of or recycled) was a logical progression. There have been some plastic items we've been unable to remove, either because of logistics, feasibility or supply. With these items we've tried to reduce packaging where possible, or choose the best available plastic, and will continue to search for alternatives in future.
Throughout this process we've seen a rise in greenwashing; many brands offer 'solutions to the plastics crisis' as public awareness of the issue grows. There's no shortage of good intentions – everyone wants to save the oceans and wildlife suffering from our waste. However, there is a lack of clear information on this topic, and transparency from suppliers, which both lead to products such as bioplastics becoming popular choices despite creating another waste problem. If a 'biodegradable' item made its way into the ocean it could look and act just the same as a plastic one, causing the same damage if ingested by marine life. For example, a biodegradable plastic bag still looks like a jellyfish to a turtle.
It's not all bad news, there has been such a hugely positive shift in attitude from suppliers and consumers that new, environmentally beneficial alternatives have come to market. We've managed to take advantage of offerings such as oat milk in glass bottles, envelope printing services and plastic-free stationery deliveries. By switching to envelopes without a small plastic 'window', we've saved roughly 2.1 million pieces of single-use plastic a year – weighing around 700kg. It used to be the case that choosing the most environmentally friendly option would be the most expensive (i.e. recycled paper 10 years ago) but this is no longer the case. Some swaps on our journey have been more expensive, but others have saved us money, which we've then used to offset the higher costs. Within reason, it's important not to get too focused on the cost of doing the right thing – can you put a price on saving the environment?
It's also important to take time to get it right. We started with an all staff survey to identify every area of plastic use in our organisation and developed an action plan from there. We've also spent long consultation periods with suppliers, going back and forth on materials and products to make sure we're making the best choices possible for the environment. If you're thinking of starting a similar challenge to remove avoidable plastic waste from your organisation, start as soon as possible but remember to make time to get it right. Research alternatives in-depth, conduct life cycle comparisons between products, and grill suppliers to make sure they're really doing everything they can to help meet your challenge.
For more resources and information on eliminating plastic waste, see the our tips for fighting plastic pollution, the Ellen MacArthur Foundation and Marine Conservation Society.
Lauren Wiseman