Circular housing turns cities in vital ecosystems
23/09/2016
Housing solution based on circular economy principles can change cities' agility in the future.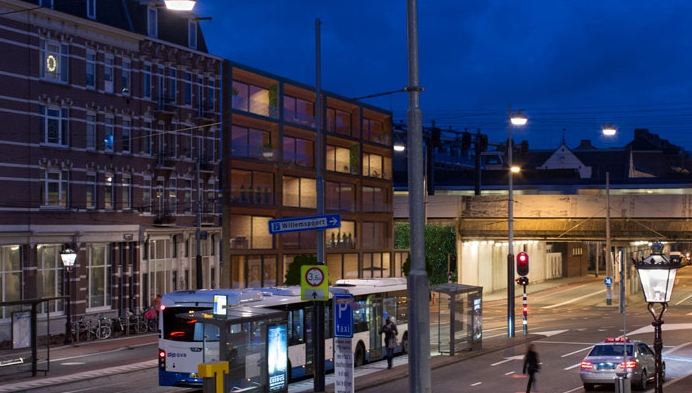 Cities all over the world are facing dramatic urbanisation challenges ranging from transport, food and housing next to social and economic ones. Flexible housing solutions have been brought to some cities already. Still flexible often means fast and cheap, not appropriate for permanent housing.
Dutch startup Woodyshousing moves beyond that idea and developed a fully circular system of high quality, stackable studio's which gives a totally new interpretation of real estate. Suddenly, real estate is no longer a fixed building, but a movable good emboddied in the dynamic urban environment.
Having developed a product and a service where circular economy principles are not just applied to materials but also to the business model and finance, it created space to take social and economic considerations into city planning.
Although it looks like another smart housing product, the startup is revolutionising the way urban planning used to be for centuries. The statement of unlocking urban potential in favour of the circular economy is based on the use of technology in all aspects.
The elimination of waste and optimalisation of ressources were the starting point when working on a solution for high quality and affordable housing in urban environments.
"Keep it smart and simple" reflects the ability to play the game in a social and economic profitable way while offering social housing to students and youngsters facing tremendous difficulties to find enough and decent housing against reasonable prices.
As traditional parties are not able to change business models at once, Woodyshousing manages the whole proces from design, production, realisation and operation with a steadily growing portfolio in The Netherlands and abroad.
Bringing housing to the places where housing is needed - without compromizing on quality or price - it's a fully circular business model where lifecycle costs are more important than initial ones.
The circular economy is the only way we can make a difference in solving big social and economic problems. There is no way to continue the way housnig and construction were done in the past if we really want to have impact. And housing definately is a part of urban life not managed well enough for too many people.
As Ida Auken, the former Danish minister of the environment, put it: never just solve one problem.
Beate Bouwman