Combining renewable energy technologies: untapped opportunity?
27/01/2017
Are we missing out on an opportunity to combine technologies when it comes to power generation?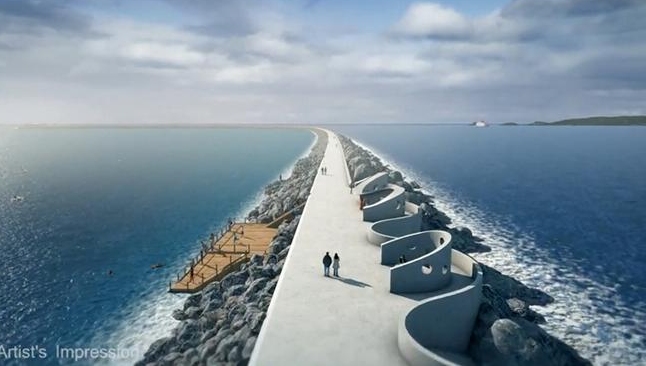 With the fundamental approval of the Swansea Bay Tidal Lagoon recently, I had one of those "eureka" moments and yes, I was sitting in the bath at the time.
Here we are about to embark on harnessing the vast tidal range we have around our western coasts to generate reliable, sustainable power - something I think we should have been developing years ago instead of going hell bent for wind or wasting time with wave (I'm not going to go down the road of arguing about wave power just to say look at what happened to Dawlish). As the Severn Estuary has some of the highest tidal ranges in the world (14+ metres at Spring Tides at Avonmouth), we happen to have an incredible resource that rolls in and out twice a day every day, regular as clockwork so it is a bit of a wonder why we haven't tapped it yet.
Now, the Swansea Lagoon is going to be a "test bed" to prove the technology and to apraise the system for much larger schemes in the future. The company behind it estimate they can produce 320MW from this scheme, which is a fairly decent amount, especially given it will be less variable than 320MW of installed, peak capacity wind turbines (which rarely produce their peak capacity). So, I am all for this as long as there are no limitations on using the lagoon for water sports and there is a method to cross the barrier for seafarers (I'm sure they have considered this but one never knows). Oh, and of course it's safe for the fish.
Looking at the artists impressions of the scheme (above) brings me to my eureka moment. Here we are building a bloody great wall at sea so why not install wind turbines along its entire length? I'd suggest smaller turbines so they don't have such a large visual impact but think about it for a moment. Here we are putting turbines all over the Scottish and Welsh hills and offshore (with all the extra maintenance costs associated with offshore installations) and we have an "offshore" location that can be reached by a man in a van. Additionally, I have found that long, linear wind installations near centres of population to be actually quite esthetic.
If we did this at Swansea and it worked then the obvious thing to do it combine the two tecnhologies at all future tidal lagoon sites. The tidal gives us a reliable generation capacity with the wind adding into the mix as it does. Simples.
This got me thinking, over a glass of Merlot, and taking the combination approach further: would it be possible to combine offshore wind turbines with tidal stream turbines? After all, both need a central column to hold them so could you build a single column with tidal stream turbines below the surface and the wind turbine on top? I see no reason why it wouldn't be possible. Maybe someone could develop a wave generation system that used the main column of the wind turbines?
By combining technologies, we can get twice as much bang for our buck as we have two sources of power at a single location which only needs one set of power transmission infrastructure and potentially one team of maintenance engineers.
Out of the box? Sometimes it takes a madman to see the blindingly obvious.
Keiron