Compost, degrade, recycle: the truth about plastic bags
13/04/2017
There is obviously a lot of confusion around the materials plastic shopping bags are made from and the compostability, biodegradability and recyclability of them.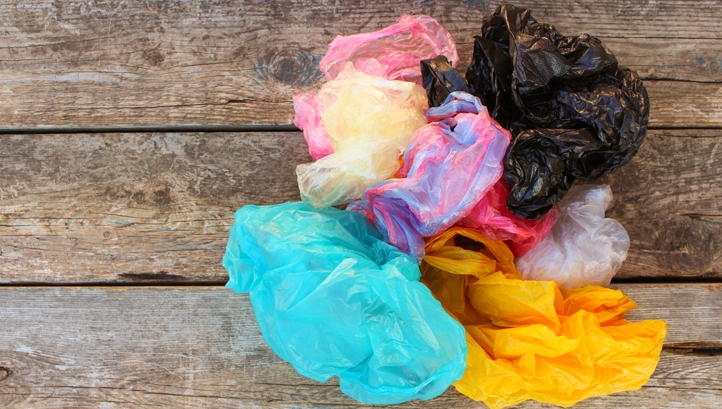 A blog published on edie earlier this week underlines just how easy it is to misunderstand this complex issue. Evidently, the association I represent is not doing enough to get clearer evidence across to businesses and the public.
So, here's my right of reply to that blog; my own attempt to bust some of the myths that evidently still exist when it comes to the sustainability of plastic bags.
1) Bio-based and biodegradable plastics
These are made of polymers that come from renewable, bio-based sources (starches, sugars, cellulose) as well as non-renewable sources (oil- based). Actually, one can make totally biodegradable plastics from oil as well as making totally non-biodegradable materials from plants. Confused? Yes, this isn't an easy process to get your head around.
Biodegradability does not exist as a legal concept when discussing bioplastics. Compostability does, and the European standard EN13432 has certified the compostability of packaging materials in the UK since 2002. This asks for a minimum of 90% biodegradation in composting over a 180-day period.
The blog published earlier in the week made the statement that as these only decompose to 90% that residual plastics remain thereafter. This is incorrect. The current best laboratory test considers CO2 evolution in relation to a known biodegradable material, e.g. cellulose.
Ninety percent is the pass limit in the biodegradation test for two reasons: firstly, since the test uses naturally occurring microbes and materials (compost) there is some variability.
And secondly, not all of the biodegradable plastic will be converted to CO2, because during the metabolism of the substrate (biodegradable plastic), water and biomass are also produced. However, given these other products may be consumed or used by other means or microbes in the compost, it is not possible to measure them accurately.

The previous blog also states that polyethylene is left over. Again, this is incorrect. There is no traditional plastic in a compostable carrier bag. Every constituent must be tested for biodegradability.
The blog goes on to mention that compostable films used for carrier bags are only suitable for industrial composting. In the UK, the distribution of compostable carrier bags is done, as far as possible, in areas where there is a food waste collection, meaning the bags can be used for a second time to collect food scraps prior to sending to organic recycling through local authority collections. Most often, bags are produced from materials that are designed to be both industrially compostable and be suitable for home composting – this is verified by respected independent certification bodies and is marked on the bag itself with the relevant standard and logo. The industry making biodegradable, i.e. compostable materials, has been working for some years to ensure that increasingly these films are suitable for home composting.
2) Recycling polyethylene bags
Yes, technically a low-density polyethylene (LDPE) bag is recyclable, but the reality is that it will not be recycled. In fact, in the UK, less than 5% of all plastic films are mechanically recycled. So, the view that LDPE bags are intrinsically best because they can be recycled does not take into account the fact that they are hardly likely to be recycled at all. There are very few separate collection schemes in place in the UK for plastic films.
3) Oxo-degradable films (plastics made with an additive included which helps them break down in certain conditions)
The extent to which oxo-degradable plastics biodegrade after fragmenting is much debated. In its review of the issue, Defra found that there is no conclusive evidence to show that these additives result in complete biodegradation (a summary and FAQ can be found here).
From the view of the organics recycling industry, Defra's findings match the frustrating experience of having to eliminate oxo-plastic fragments from the composting process; the industry is thankful that these bags are no longer present en-masse in the UK as, when the public mistakenly think they will be suitable for composting and put them in their organic waste bin, they can cause huge problems of contamination. And they fragment and tend to remain in tiny pieces in the final compost, lowering the commercial value and transmitting to soil. In mechanical recycling, oxo-degradable plastics damage the quality of recycled plastics as they will continue to fragment and so are not wanted by recyclers.
By misusing the word 'biodegradable', the vendors of oxo-degradable plastics have created further confusion. As we have seen, 'biodegradable' has no legal meaning. In the USA and other jurisdictions, using such a declaration when promoting oxo-degradable plastics has led to prosecutions of vendors due to a misrepresentation of their products.
In conclusion, compostable plastic bags can be re-used and recycled through organic recycling including composting at home or in a compost plant where food waste collections exist – but sadly, in England, that is fewer than half of councils). LDPE bags can be recycled mechanically but collection systems rarely exist for them. And oxo-degradable plastics damage both organic and mechanical recycling and should be disposed of.
I hope that has made this complex issue a bit clearer and easier to understand.
David Newman