Don't waste this Halloween
31/10/2017
London Metropolitan University's Sustainability Manager, Rachel Ward, speaks to us about the hidden wastage behind Halloween costumes and pumpkins.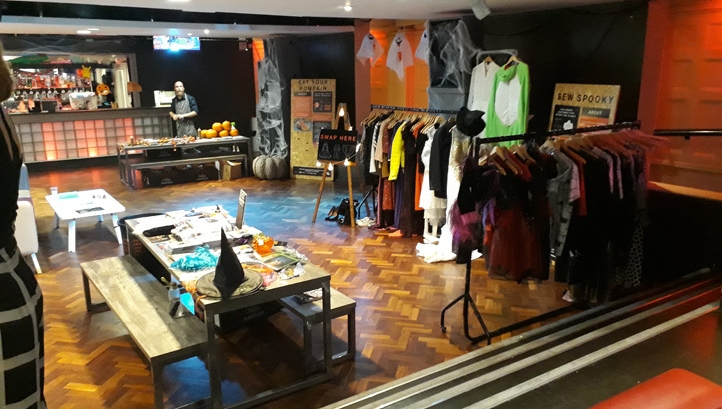 Our students are back, the clocks have changed and the weather is getting colder so it must be nearly time for festivities!
Thankfully I'm not starting to think about Christmas quite yet, but Halloween, which is now the UK's third most celebrated and commercialised event (after Christmas and New Year's Eve). Approximately 39 million adults and children dressing up this year.
At London Metropolitan University, we've been working with the fantastic environmental charity, Hubbub, who are delivering a series of events called 'Sew Spooky' to try and reduce the amount of waste associated with Halloween, which is probably the most scary thing about the day!
The statistics they shared with us are terrifying. We will spend a whopping £510 million this year on Halloween costumes with nearly half of them being worn only once with the rest ending up in the bin - last year, 14 million of costumes were thrown away. My favourite fact from Hubbub was that last year, 2.7 million Donald Trump outfits were bought!
At London Met, the 'Sew Spooky' event encouraged staff and students to bring along old costumes they didn't want any more and exchange them for something new – a fun way of celebrating Halloween while thinking about its environmental impact. 73% of people were happy to exchange costumes but, like many large institutions, there was some reluctance to swap at the University. To combat this, we held 'Make Your Own' workshops using upcycled materials to increase the measly 14% of costumes that are handmade. Hopefully London Met students and staff will all be wearing upcycled or swapped outfits on Halloween. After Halloween, we will have recycling bins to collect any unwanted costumes and make sure they find a good home.
The other major waste at Halloween is pumpkins! There are 15 million pumpkins binned every Halloween with people just carving them and dumping the insides which could make a bowl of pumpkin soup for everyone in Britain!
Wise up to Waste held a 'pumpkin rescue' event to show our staff and students what they could do with pumpkins other than just carve them. The pumpkin and coconut cake was a revelation! The recipe for this is available on Hubbub's webpage. Don't forget the seeds! Every pumpkin has around 500 seeds so you can use them in cooking as a snack and to grow next year's pumpkin. Also you can compost any bits you don't need.
Have a good Halloween! Now to think about how we will reduce the waste around Christmas…… It never ends at London Met!
Rachel Ward