Has the plastic bag tax achieved anything?
14/09/2016
It's been almost a year since the 5p plastic bag tax was introduced in England and the expected chaos foreseen by some thankfully has not come into fruition. In the main, most of us are now pretty much used to bringing a 'Bag for Life' to the supermarket and saying no to the offer of a plastic bag when we have only a few items to carry from the checkout.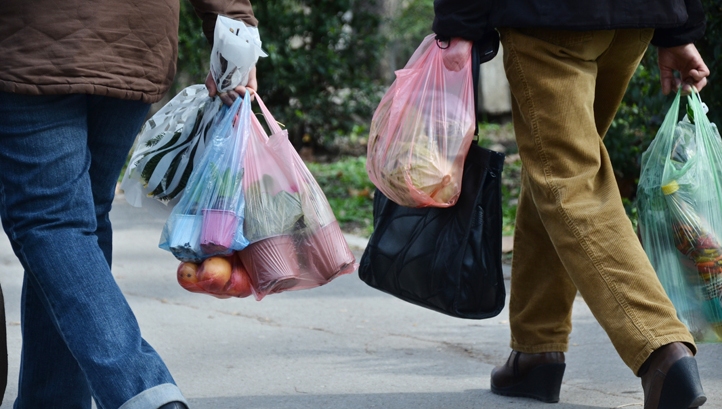 Early figures showed an incredible 80% decrease in use – as well as some unusual consequences: the increased sales of "granny trollies" and the apparent rise in thefts of shopping baskets. Another big impact has been the positive benefits for charities. When the tax was introduced, retailers were expected to donate the proceeds of their plastic bag sales to good causes and FoodCycle has been one such charity to benefit from the tax.
FoodCycle is a national charity and we run 29 projects across the country taking surplus food from supermarkets and cooking it into healthy, three-course meals for people living in poverty. We serve over 700 meals a week and for many of our guests it's the one chance they have each week to share a community meal and a chat with other people.
Last year, we began a partnership with COOK, producer of high-quality frozen food, who would donate the proceeds of the 5p tax. Since October, we have received over £13,000 from sales of COOK's carrier bags and this year have opened new six projects across the country in Exeter, Birmingham, Peterborough, Chester-le-Street in the north-east and two in London.
The impact of these projects is clear to see. When one of the guests at our Liverpool project found he was without income for three months, he turned to the weekly FoodCycle meal which is served every night in Toxteth, an area of high deprivation in the south of the city. He said of the Wednesday night meal "knowing there was somewhere here that I could come on a Wednesday evening, have a hot meal, have a hot drink and someone to talk to, it was like a light at the end of the tunnel".
Charlotte Sewell, Social Impact Manager from COOK said: "At COOK, we love seeing food bring people together. We have been really impressed by the work FoodCycle do across the country to build community by encouraging people to cook and eat together. We're thrilled to have been able to support them as we reduce plastic bag usage in our shops."
Similarly, in the spring of this year, FoodCycle's Peterborough project was awarded £12,000 by Tesco's Bags of Help scheme for a kitchen garden. The supermarket's initiative received support from more than eight million shoppers who vote for the plastic bag charge to go to local environmental projects of their choice.
When a refuse truck's worth of plastic is dumped into the sea every minute, the immediate environmental impact of the plastic bag tax might not currently feel huge. But it's a start. Behaviours are really beginning to change and I hope that this fits into a much wider drive towards protecting our green spaces, oceans and waterways from plastic waste.
For the time being, for small charities and community initiatives like ours, the benefits of 5p donations really can add up to make a huge difference in our towns and cities.
Mary McGrath