How to embed the SDGs in your sustainability strategy
21/11/2017
Apart from the slightly strange feeling of talking into complete silence, and not seeing any response from your audience, I thoroughly enjoyed talking at the edie Masterclass on How to embed the SDGs in your sustainability strategy, sharing my knowledge and expertise on the topic. Here I offer you a short reflection on the webinar and respond to the questions that I didn't have time to answer during the event.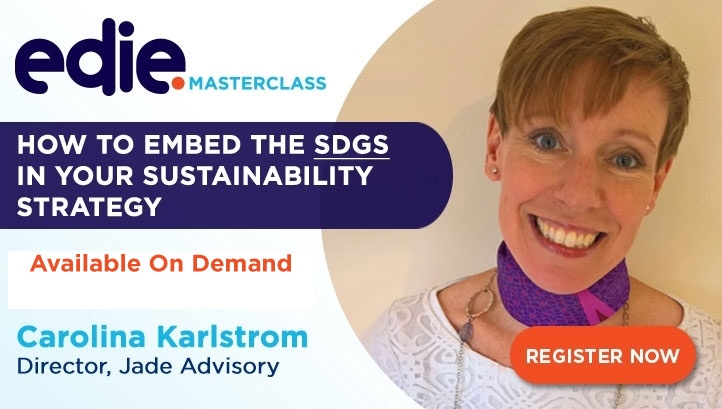 The Masterclass
The 17 Sustainable Development Goals and associated 169 targets represent a global vision and has managed to capture the interest of the private, public and civil sectors alike. There is an increasing interest in identifying ways to engage with the Global Goals and align business agendas. This provides an opportunity for organisations to show how their activities and innovation efforts help to tackle the needs of society as well as an opportunity to provide better focus to existing and emerging sustainability strategies. According to a study carried out by Ethical Corporation earlier this year, 60% of organisations say they are integrating the SDGs into their business strategy. This was based on a survey and I am not aware of a complete database of businesses reporting towards the SDGs.
In the Masterclass, I present 5 steps towards embedding the Sustainable Development Goals in your organisation:
Choosing what SDGs to focus on
Setting organisational goals
Communicate!
Integrating into core business and governance
Reporting progress
Communications is crucial, to raise the awareness of the Global Goals with your staff and your stakeholders, to create even wider engagement, enable collaboration and therefore a higher possibility of achieving the Goals by 2030. My firm belief is that we can all engage in some action to create change and bring about a more sustainable and responsible world. The notion of global challenges and local actions is as important today as ever before.
Masterclass Q&A
This section will deal with those questions submitted by the audience and that it was not possible to reply to within the set 30-minute time-frame. If you have other questions after listening to the recording, please get in touch and we can discuss how I best can serve the needs of your organisation.
Q: Apart from ignorance, what is / are the main barriers for businesses - particularly SMEs - becoming engaged with the SDG Agenda?
A: Education and a holistic approach to business responsibility. I believe the main barrier to engage with the SDGs, are that organisations don't understand what the SDGs are and what they are seeking to achieve. The Goals are all highly interlinked, and the end of poverty, providing an equal and just society, peace to all and protection of our planet, is good for business.
Q: [I am] Interested to know whether the application of existing standards of good practice (such as ISOs for measurement of greenhouse gas emissions) should be viewed as knowledge tools to enable organisations to align, assess, set targets, measure progress and report?
A: Yes, in my view standards are a great complement to the Sustainable Development Goals and can help an organisation to identify, set and measure targets, as well as reporting towards progress.
Q: What are your top tips for non-profits to get involved with delivering work towards the SDGs alongside businesses? Similarly, how would you advise an organisation like a University to incorporate the SDGs in their sustainability agenda?
A: For the non-profit sector, the SDGs provide a simple and globally standardised way to relate the cause of the organisation to the bigger picture, I would argue in much a similar way as for the private sector; the SDGs show how business activities are related to the needs of society and the challenges we are facing. This will help any funders to get a better understanding of the impact of the work and in addition, engaging with the SDGs is educational for funders and beneficiaries alike.
For a University, I would advise that the SDGs are made part of the strategy, and not only considered in the operational activities but also in the curriculum. By teaching students about the SDGs, and engaging them in projects, where for example the students can show how the SDGs can be implemented in their specific area of study, I would argue we can reach a higher level of engagement on this agenda.
Q: What is an easy way to get buy in from Management and how to capture the imagination of staff?
A: The benefits of engaging with the Sustainable Development Goals, as also outlined in the webinar are that the SDGs:
provide an overarching framework and a shared purpose,
connect business strategies with global priorities,
provide a common language,
can identify future business opportunities,
can enhance value of corporate sustainability; and
can strengthen the relationship with key stakeholders.
Getting buy-in could involve detailing the benefits pertinent to the type of sector you are in and linkages to the organisation's vision and purpose (if the organisation has identified this, otherwise the SDGs can provide an opportunity to do so). I would also add that the views of key stakeholders like shareholders/ business owners and clients are crucial.
For staff engagement, early involvement which includes education around the Global Goals and their targets (focused on the ones most important to your organisation) is essential and inviting ideas and innovations from your staff. Storytelling and sharing examples from other organisations can be useful in this process.
Q: Looking back at SDG13 climate, the targets are all about adaptation rather than reduction in emissions... How do we align our carbon reduction initiatives with those targets?
A: Despite the targets of SDG 13, Climate Action, being focused around adaptation, the Global Goal in itself to "take urgent action to combat, climate change and its impacts", in my view provide efficient support for engaging in carbon reduction.
Q: What can a company do if there are sustainability issues not covered by the SDG's that matter to your customers?
A: The Global Goals are wide reaching and if the organisation still finds itself in this situation, there is no reason why it shouldn't still work with that sustainability issue.
Q: Are there specific SDG choice sets for specific industries e.g. what would IT typically focus on?
A: The SDGs are applicable to all sectors, across all industries. The UN Global Compact and KPMG have issued the SDG Industry Matrix, which may provide some guidance.
Q: Is there a tool available which helps business to translate their SDG related sustainability goals into financial KPI's which are used by a CFO to steer the business?
A: Have a look at the comprehensive report developed by GRI, UNGC and supported by PwC, as referenced in the webinar. This can provide some guidance.
We have 13 years to work towards achieving the Sustainable Development Goals. It is an ambitious agenda and a call to action for all. If you still have questions on how to engage with this global vision to drive your organisation's business growth, please get in touch for a conversation.
Carolina Karlstrom