How (virtually) green are you?
06/03/2013
Being a software developer, working for an environmental company, I am often thinking about my footprint and how I can reduce my impact on the environment during work and through my work.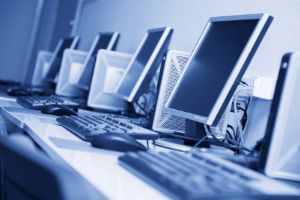 How to code green: for software developers
Software developers have a responsibility to code greener. More efficient algorithms could help reduce the number of Central Processing Unit cycles or optimize the bandwidth usage, resulting in smaller carbon footprint for websites or applications. A simple example is using formats that support compression for images, and resizing the images to the size they are used on the website. The mobile users who don't have an unlimited data package will thank you. Plus, your page will load faster.
Slightly more advanced tricks include optimizing the website for performance, by using caching, cleaning unused Cascading Style Sheets (this advice may not limit only to CSS) and minimising your JavaScript - but don't forget to keep a copy of the uncompressed script somewhere. Modern browsers support compression for markup, style and scripts, so why not use these features?
As a rule of the thumb, keep up to date and try to follow best practice. Read more about how you can reduce the payload.
How to be green when using machines: for everyone
Well…computers, smartphones and tablets are a part of our everyday life, and we use them more and more frequently. IT companies are making efforts to use energy from sustainable sources and use natural (cold climates) for cooling the data centres, but there are things that we can do too.
Here are some simple ideas to help you be greener:
- When you're done charging your phone or tablet, don't forget to unplug the charger.
- If you're not using your computer, use the energy saving options (hibernate, sleep) or even better, shut it down.
- Graphics cards are the heaviest power consumers in your computer – so, unless you really use the Graphics Processing Unit for your work (or games), you might consider an integrated graphics card.
- Don't be a chatterbox! By limiting the phone calls to the necessary minimum, you could reduce the carbon footprint of the device. The Guardian claims that one hour spent on a mobile per day would result in more than one tonne of CO2 equivalent a year.
- When buying a new device, consider recycling your old one, and, even better, try to research the footprint for manufacturing the device you plan to buy. If you're undecided between two models, choose the greener one!
Somewhat paradoxically, we really need to reduce the footprint of these devices to offset the fact that we're using them more. There are small steps which every one of us can take in everyday life, to make our use of technology more sustainable.
Elena Cimpoi is a software developer at Best Foot Forward.
Best Foot Forward