Intelligent Cities
03/06/2014
Triteq is a team of skilled individuals who work together in a collaborative environment to design and develop excellent products. Here Joseph O'Connor writes about his work in China and his focus on Design for Need.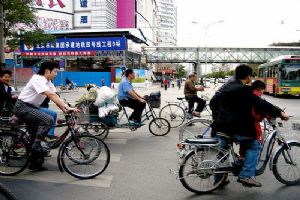 Joseph O'Connor is Triteq's Head of Design. A Fellow of the Chartered Society of Designers, with over 20 years' experience managing some of the leading Innovation and Design consultancies.
Joseph's work has spanned many sectors with an increasing focus on design of medical diagnostic devices within the fields of Design for Need. This focus was developed during the years he lived and worked in China, supporting and promoting innovation at Business and Governmental level where he is still a regular speaker and advisor. It has also led him into the fields of emerging technologies, developing valuable applications as a consultant with private and institutional research laboratories.
Intelligent Cities
My first experience of them was back in 2000 but much has changed since then. Visible change first started with the increase in car ownership that in turn led to cars being allowed to use cycle lanes. (When I say, "cycle lanes" think a 5 metre wide road running parallel to other traffic lanes.) There simply wasn't enough room on the roads themselves and the change to allowing cars in cycle lanes happened too quickly.
Before, cycle lanes were these heaving masses of people and machinery moving like a river past your stationary car. It had its own calm beauty, mesmerizing, even sleep inducing. The sheer volume of populace, colour and sound was awe inspiring.
I enjoy the streets of Beijing, but when I first arrived they scared me to death. There are many wide, 6 lane boulevards and the thought that occupied my mind for the first month or so was "How do I get across...... and survive?" Cars mingled with bicycles, that mingled with trucks, that mingled with men pulling carts laden with everything imaginable, and there in the midst of it all were pedestrians. Yet no one got hurt!
How was this possible? Whether the lights were in your favour or not and whether the elderly uniformed citizen blew his whistle in disapproval or not, people still got across the road safely.
I was there to stay, living in Haidian, each day having to negotiate 3rd and 4th ring roads, Zhichun Lu, Xueyuan Lu and all their intersections, so I did not have the option of not crossing the road or finding a bridge. Even when I took a taxi they would invariably stop on the wrong side!
Crossing the road was an art that had to be learned.
However, as in other circumstances in life, the irrational preceded learning, so out I stepped one day, walking next to the elderly as I supposed this would add protection. My neighbours must have thought I was mad. Being the only westerner living within a mile radius I was certainly a peculiar sight and one in retrospect that must have provided much amusement. Car drivers and bicycle riders seemed cautious of me. I had the demeanour of a felon taking his last walk to the gallows.
But after a while of crossing the road with my elderly neighbours I began to feel the nature of this new world.
There was no great urgency and certainly no fear. It had its own style of movement in much the same way that fish move through coral reefs. People walked in straight lines, bumping into one another was OK (very un-British, but OK) with bikes meandering through and round them. Cars occasionally beeped their horns but mostly inched forward, avoiding the bikes and people, turning this way and that. I began to observe each of these individuals, seemingly oblivious to everyone else, but obviously aware of everything and before I knew it I found myself at home amongst them. The weeks and months had past me by along with millions of people.
I was now a Beijinger, now unnoticed. Car drivers drove around me, cyclists in front and behind me and the elderly overtook me.
The only people I had to watch out for were other foreigners. They looked scared, very scared.
Angela Hobbs