Joining forces to fight food poverty
05/12/2016
As the winter nights draw in and the end of the year begins to loom, I've been reflecting back on 2016 and what FoodCycle and our volunteers have achieved.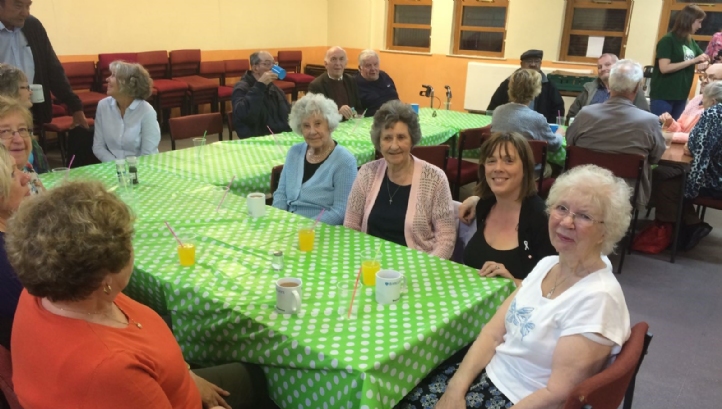 We're over the moon that this year saw nine new FoodCycle projects open up across the country: from Birmingham to Exeter, Durham to Peterborough, we've been reclaiming more food that would have gone to waste and turning it into tasty meals for the hungry people in our towns and cities.
A couple of months ago, we celebrated the launch of FoodCycle Birmingham Yardley, one of our new 2016 projects and the second to open in Birmingham.
It was in the east of the city, between a motorway roundabout and a retail park, that guests packed into a church hall the home of the weekly meal for the launch. There was a real party atmosphere, made even more so with a delicious spread of frittatas, salads, tacos – and a healthy amount of cake!
Many guests were older people from the local community, and it was great to sit and chat with them and hear that this new weekly meal has become a fixed feature in their diaries.
This weekly feast, like all other FoodCycle meals across the country, is made from surplus food donated from supermarket shelves. This food is then cooked into healthy, three-course meals for local people who are in need of a hot meal and a good chat. Speaking with Anna, one of the volunteers who makes FoodCycle Birmingham Yardley possible said "since we opened, we've already got lots of regulars coming along each Wednesday to join us for a meal. It's such a simple concept that helps to address some big issues in our community such as food waste, food poverty and loneliness." It's people like Anna which mean we can serve not just food but friendship week in, week out.
The new projects that have opened this year mean FoodCycle now runs 29 lunches and dinners across the UK and serve over 750 meals every week to the public, offering a chance for our guests, who are often isolated and lonely, to meet other people in the community.
It's also people like our corporate partners that help us to get projects like this off the ground. What has been interesting about FoodCycle Birmingham Yardley in particular is that we worked closely with Veolia to make it possible. Veolia has a waste plant just up the road from the FoodCycle Birmingham Yardley and by printing outdoor banners, volunteering at cooking sessions, working with local press and distributing invites in the community, the team there was instrumental in helping us get the project off the ground. After the launch, Toby Terlet, general manager at the local plant Veolia said "We've really enjoyed helping the charity to get the centre up and running, and our local teams here in Birmingham are looking forward to volunteering in the coming weeks."
In just a few short months, this new project has already formed a tight community, supporting people with mental health issues, older people, low income families and those who care for loved ones.
It's been a great experience to work closer with a business, like Veolia, who wants to make an impact in its community and to join together our enthusiasm, energy and resources in the ongoing fight against food poverty and food waste.
Mary McGrath