Rooftop solar - the way ahead lies above our heads
14/04/2016
Are our rooftops being under-utilised for power generation?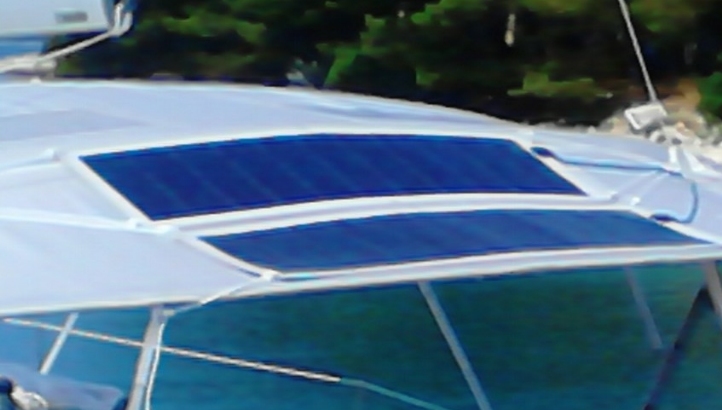 Firstly, I like solar panels.
Secondly, I hate solar farms.
A contradiction? No, not really. I have two 35w solar panels on my boat (as seen in the picture) that happily sit there doing nothing but put valuable amps into my 12v battery that powers the fridge and keeps my beer cold. And during the winter, one of these panels keeps the domestic battery fully charged thereby extending the working life of the battery. Brilliant, simple, quiet.
Having travelled through Europe and the UK, I have seen many solar farms and in my humble opinion they are ugly constructions taking up valuable agricutural land that would be better used to grow trees if the farmer doesn't want to grow crops. This would increase the uptake of CO2 from the atmosphere, clean the air and, often, shield the road from the view thus improving the visual environment. If nothing else, it gives wildlife somewhere to live.
Given that there are hectares of unused roof space lying around doing nothing, why don't we put the solar 'farms' up high? Virtually no one will be able to see them, they don't take up anymore valuable land space and they can sit there doing their nothing but making amps.
I can see a time in the not-too-distant future when every square meter of usable roof will be sporting a fashionable layer of silicon. Not just domestic roofs but supermarkets, offices, warehouses, airports, factories, maybe even the Houses of Parliament. If a roof faces between due east and due west, it is valuable real estate for solar. Maybe even south-facing walls will have panels on them, adding even more square meterage.
Yes I know there is the fundamental problem of solar not providing a single watt of power during the night but this can be overcome by investing in increased pump storage, hydro and domestic battery banks (to provide lower amp supply 'off grid' for lights, mobile device charging, TV, game systems etc). It can also be smoothed by smart grids and smart devices that can be instructed to use the extra power when it is available (such as a smart freezer using excess solar to "boost" chill then relying on super insulation to hold the cold).
The beauty of solar is that it is quiet; has no moving parts so is minimal maintenance, doesn't detract from the urban environment any more than a naked roof and has a long working life. Additionally, solar PV has between five and 10 times the energy density of wind and we can conciveably cover a large percentage of the country with solar (without covering the country if you get my drift) than with turbines.
(Average solar is 10-20w/m2 compared to 2w/m2 for wind turbines (based on 10-20% efficient panels)).
I'm not too sure about the floating solar farm near London but it does appear to be working well. Time will tell how this works out but if it does then our reservoirs (but not natural lakes) can add even more square meterage. Then add in covering car parks with solar shades so not only is your car cooler when you get back but it might even have the battery topped up, and I think the future is bright - the future is solar.
Keiron