Secrets to success: How London Met smashed its carbon reduction targets
22/05/2017
After helping the University win 13 sustainability awards over the last two years and smashing our 2020 carbon target four years early the question I'm asked most is "How did you do it?".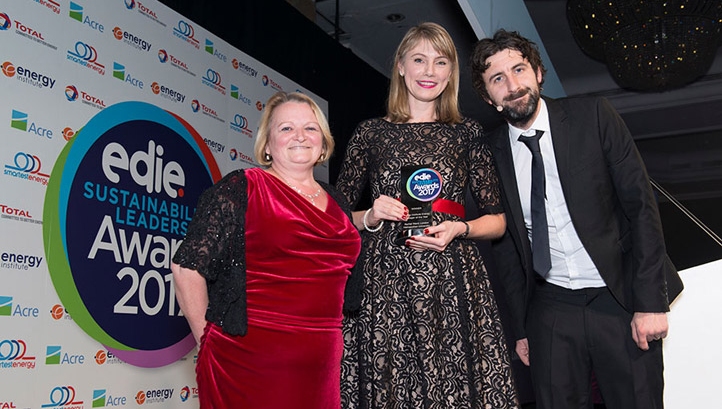 Unfortunately, I don't have a miracle answer but I can give you some insights into what I think has set us apart in terms of carbon reduction. Although we have implemented a number of energy saving projects since 2010, these are all pretty standard such as turning a lot of things off.
There are three things which I think have made us successful – the way we look at the energy efficiency business case, behaviour change and, most importantly, team work.
Although the financial paybacks of any energy project are important, the business case justification needs to include a wide range of measures. Working in the Estates Department at London Metropolitan University, one of our most important tasks is to ensure that students have an excellent experience during their time here, and energy efficiency can play a big part in this.
A number of energy projects undertaken are back of house so students and staff don't really see them. A real shift change in this occurred when I put together a project to replace the lighting on two floors of our library from T8 to LED.
The project had impressive energy savings with a 54% reduction in energy predicted, but one of the biggest selling points was the impact the change in lighting could have to the library's atmosphere. The involvement of library staff made this project even more exciting. One of my maintenance colleagues and myself selected five to six light fittings that would be suitable for the area and we installed them in a room so that staff could see for themselves how they would look and the range of different colour temperatures.
Once they had selected the fitting we went on a field trip to see what the lights looked like in a larger area. The library staff chose a different colour of temperature light than we would have but they were pleased with the way the space looked after installation and we got our energy saving.
Another example of including different measures in the business case was during our RE:FIT guaranteed energy savings scheme. The biggest saving would be to replace even more LED lights - we were already replacing over 3,000 - but a more interesting project for the University was to introduce its first source of renewable energy by installing 221 solar panels on the Science Centre. I put together a justification on why I thought this was a better project, including, the awareness element of having a display screen in the reception area, the link up with learning as it was the Science Centre, that it would be a visible statement of our commitment to carbon reduction and could develop positive publicity which could further influence behaviour change. Although it wasn't the biggest financial saving, these factors meant that the project went ahead and we now generate enough electricity to make nearly 3,000,000 cups of tea per year.
Behaviour change is a notoriously difficult area to tackle, particularly at a university where we have a large intake of students twice a year and staff that work between a number of buildings. I know I still have work to do on this area, and always will, but we have made massive improvements over the last two years by making sure we have structure to our awareness programme and that we make activities fun and relevant to the subjects being taught.
Previously, the events I have run have been ad-hoc and dependent on the amount of time I've had available. This year we ran "Green Impact" which is a staff awareness scheme, hosted by the National Union of Students, where teams of staff work through a spreadsheet of actions ranging from a Fairtrade bake off to an Everest challenge.
The interesting part of this scheme for the University is that students are trained to be auditors and they check the work of the staff in a role reversal. To help staff achieve actions, we held themed months throughout the year which both staff and students could attend. We've had over 400 sustainability actions completed through this scheme and got great feedback from staff on how it has brought the team together. The most popular events tend to be those that are fun including using disposable coffee cups as herb/vegetable planters, Battle of the Bins to challenge staff/students to recycle their waste the quickest and, of course, our Fairtrade wine tasting where all entry fees were given to a local charity.
Behaviour change is one of the most difficult parts of my job and something you generally pick up along the way. To try and help other people entering the sustainability world with this, the University has put together a new MSc Corporate Social Responsibility and Sustainability course with employee engagement and practical sustainability being key to the course.
Teamwork underpins all of the work I do at London Met and what I think has made us successful. It comes from developing relationships with key areas of the University and recognising that there are projects that you can do together that are mutually beneficial. When I initially started at the University, I didn't have a capital project fund and realised that there were maintenance projects that were struggling to get funding. By working with the Projects and Maintenance teams I put together an application for funding for a compressor upgrade as the energy savings meant the payback period was attractive. This led to further projects and combining the funds we had access to meant we could undertake a lot more work that reduced maintenance back log and achieve my carbon saving targets.
Now carbon reduction is a key consideration in everything the Maintenance team do from replacing kit to using engineers that work out of hours to report back on things left on that shouldn't be. Our IT team have also contributed significantly to our carbon reductions and are always keen to look at new projects. Their biggest savings have been through the computer shut down programme, printer centralisation and more efficient equipment such projectors and computers. They also don't insist that air conditioning in server rooms is run at 12°C.
Although we are not a team in the conventional sense we work well together. This was recognised when the team made up of staff from Maintenance, IT, the Student Union and Sustainability, won a Staff Award for Outstanding Achievement. The award had a financial prize which the team agreed we would use to implement even more sustainability practices at the University and purchased two beehives each housing 20,000 bees with a live beecam, which you can view online!
Having the bees and making our own honey has really helped to raise the profile of the sustainability work I've been working on over the last five years and opened the door to building many more relationships and developing new projects.
---
Rachel Ward at edie Live 2017
Rachel Ward is the Sustainability Manager at London Metropolitan University. She won Best Energy Manager of the Year in 2017 at the edie Sustainability Leaders Awards and will be speaking about her work at edie Live on Tuesday (23 May).
Register for you free edie Live pass here.
---
Rachel Ward