The Climate Coach: Transport
13/09/2018
It will take you twenty minutes to get there - depending on traffic. Not an unusual statement wherever you live. People design cities and communities and yet often it is people that seem to be least considered as most of the space for movement is taken up by cars, vans and lorries. Pedestrians are pushed to the side and cyclists must brave traffic with a risk for their lives.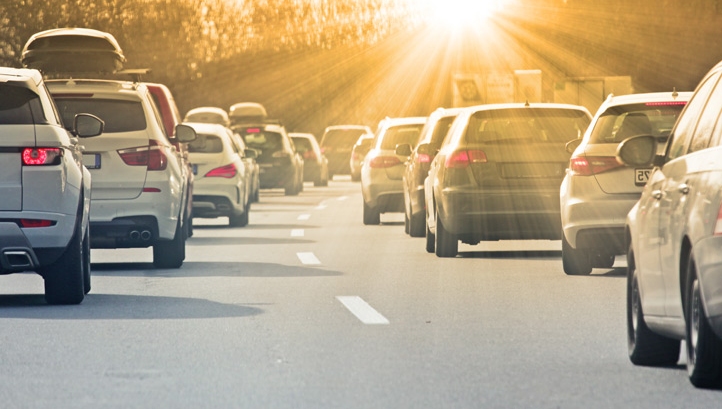 With air pollution a growing problem affecting people's health and the transport sector not keeping up with emission reductions, what can we do?
In this blog, I look at immediate and longer-term actions that individuals and organisations can take to make a difference specifically when it comes to road transport and I highlight some of the challenges associated with this. Above all, this is a call to action for individuals, organisations as well as governments.
Transport in our society
On a global scale, transportation represents approximately 14% of all greenhouse gas (GHG) emissions which are emitted to our atmosphere annually. In the UK the transport sector accounts for 26% of the country's greenhouse gas emissions. This is bigger than the contribution from the energy sector (25%) according to statistics published by the Business, Energy and Industrial Strategy (BEIS) department earlier this year. The main source of transport emissions come from petrol and diesel cars. And the problem is not going away, in fact, it is getting worse. The BEIS statistics show that the level of emissions from transport has been on the rise since 2014.
Our way of transporting ourselves and our goods are hence a huge contributor to climate change. The hot summer with unprecedented wildfires, melting Arctic ice caps and other extreme climate patterns becoming the norm, shows that it is increasingly urgent that we act on climate change. This therefore also means changing our travel and transport patterns.
Why action is required
Transportation being a major factor in human-induced climate change is unfortunately not the whole story. It is also the reason that many cities suffer from pollution and poor air quality. Poor air quality leads to health issues for people and impacts the environment. London is among the most polluted cities in the world when looking at levels of nitrogen dioxide (NO2)[1] and this is a severe threat to the health of everyone living and working there.
According to a recent article in the Financial Times, the UK Government predicts that London will not comply with legal limits of air pollution, which the city has suffered from since 2010, until at least 2025.
Can we wait that long?
I have mentioned London here in particular, but other cities and communities are also suffering from air pollution. For our society to meet the target of the Paris Agreement of limiting the average global temperature rise to less than 2 degrees Celsius and avoid the worst effects of climate change, and to enable a prosperous world for all according to the UN Sustainable Development Goals[2], I would argue that action is required sooner rather than later and that we cannot wait for Governments to draft and approve laws and regulations to reduce the emissions from the transport sector. There are things we can do now to make a positive difference.
It is also good risk management to foresee future changes in the legal landscape to prevent more costly actions at a later stage. As an example, some countries have plans of banning sales of new petrol and diesel cars in a not so distant future. Britain has set 2040 as its deadline, other countries plan to act quicker; Oslo plans to permanently ban all cars from its city centre by 2019 — six years before Norway's country-wide ban would go into effect. Action taken now can save you money for such future changes and, very importantly, would enable better health for you and the community where you live, work and operate.
Call to action
So, what can you do?
More than half of car trips taken nationally in the UK are under five miles. This is shorter still in urban areas such as inner London, where up to a third of car trips are just under two miles. This emphasises the opportunities of acting now with immediate benefits for you, your wallet and the environment.
As a climate coach I am keen to get you started and with this range of suggested activities I am positive there are a few which you can take as an individual or implement in your organisation, with great results:
- Walk, cycle, take the bus, underground or train and leave the car at home. This will cut down on pollution and as a bonus increase your daily exercise.
- Implement walk and cycle to work schemes.
- Arrange a sustainable travel day or week in the workplace to encourage and promote more environmentally friendly, and healthier, modes of transport.
- Introduce car share schemes in the workplace.
- Encourage video conferencing where these can replace meetings.
- Encourage train travel when possible for travel further afield.
- Explore electric, hybrid or LPG cars or vans when it is time to change car or upgrade the company car fleet. Investigate what subsidies are available for such cars and vans.
- Provide electric vehicle charging points in the office car park to encourage the use of such vehicles.
- Keep your car tyres inflated – Having well-inflated tyres means your car will be more efficient and use less fuel. Great for the environment and great for your pocket too.
- Buy local produce. This will avoid the CO2 miles the product has travelled to get to your shop.
- Encourage flexible working hours and work from home or closer-to-home offices.
- Initiate a discussion with your supply chain – how do they deliver and pick up goods?
These actions will both in the short and longer-term result in less pollution, fewer health problems as a consequence, reduced greenhouse gas emissions and with fewer cars on the roads we would also reduce levels of congestion and free up our streets, making them safer for everyone. Not to mention more enjoyable.
Challenges to be aware of
As for leaving the car to walk or cycle, it is difficult to argue against this. If you think that you are avoiding pollutants by sitting in your car when there is traffic congestion, think again. The exposure to toxic air is often far higher inside than outside the vehicle.
In relation to electric vehicles and hybrid cars, reports show that EVs are 7 – 10 times more CO2 efficient than fossil fuel driven cars over their full lifetime when using renewable electricity as 'fuel'. Batteries are a challenge when it comes to re-use and recycling, and car manufacturers are making improvements in this area. It probably goes without saying that changing your car too often has never been good for the environment. Upstream effects and in particular the mining and use of rare earth minerals is also something to be aware of in relation to electric vehicles.
In my view, there is also another big challenge for improving the emissions and pollution from transport. That challenge is us.
In a recent report from not-for-profit Client Earth and YouGov, where the willingness of people to make their homes more energy efficient and installing solar panels have been celebrated – the same people and a majority at that, have no interest in getting rid of the car in favour of public transport. More people are interested in switching the car to an electric version.
My guess is that this is the result of poor or non-existent public transport where people live and work. If we are going to have sustainable cities and communities, this is something which must be dealt with by local authorities and Governments, or we will all be stuck in congestion in our electric vehicles. While this might not emit any greenhouse gases or pollutants, it will still get us nowhere.
---
[1] The main effect of breathing in raised levels of nitrogen dioxide is the increased likelihood of respiratory problems, causing problems such as wheezing, coughing, colds, flu and bronchitis.
[2] Read my edie blog on the Sustainable Development Goals – all call to action for all: https://bit.ly/2zHu36J
Carolina Karlstrom