The science behind sustainability
06/09/2017
At Mars, we've always been conscious of making decisions deeply rooted in science. And when it comes to sustainability, the science couldn't be clearer. Global warming is real, we're seeing its effects all around us, and we must act now.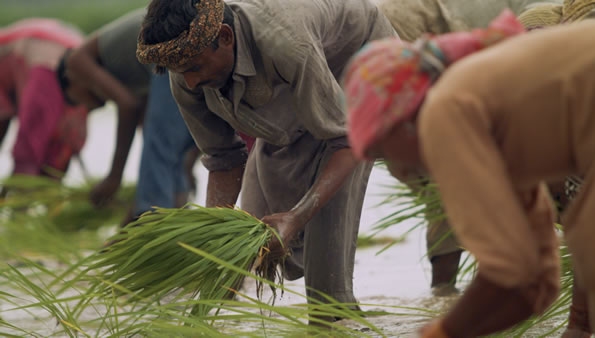 We often talk about preserving the health of our planet for future generations. While that's undeniable, we also have to protect it for this generation – combining the sense of urgency that's needed today with a long-term vision for the future.
This is at the heart of our new Sustainable in a Generation plan, launched this week, but which we have been working hard on behind-the-scenes for over a decade. It's a plan that's driven by our commitment to science and our sense of responsibility for the planet and its people.
In fact, I left my previous role as an engineer to become one of the team's founding members in 2007. As luck would have it, our beginnings coincided with the launch of the United Nations Intergovernmental Panel on Climate Change, Fourth Assessment report, (AR4) widely considered to be the most detailed study of climate change ever undertaken –until AR5 was then published in 2014.
These monumental pieces of work have provided the detailed framework we needed to calculate our emissions cuts and do our part in securing a safer future for the planet. In particular the concept of the carbon budget – which we used to calculate our GHG reduction targets of 27% by 2025 and 67% by 2050 from our 2015 baseline.
It also informed a two-pronged attack; first to work to limit and prevent climate change, and second, to try to help the small holder farmers we work with become more productive and more sophisticated so they are equipped with the tools they need to deal with that change.
For example, as climate change drives warmer temperatures in West Africa, farmers could see reduced cocoa yields. But if we've helped farmers triple their yields before those impacts take place, they are more resilient. That's not hypothetical – that's the potential level of improvement through Cocoa Action – an industry wide approach relying on a variety of techniques including more attentive management techniques, better fertilization and crop diversification, so small-holders can not only secure our cocoa supply but have a wider income base.
Of course, there are other supply chain impacts where the definition of "right" is less clear. One of those areas is water stewardship. There are some parallels to climate – there is a "budget" for how much water is available in a watershed and it requires collective action to manage the resource. There are also feedbacks and links between climate and water. But water must be managed at the watershed level – a single global target aggregating those issues (as can be done with climate) doesn't work in water.
Addressing water scarcity is a complex global issue that is in need of dynamic international leadership. Already water scarcity affects more than 40% of the world's population, a proportion that will continue to rise with increased population growth and climate change.
These challenges along with a lack of consensus of how to manage a stressed water resource, led our team to reach out to experts in the field to develop some innovative thinking building from the idea of the science based targets used in GHG management.
We've done good work in our direct operations – factories and offices around the world. From 2007-2015 we delivered a reduction of 18%. Then we set a target of an additional 15% improvement in water efficiency within our manufacturing facilities in water stressed regions by 2020.
But the majority of water used in our supply chain never enters a Mars factory – it is used to grow the crops that arrive at our factories as raw materials. This meant going all the way back to the farm, assessing the volume of water used across our supply chain and analyzing how they sources, whether by rainfall or irrigation, while gaining an understanding of the competing demands on each watershed.
From that work we have a more comprehensive understanding of the regions where we operate and the watersheds under the greatest stress - particularly across Australia, India, Pakistan, Spain and the United States.
Armed with all this information, we spent a long time talking to the experts, including executives at WRI, WWF and the CEO Water Mandate to help us formulate a science based target for the business.
Our new global commitment is to cut unsustainable water use by half by 2025, with a long-term ambition of eliminating water use in excess of sustainable levels in our value chain. Replicated across stressed watersheds and we hope by other actors in the watersheds where we source, this is action at the scale required to solve the problem – not just make it less bad.
That means if current use in a watershed is double the sustainable level, we will work to cut our use by 50%. It's a commitment that we know is world-leading and one we would like to see adopted more widely across all stressed watersheds.
It's a challenge we've thrown down, and which we hope, along with others, will help us make the advances we need on this important journey.
Already, we're working with farmers to introduce training and technology to advance sustainable water use. But we're prepared to think bigger still, engaging in water recharge activities, like landscape restoration, to recharge water levels to the point necessary to meet our targets.
We believe it's one of the innovative ideas that comes from a long-term approach, and one that could provide a positive step forward in the challenge of preserving the world's water reserves.
Science shows us what is needed to tackle challenges like climate change and water stress. It tells us what questions to ask. The answers are up to us – so come join us in figuring out how to make not just Mars but the whole Earth Sustainable in a Generation!
Mars