Those who really want to solve coffee cup recycling, please stand up
28/11/2016
Simply Cups has certainly benefitted from the paper cup saga with many new members having recently signed up. Nevertheless, there are still many sections of the supply chain that have not yet joined and so here are my thoughts on why this might be the case.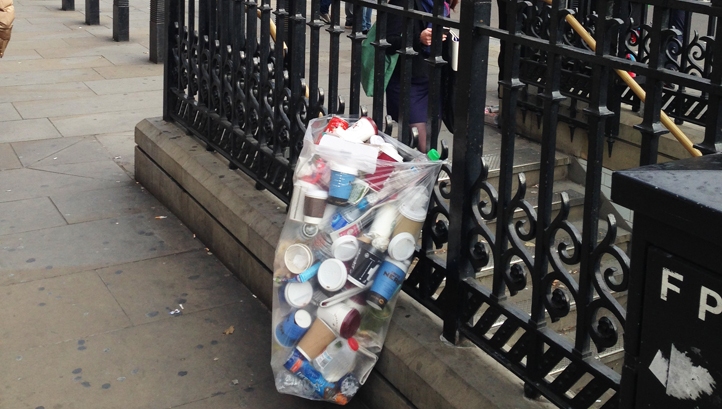 Government
Earlier this month, Ministers rejected a call for a 5p tax, insisting that 'industry and chains were already doing enough voluntarily'.
History tells us that voluntary agreements are only effective when the commercials work in the participants' favour, but quickly fall apart when it goes the other way. Just look at what happened to plastics reprocessors when the oil and commodity markets tumbled.
We don't necessarily need a tax, but the Government certainly does need to acknowledge the issue and at least come up with an effective plan. The current policy of denial represents a wider failing of government to address the UK's approach to resource recovery and one that will only see us fail to capitalise on the opportunities represented by the circular economy.
Supply chain
Whilst good intentioned, industry groups rarely succeed in creating market disruption, mainly due to the many varied vested interests. Whilst some positive progress will be made the question is will this be enough and will it happen quick enough?
Would it be so bad if everyone, selling over an agreed threshold of drinks sold in paper cups each year, added 1-2p on per cup and passed that onto us to invest in permanently solving the issue? This would allow us to strengthen our collection infrastructure and build the world's first coffee cup recycling facility. I know this would be warmly accepted by a large section of the supply chain and coffee outlets, however we'd need to achieve commitment from an overwhelming majority to proceed and perhaps this is where government intervention could be used to good effect.
Corporate businesses
The number of multi-million-pound corporate businesses that have decided not to join the scheme because 'they don't see the value' or they 'will join if it is for free' is actually quite frightening. While CEOs wax lyrical about their businesses' sustainable principles, are they aware that their employees or contractors, at an operational level are not willing to pay £80 per month (yes you read that correctly – £80 per month) to support a UK paper cup recycling initiative?
We understand that implementing another collection system is not ideal – and rightly so given the failings of those that have gone before – but there's no magic solution to the problem, now or on the horizon. So if business wants to recycle cups they need to put some effort into segregating the material at source and invest in a proven solution, which will offer them an immediate return.
Activists
It is all well and good campaigning for change, but if Hugh Fearnley-Whittingstall's suggestion that the adoption of reusable cups was what the public wanted, then the problem would already be solved. In fact, we're fully supportive of reusable cups and are currently working on a prototype made from used paper cups.
We assisted Hugh with content for his programme and Simply Cups received an endorsement as part of his campaign. However, requests to meet and discuss solutions with him have largely gone ignored. In addition, recent criticism of initiatives such as the Manchester cup recycling trial is, in my opinion, wholly unproductive; you can't ask for something to happen and then criticise it when it does. It would be disheartening if his objective was to simply create TV programmes that attack large corporates rather than actually get involved in trying to find a solution.
Consumers
And finally we have the consumer, who, we're often told, won't comply with systems so what's the point in offering them one. The truth is that consumers are very interested in this cause (probably more so than any other group), however they first need to have complete trust in the system we are asking them to support.
When we founded Closed Loop in 2001, we realised that a time would come when disposable packaging would only be accepted by consumers if there was a credible system in place to fully recover and recycle after use. Over this last year, I genuinely believe that this time is now fast approaching. The consumer is now far more aware of the problem and more importantly, is now actively demanding a solution. This should be driving the government (who they elect), the supply chain (from whom they purchase) and the businesses (where they work) into taking firm action.
So we would urge the consumer to keep doing more of the same to drive change. However, when presented with a solution, such as the availability of a cup recycling bin in your office or on the street, don't disappoint by failing to assist; otherwise the voice of the consumer will begin to become very shallow.
Time for honesty...
Simply Cups is still the UK's only commercial viable cup recycling solution. Despite this, and the development of an array of additional services requested by the market (including a post-back scheme, products made from cups, a calculator to establish the commercial benefit) the scheme has been supported by just 40 business in the UK.
So let's start bringing some honesty into the equation.
We know that the Government is not interested in any form of intervention to solve the issue, so let's discount them straight away. And given the stubbornness by some quarters of business do anything that costs more than that currently being spent (even if it is only £80 per month), then I suggest a stalemate has been reached. It's just that nobody wants to publically declare it, given the disastrous PR consequences that would follow.
However, if like me, you believe that both profit and purpose holds the key to generating real long-term stakeholder and shareholder value, and the adoption of a more circular approach to our economy that can deliver real economic, social and environmental benefit, then get in touch to discuss how you can support this initiative. And to all consumers, carry on voicing your desire for change, as this I suggest, will be the most effective means to achieve it.
Peter Goodwin