To keep the momentum of circular economy brimming, we need to battle for the cup
18/08/2016
Hugh Fearnley-Whittingstall's recent War on Waste TV programme exposed the fact that so few paper cups are actually being recycled. Those inside the industry knew this all along, but the public seemingly didn't and now feel cheated by some of the claims being made by the big coffee brands.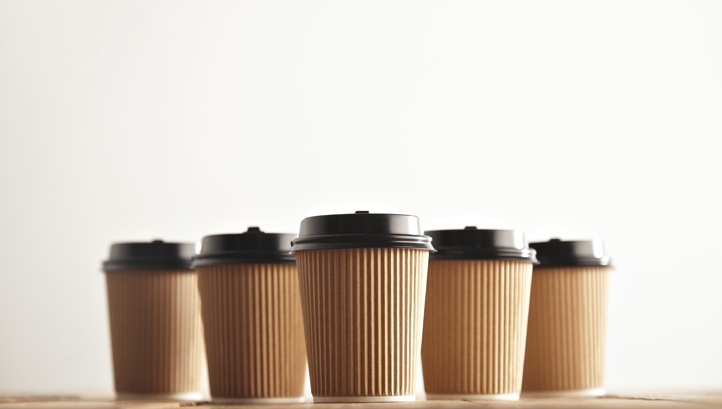 However, according to some industry commenters, this is just a 'storm in a tea cup' and despite only one in 400 cups are being recycled – even though most carry the 'recyclable symbol' – cup recycling is really not worth the effort, either economically or practically.
Simply Cups disagrees strongly. We would say that, you might be thinking, given that we run the UK's only workable cup recycling scheme. There are, however, some very clear reasons why the industry needs to promote paper cup recycling, not least because it is representative of a wider failing in UK recycling systems and, therefore, should become a much higher priority.
My litter bin runneth over with cups
We know that, by weight, paper cups represent a small percentage of overall packaging disposed in the UK, but with more than fifty thousand tonnes a year of virgin paper fibre and plastics, which make up the paper coffee cup, being landfilled or incinerated we believe this represents a massive problem. The miserable statistics have certainly captured the attention of the public so let's look at these in some more detail.
Paper cups are, undisputedly, the UK's fastest growing waste stream. When we started Simply Cups in 2014, we conservatively estimated that 2.5 billion cups were being used each year. Three years in, we now believe the true figure is closer to twice this amount and, when you add in plastic cups which also suffer the same fate, the overall size of the problem is likely to be over 10 billion cups per annum, and is set to grow further.
Whilst paper cups are light in weight, they are extremely voluminous, so it doesn't take many to fill a bin or a bag. You only have to visit a typical high street or floor walk an office to realise how visible cups are and how easily they clog up waste bins, which significantly increases waste costs for both the taxpayer and businesses.
Being so pervasive, paper cups are now the most significant contaminant to a mixed recycling stream; no doubt because, up until recently, the public thought their used cups could be treated like other paper products. So, as we know, when contaminate mixed recyclables are consigned to general waste the consequences of this are significant costs to businesses and a major loss of a valuable resource, in the form of recyclable material. Just recently, the Recycling Association has warned that if coffee cups are forced into paper recycling streams, as suggested by some quarters, then the quality of the reprocessed material at the paper mill will quickly diminish to an unacceptable level.
What's the use of a symbol if it doesn't deliver?
One of the most important failings that the paper cup issue has highlighted is the need to be more transparent with the consumer. We believe that it is no longer acceptable for cups to be 'recyclable' and 'compostable'; instead the public want to know what is actually recycled or composted and what into.
Sadly, our current labelling systems will not help them. The Mobius Loop, OPRL system and 'seeding' logo, all suggest a product is recyclable, collectable and compostable but, at the same time, absolves the producer of the responsibility of ensuring the packaging is recycled or composted.
--- Costa replaces coffee cup recycling logo with 'Tidy Man' in war on waste pledge ---
What we all need to accept for this debate is that food packaging waste is no longer someone else's problem; instead it should be everyone's responsibility with, in particular, a greater onus on the brands who are ultimately responsible for producing the packaging in the first place.
Recyclable cups are not the issue, Hugh
While we applaud Hugh's programme in calling for cups to be recyclable – it is essential that they are actually recycled not just recyclable.
Let's be perfectly clear, all cups, paper and plastic, in current use are recyclable; in fact anything can be recycled if you have or build a facility that can recycle it.
The real issue here is that these recyclable cups are not reaching their intended destination when they are disposed of in a mixed recycling bin; albeit that this has previously been limited to two specialist fibre recovery facilities in the UK.
Therefore, the problem is not the cup, nor the system, it's both, and only when we design products that seamlessly match our systems will we be able to move away from the current problem.
It is really worth it?
It's been argued that the energy, water, haulage and sorting costs required to recycle large volumes of disposable cups would not in itself be economically or environmentally sustainable.
Waste should be recycled where there is a net environmental and commercial benefit and rarely does turning waste into energy meet these criteria.
A fresh bale of cups recently sent for reprocessing.
We have proved beyond doubt that there is already an economically and environmentally sustainable way to recover and recycle cups. Working with our customers to segregate at source, cups can be collected into stacking bins to deliver significant commercial benefits , including a substantial reduction in the number of times that bins need to be emptied and significantly fewer bins that need to be collected.
This provides us with a rich source of quality material that we can then send to our re-processors. The development of our new polymer also means that we longer need to separate the plastic lining from the paper in what has been a resource intensive pulping process. The NextCupCycle, durable and mouldable resin, can then be used to make new functional products, many of which are now on sale through our website.
A selection of products made from recycled cups.
Don't give up on the cup
The current debate is about far more than just recycling paper cups; it's about addressing systemic failures in current systems and provides a circular solution to resource recovery. It's also about how we design products and recycling systems that work in harmony and about moving to a more collaborative way of thinking. It should shape the way we inform, educate and engage with consumers so they know that when we ask them to do something, they have trust in the system and can see a benefit from their actions.
This is not a time to give up and burn everything just because it's the easiest option. Surely 50,000-plus tonnes of valuable resource is worth keeping from landfill or incineration.
---
LISTEN: The Sustainable Business Covered podcast - Episode 07 - How to win the war on waste coffee cups
Listen to this special episode of the Sustainable Business Covered podcast, exploring the potential answers to the coffee cup conundrum.
In the hour-long episode, broadcast just before Hugh's War on Waste aired, we spoke to Simply Cups co-founder Peter Goodwin, circular economy consultant Sandy Rodger and Costa Coffee environment manager Ollie Rosevear to explore the key challenges and potential solutions to this highly complex issue.
Make sure you don't miss the next episode of the Sustainable Business Covered podcast - subscribe on iTunes here and bookmark this link where a new episode will appear every week.
---
Peter Goodwin