Vote for change: Why Labour has the edge over the Conservatives
07/06/2017
The nation holds it breath once more as we prepare for yet another monumental political decision which could have seismic consequences for the future of British politics and society. But before we head to the polling booths, it is crucial to remember an issue avoided by large sections of the mainstream media: how the outcome of this General Election could significantly impact the future of our environment.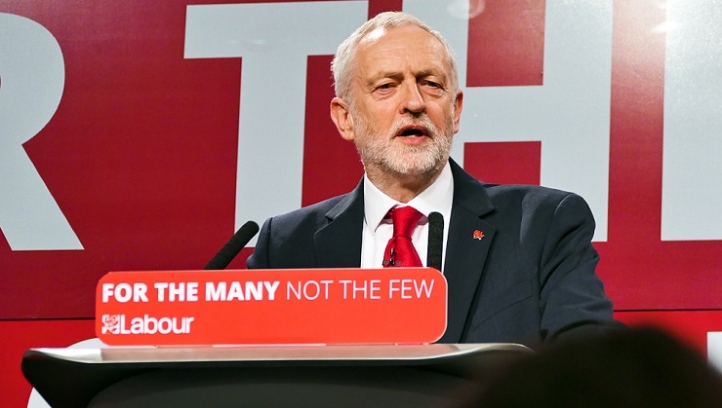 In a highly-fraught election campaign largely dominated by issues of public services, immigration and national security, dialogue around the green economy has been about as visible as Theresa May's presence at a TV debate.
Though an early morning diatribe from Piers Morgan demanding an urgent review of the Levy Control Framework is neither to be expected or indeed endorsed, it has nevertheless been disappointing to see a distinct lack of coverage of what is clearly one of the 21st century's most pressing issues.
Determined to shed light on the various pathways that UK green policy could take over the next five years, myself and the rest of the edie team have spent the last month pouring over the energy and environment content of each major party's manifesto, like a diligent set of clipboard-wielding health and safety officers (view our resulting manifesto matrix here). While the majority of plans have passed inspection, it is fair to say that some notable hazards have been identified.
But before we examine the details of the two main parties' green commitments, let us first examine the context, starting with the Tory's green policy approach since 2010. The early years of the Conservative-Lib Dem Coalition brought about a number of positive advancements - particularly around community energy – albeit under a more progressive Lib Dem guidance.
More recently, the creation of a business-focused BEIS department has been widely heralded a success, while a pledge to phase out coal-fired power stations was seen as a bold move, allowing the UK to outshine its European counterparts over emissions reduction. And of course, the historic ratification of the Paris Agreement, made possible through a strong UK delegation, will certainly play an integral role in helping the country achieve its long-term Carbon Budgets.
But that, unfortunately, is where the praise for the current regime ceases. As indicated by this week's survey of edie readers, the past seven years of Tory green policy has been seen as a major disappointment among the green business community. In a period of national politics practically synonymous with an ideological austerity agenda, the green economy has failed to escape from damaging spending cuts.
The list of the Torie's destructive green polices is endless; staggering solar tax hikes, key energy efficiency frameworks scrapped, the carbon capture and storage (CCS) competition cancelled and subsidy cuts to renewables, to name but a few. These decisions have rocked industry, culminating in job losses, clean energy deployment slowdown and a decline in investor confidence.
Perhaps the largest single debacle of green policy over the past few years has been the lacklustre attempt to deal with worsening toxic levels of air pollution. With the UK still failing to comply with EU legal limits, Government inaction has produced nothing short of a public health crisis. A woefully inadequate approach was epitomised by last month's Air Quality Plan green paper - subject to a succession of delays – which failed to introduce road tax to deter diesel use or indeed a formal strategy to end illegal pollution. Thankfully, ministers have been held to account by the steadfast action of environmental law firm ClientEarth, which last week announced its intention to meet the Government at the High Court for what will be a third outing.
In this sense, the Conservative pledge to leave the environment in a "better place than we found it" remains in tatters, amounting to nothing more than an empty platitude. In Theresa May, the country has a leader that is seemingly unwilling to show climate leadership on an international stage. This point was painfully elucidated last week as green groups widely condemned her wavering response to the US withdrawal from the Paris Agreement. May's reluctance to stand up to Donald Trump in defence a radical deal generally regarded as the last hope to save humanity from climate disaster is a major concern. In response, we should be posing a question: can this Prime Minister be trusted to get the right deal for the environment during the complex Brexit negotiations?
From early indications, it appears that EU-derived green regulations will not be safe in Tory hands. Ministers have signalled a desire to strip back swathes of the Circular Economy Package, while the Great Repeal Bill green paper has failed to guarantee that environmental protections would be safeguarded once Brexit negotiations are complete.
Contrast the Tory shambles with a Labour vision for a low-carbon, resource-efficient Britain. From support for publicly owned, locally accountable energy companies and co-operatives through to a ban on fracking, Jeremy Corbyn's transformational manifesto provides a solid green economy blueprint. As listed in our matrix, the Labour manifesto proposes a welcome reversal of the Tories decision to scrap support for CCS and zero-carbon homes, which will together help lock the UK into more sustainable energy infrastructure. The Party's plan to ensure that 60% of the UK's energy comes from zero-carbon or renewable sources by 2030, highly challenging though it may seem, should also be applauded for its strong ambition.
To deal with the Conservative legacy of illegal air quality, Labour has said it will introduce a new Clean Air Act. The party also pledges to drop the Conservatives' Great Repeal Bill, replacing it with an EU Rights and Protections Bill that will ensure there is no detrimental change to environmental protections as a result of Brexit.
Britain's position as a climate leader in the international community, meanwhile, would be strengthened under a Labour Government. Unlike the Prime Minister, Corbyn has promised to tackle President Trump's nonsensical position on climate change head on, vowing to make a call to the White House on his first day in office to urge a rethink on Paris withdrawal.
This is not to say that a progressive alliance among the centre-left parties should not be considered as a viable option. Naturally, few in the environmental sphere would begrudge the powerful voice of Green Party co-leader Caroline Lucas in a coalition cabinet. There is also plenty to be encouraged about in the Lib Dem manifesto, which outlines a series of ambitious proposals to build a greener economy by establishing five new legislative pieces, each of which could quite feasibly be embraced in a forward-thinking coalition.
From a green policy perspective, the choice facing the British public tomorrow is clear. We will either wake up on Friday morning with the prospect of five more years of Tory rule, which could spell further uncertainty for our country's environmental and sustainable business prospects. Or we will face an alternative outlook for the future - an outlook which could see the UK accelerate its transition towards a low-carbon economy, invest more in renewable energy and stop the waste of energy and natural resources.
With this latter vision in mind, my vote is going to Labour.
George Ogleby