Where's all the wind?
12/09/2016
The irony of too much wind equals no wind power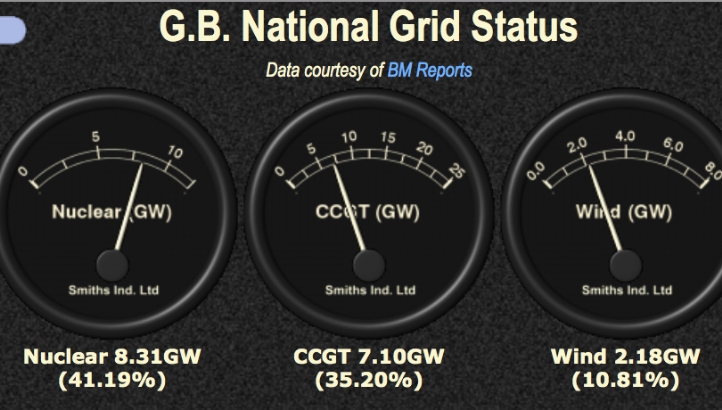 Sitting as I am in the middle of the North Sea, working nights with not a lot to do, I have the opportunity to take a look into lots of various aspects of life and sustainability.
Regular readers may have noted that I'm not a big fan of windmills. Not strictly true as I do think they will play a part in the future of electricity generation but I do not believe, like many 'eco warriors' and 'green groups' that they will be the "be all and end all" of energy generation. I also hate the fact that these god awful visual monstrosities have been allowed to run wild across some of the most beautiful wildernesses of our country. The things that happen in the name of 'green' - author shakes head in despair.
So, early in the morning I take a look at Gridwatch to see how much electricity the UK demand is and how it is being generated. 20GW demand is not high and therefore represents the basal load that needs to be supplied each and every day, all day. What was interesting is that 15GW of that demand was being supplied by Closed Cycle Gas Turbines and Nuclear.
As it was 4am UK time, we can discount any solar capacity obviously.
So where was all the wind power? A quick look at the Met Office Marine Forecast site, which we use to tell us if the helicopter might be delayed, gave a possible answer. Much of the western side of the UK from shipping area SE Iceland to Fitzroy including Irish Sea, Lundy, Malin and Hebrides reads as follows "Southeasterly gale force 8 to severe gale force 9", with Shannon and Rockall going to a storm force 10 at times.
For the uninitiated Gale Force 8 is 34-40kts (40mph to 46mph, 63kph to 74kph), Storm Force 10 is 48-55kts or up to 63mph/102kph. Quite simply it is too damn windy for wind turbines. They will be restrained back, blades feathered to minimise rotation speeds to avoid danger of overheating, gearbox damage and even blades flying off. Offshore turbines will also be battered by huge waves which can damage the structure of the turbines (further taking them out of action and for longer periods).
Here lies the inherent problem with wind power. It is too damn unreliable, too at mercy of the weather. How many days a year do wind turbines actually produce their peak capacity? Painfully few I would suspect Compared to the number of days when it is either not windy enough or too windy, both of which result in next to no power generation they produce a tiny % of their potential. All the talk of "powering thousands of homes" is meaningless because they never (well hardly ever) produce their peak capacity and frequently only produce about 33% of peak. So a 3MW turbine, on average, only produces around 1MW and only then if the wind is blowing (but not too strongly of course).
So while wind will have a part to play in the energy mix it will not, nor can it ever be, the major part. Its unreliability prevents it from being the generator of choice as it can not provide the country with the basal load that needs to be 24/7/365.
This is why, in a sustainable future, we have to have as broad a mix of generating options as possible. Including Gas and Nuclear.
Unless we want to flood every valley to create enough pumped storage hydro power to act as a "national" battery. In itself an environmental catastrophe.
Keiron