Why food and packaging waste is often a hidden behavioural problem
01/06/2017
The cost of coffee cup disposal is considerable and at the University there is confusion over whether cups can be placed in recyclable or non-recyclable bins - which leads to contamination of waste streams.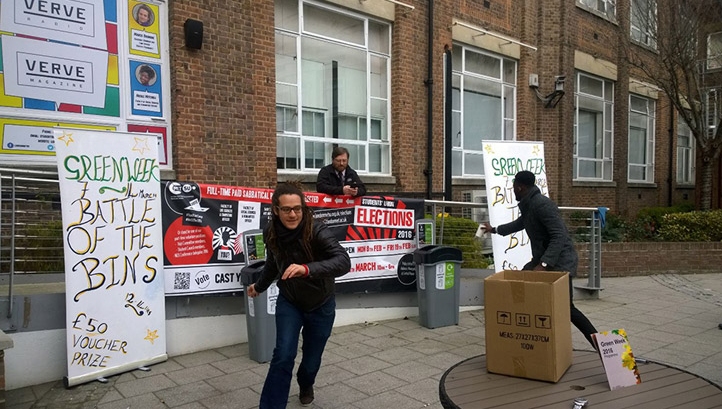 An estimated 2.5bn coffee cups are thrown away in the UK with less than 1% of all cups being recycled, creating a ticking time bomb for waste of resources. Although a number of the large coffee outlets are putting in place measures to try and reduce the amount of waste, cups are often disposed of in the place of work/study rather than coffee shops and many organisations have their own café outlets. This means that just about every organisation in the UK needs to be smart about tackling cup waste and not just coffee chains.
London Metropolitan University has been trying to tackle this issue for a number of years. Three years ago, we introduced a scheme where staff and students could get 10p off a hot drink if they used their own cup. Last year we increased this to 30p and introduced our own branded travel mugs to further encourage the uptake of the scheme. This slightly reduced the number of cups used but further work is needed, including, the supply of easily recyclable cups from our contractors and the facilities to do so.
The 5p levy for plastic bags has now become second nature and resulted in an 85% reduction in bags in England. This would imply that charging for coffee cups could result in a far better uptake in the scheme. This idea has been rejected by the Government and to implement at the University would create a number of issues that we would need to overcome.
Re-useable cups tend to be bulky so students would need to carry them around with them. Collapsible cups are an option that would solve this problem but they tend to be more expensive and not suited to a student's budget. We have yet to find a cup design that staff and students are truly happy with and we've had gripes ranging from the taste of the cup, spillage, to the look of them.
The cost of coffee cup disposal is considerable and at the University there is confusion over whether cups can be placed in recyclable or non-recyclable bins – which leads to contamination of waste streams. Cups are often not stacked in bins so organisations end up disposing of larger volumes of waste. The biggest shift change in companies' programmes would be if it was publicised how much a cup actually costs to dispose of and a clear lifecycle analysis that shows that there is indeed a reduced environmental impact on reusing cups, influencing the incentive that could be offered. This needs to be considerable as takeaway coffee is an indulgence rather than a necessity so a price fluctuation isn't noticed.
We have recently trialled cup bins in one of our buildings with limited success. It takes a long time to change behaviours as we have a transient population of staff and students. One of the key failings was the design of the bins. To instigate a change in behaviours, the bins need to be in eye-catching colours and stand out from other bins to break the habit of just using the nearest bin. One of the major issues we had was getting building users to stack the cups. Most users when faced with the cup bin put the lid back on the cup to dispose of. We tried different signage but this didn't improve the situation.
Bins need to be designed with apertures for the cups and smaller apertures for lids to make it clear what goes in each part of the bin. Building users simply don't have time, or even want, to read bin signage so making the bins as straight forward as possible is key to getting people to use them.
The University has trialled different ways to highlight the issue with coffee cups and find ways in which we can re-use them. We have recently been asking staff and students to re-use their cups as a plant pot, filling them with soil to grow herbs and vegetables. Being an urban-based university where people don't have gardens has meant that growing food in a very small area has proved popular.
The issue with coffee cups has inspired our students to find other uses for them. A recent Cass graduate, Ray Gonzalez Brown, created the "Lost Cardboard Technique" as a reaction to our wasteful culture of the cardboard sleeves used on coffee cups. Ray uses the sleeves as a mould which are lined with clay to create a ceramic cup patterned with the corrugated texture of the sleeves.
In addition to coffee cup waste, our increased caffeine habit results in further food waste issues. We along with larger organisations offer our coffee grounds to staff and students to take home to use as fertiliser and we use them on our roof garden where staff and students can take part in our gardening club to learn how to grow fruit and veg. We are even trialling using them in a wormery.
Food waste is a hot topic with more than £17bn being spent on food that is wasted per year with around 85% of this avoidable. Staff and students at London Met have been tackling this issue for a number of years.
Research into tackling health issues by making takeaways healthier was undertaken by our Cities Institute and discussed a key recommendation which would also reduce food waste. Reducing the size of trays and cartons in which food is sold would give the illusion of receiving a larger portion when in fact it is much reduced. This small change would help reduce the intake of fat, salt and sugar, be profitable for companies, and, help reduce food waste.
We have also worked with a sandwich manufacturer to explore ways in which waste can be minimised, recycled or reused. As part of this study, the carbon footprint of sandwiches was measured.
One of the most exciting projects at the moment is being run by a team from our MSc in Food Science. The team are finalists in the Ecotrophelia 2017 competition, which challenges young people to design an eco-friendly or innovative food or beverage product with commercial potential. The team have designed a vegan-friendly jelly dessert, which will be made from fruit that would normally be waste and contains no added sugar or preservatives.
There are many challenges associated with food waste and our disposable society but this also provides opportunities not only for the University to work even harder to reduce our environmental impact but for our students to continue to develop innovative ways to tackle the problems.
Rachel Ward