Why is single use plastic a problem and what can be done about it?
20/06/2018
The UK Government is now trying to catch up with what businesses have been doing for years to tackle single use items. It seems that every day we hear something new about what we can do to tackle the never-ending problem of single use plastics.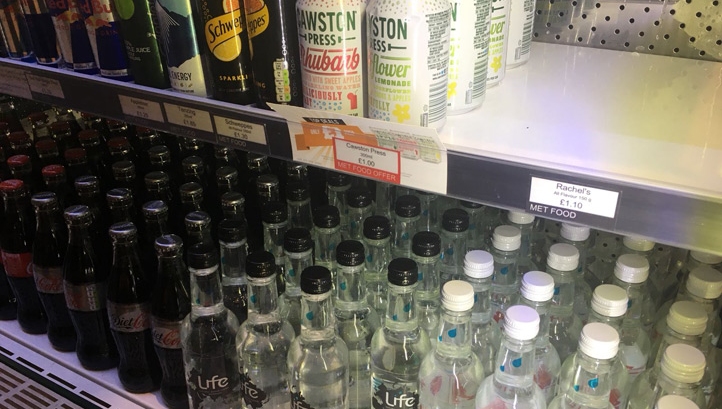 Let's take a step back for a moment and analyse the problems surrounding single use plastic. The biggest issue affecting the recycling rate at London Metropolitan University is the dreaded coffee cup. We brought in a discount scheme over seven years ago, but this has had limited uptake.
The biggest problem attached to coffee cup recycling is simple; behavioural change. People simply don't tend to carry reusable coffee cups or bottles with them. We need to implement a behavioural change before we can tackle increasing our recycling rate. Like when the plastic bag surcharge was first introduced in 2015, it will take time to change behaviour and attitude towards carrying a reusable mug with us.
Another university found that offering a 25p discount on coffee resulted in a 3% change in behaviour but charging students an additional 25p on their hot drinks resulted in a 33% change. This backs up research undertaken by the tea and coffee company, Bewley's, in 2017 which showed that a discount on coffee cups had no impact on their usage but a charge on cups increased the use of reusable cups. The study found that if free reusable cups were combined with an awareness programme and a charge on disposable cups, the number of reusable cups used could increase by 12%. This is significant when you consider the UK uses around 2.5 billion coffee cups a year.
Similar to other organisations, London Met has been working hard to phase out single use items but it is not always straightforward, particularly with plastic which is in everything we use – try counting the amount of things you use that are made from plastic in a day!
Now that summer is approaching, people will want to eat outside and make the most of the weather. We also encourage people to get away from their desk to have a proper break but this inevitably comes with people buying ready-made supermarket food, such as sandwiches or sushi, which comes with a lot of plastic packaging. Most of the time, the packaging is thrown away as soon as it's used, which contributes to the wider issue.
This is another example of behaviour change which is needed - we need to start creating a culture where it becomes second nature to bring tupperware boxes or alternatives to plastics, something we've encouraged at London Met since 2016. 90% of our containers and cutlery are biodegradable but still this is using resources for something that will be used once rather than washing up and using again and again.
London Met hosts around 50 internal sustainability events each year and gives out as many recycled refillable water bottles as possible to try and reduce the millions of plastic bottles which are bought each minute - although not all at the University, thankfully! This encourages students and staff to use the water fountains that we are working hard to increase across the University and make sure they are clearly signposted but still it can be difficult to dissuade people from bottled water due to the convenience.
We're trying hard to reduce the amount of single use items we use but it is not always straightforward. The large-scale events we host often have a licensing requirement to use plastic glasses. The amount of beer that gets consumed means we simply don't have the capacity to wash glasses. We've tried using plastic bottles of beer but the shelf life of them proved problematic and compostable cups are expensive. Beer companies are trying to launch biodegradable bottles but these are slow to get to market. Disposable cups are also difficult to recycle as they inevitably have dregs in them and sometimes been used as an ashtray! Any bright ideas how to tackle this are greatly appreciated!
Rachel Ward