Wind farms: the Marmite of energy generation
22/02/2017
Love them or hate them, wind turbines are playing a role in our future energy generation. But could they be better placed?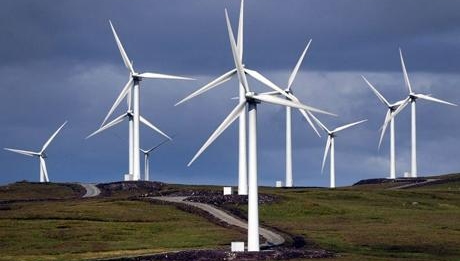 Firstly, I am going to admit I am not a 'big fan' of wind farms on the top of pristine mountains or hills. The visual impact of these monstrosities outweighs the "need to be green".
Secondly, I am going to admit that in the right place wind turbines do have a kind of engineering aesthic and can become as much a part of the environment as electrickery pylons.
Sitting in my flat in the central belt of Scotland I can see a wind station (I am not going to call it a farm as it is a smaller installation) busy spinning in the wind. Built on the side of the hill, they don't actually detract from the mountains or the overall view. I even discovered recently that this one station could provide enough power for twice the number of houses in the town. Not that I trust these claims, mind, but it does make you realise the potentials. There are several smaller stations in the area and none of them really stick out like a sore thumb.
As the central belt of Scotland is the more populated and industrial part of the country, all of these wind installations actually provide a lot of power for the local area. This is how things should be really - local stations powering the local area and also supplying the national grid.
So, why do we still insist on building bloody great huge farms across wild acres of the country (I mean the UK, here) that are miles from centres of population where the demand is? London is surrounded by hills, but are there any wind farms?
I know there is an economy of scale involved and I know the Thames Array is the largest wind installation in Europe, so I will give London the benefit of the doubt. But should we be looking at changing where we build?And how we build? The Dutch have them in industrial areas and along motorways, so why can't we? In Norfolk I have seen turbines installed in the corners of farm fields which actually just seem to blend into the scenery.
I don't want to see the country covered by turbines, but perhaps the 'NIMBY' need to realise it is all well and good saying "I've switched to green energy" when they oppose any development in their back yards thereby forcing remote, wilderness areas to be destroyed for their eco iPad.
Keiron