World Water Day 2019: The supply chain has a huge role to play
22/03/2019
Today marks the United Nation's (UN) World Water Day, an opportunity to pause and reflect on the important role each of us can play in protecting our global water supply - for ourselves and future generations.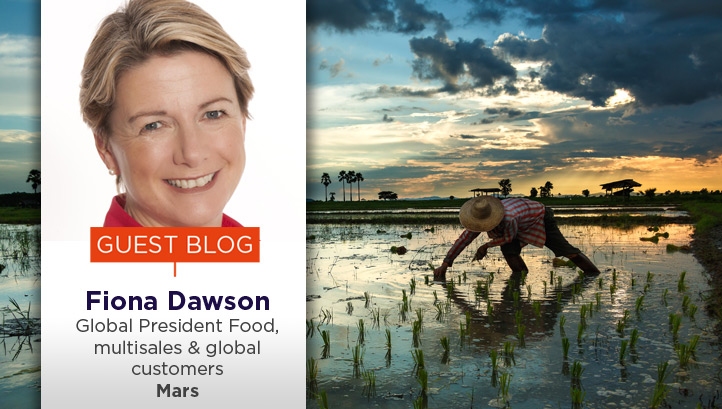 Water is an increasingly stressed resource and is recognised as one of the key challenges of the 21st century, with over a third of the global population living in water-stressed countries. That proportion will rise as populations grow, boosting demand for water in agriculture, industry and communities, with climate change also reducing water availability in some regions.
At Mars, we're proud to provide products and services from household brands like Uncle Ben's rice, Mars and Snickers, through to veterinary practices, and pet food and nutrition. Our products, operations and our supply chain reach almost every part of the planet.
As a global business, we recognise we have an impact on – and are hugely impacted by – the environment and people around us.
As we saw in Cape Town recently, the impact of water scarcity is very real. Not only was our manufacturing facility in Cape Town impacted, but our colleagues and friends were faced with a daily challenge of how they would drink, eat and provide safe water to themselves and their families.
Businesses have a responsibility to play in addressing the world's challenges
We believe the engines that drive global business —agricultural supply chains— are fundamentally broken, no longer providing the benefits necessary for people or planet. Addressing these challenges is not only necessary for the health of the planet, but for the health of business.
That's why in 2017, we announced our $1bn Sustainable in a Generation Plan, which outlines ambitious goals to address challenges in our direct operations and extended supply chains, to ensure the sustainability of our business and the world. This includes a commitment to cut our unsustainable water use by half by 2025, with a long-term ambition of eliminating water use in excess of sustainable levels in our value chain.
A key focus has been reducing water usage in our own operations. For example, we recently invested in an expansion of our Bolton, Canada factory enabling us to realise a 40% reduction in water use compared to conventional building design.
Looking beyond our direct operations into our supply chain
Whilst making incremental water savings in our direct operations is absolutely the right thing to do – simply using less water cannot solve the problem. The vast majority of water use related to our business sits outside of our direct operations – within our supply chains. Food production requires adequate water supplies for growing crops, with agriculture being 70% of global freshwater consumption.
The impact of water use varies depending on geography and the water source, so it's crucial we understand the impact that our operations and those of our raw material suppliers have on the availability and quality of water. Because of this, we are introducing context-based water targets to help protect and improve water availability and eliminate unsustainable water use.
We are also prioritising our efforts on crops which we, or our suppliers, source at large volumes from watersheds where water is especially scarce, such as parts of Australia, India, Pakistan, Spain and the United States.
And that brings us to rice. A tiny grain that has a huge part to play
Rice is the daily staple for more than 3.5 billion people and total water usage related to global rice farming equates to approximately 40% of the world's irrigation water. The cultivation of rice is the largest footprint of water we have in our business, equating to 50% of our unsustainable water use.
At Mars, we believe the world we want tomorrow starts with how we do business today. As the manufacturer of some of the world's favourite rice brands, we want to be at the forefront of developing and implementing new rice farming practices and creating a more sustainable rice supply chain. This starts with innovation and collaboration.
In collaboration with the International Rice Research Institute, the WWF and UN Environment, we launched the world's first sustainable rice standard under the banner of the Sustainable Rice Platform. Working in partnership with our suppliers and rice farmers around the world, we want to ensure the rice we source is produced in line with Sustainable Rice Platform standards – alongside focussed intervention programmes that make a real difference beyond just 'compliance'.
In India and Pakistan, we've worked with basmati rice farmers to improve farmer education and income, increase crop yields and reduce water use. This programme has provided valuable lessons, which we're now taking to Thailand and Cambodia and also working with farmers in the US and Europe to help them ensure biodiversity is protected alongside rice production.
To mark World Water Day, I'm delighted that we are partnering with METRO AG for the second year running to support One Drop through our Uncle Ben's and Extra brands – a project that aims to provide over a quarter of a million people in India with permanent access to safe water and sanitation.
These are all steps of progress, but we cannot do this alone. Through investment in innovation and collaboration, we must ensure our ambitions and actions extend throughout our value chains and focus in earnest where the water use and water risk are highest.
Water, something so many of us take for granted, is actually in perilous risk around the world. Without action from business, government, and individuals on water stewardship, the impact on our future generations will be immeasurable.
Mars