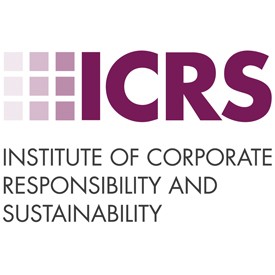 by ICRS
The Institute of Corporate Responsibility and Sustainability (ICRS) is the UK's professional body for everyone committed to responsible and sustainable business.
---
Experts or the Crowd: Who should we listen to?
(16/01/2019 09:49:13)
Future gazing the role of the sustainability profession
(30/08/2018 12:33:14)
Unleashing the next wave of sustainable business leaders
(21/05/2018 10:10:12)
Information overload: In a multimedia world, how do busy CRS practitioners stay abreast of emerging trends?
(01/08/2017 14:02:00)
Times are changing, should the role of CRS practitioner change too?
(31/03/2017 10:17:31)
Want a role in sustainability? Lead from where you are
(05/01/2017 15:05:15)
What did you say again? The lost art of listening
(07/10/2016 14:16:12)
Four things for the sustainability profession to consider in the Brexit debate
(21/06/2016 09:10:00)
Why experience without reflection is just repetition
(06/05/2016 12:26:33)
Does Christmas excess challenge your values?
(09/12/2015 11:14:42)
Curiosity and courage: Why we all have to prioritise time for learning
(05/11/2015 13:41:16)
Sustainability reporting: The skills every CRS professional needs
(07/07/2015 11:51:33)
Achievement amnesia: Why we all need to remember our success stories
(15/06/2015 17:42:20)
Election 2015: Where are all the green policies?
(07/04/2015 11:46:23)
Better together: Why collaboration is more important than ever
(25/02/2015 15:26:31)
Why 'networking' needs a new name
(17/12/2014 09:43:20)
Want to get ahead on sustainability? Get a mentor
(25/11/2014 14:23:05)
Supporting the change-makers
(28/10/2014 16:08:11)
View the Latest?