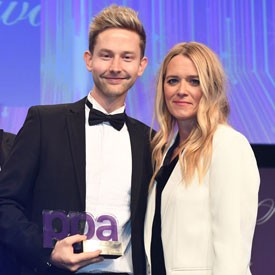 by Luke Nicholls
Luke is the award-winning Content Director of edie, the year-round resource providing energy, sustainability and resource efficiency professionals with the information, insight and inspiration they need to achieve a sustainable future. Luke manages the edie editorial team and oversees content delivery across the edie.net website, all edie events and conferences - including the flagship Sustainability Leaders Forum - and the annual exhibition, edie Live.
---
edie at 20: Is sustainability finally coming home?
(10/07/2018 17:50:57)
Megatrends: The game-changers that are shaping the future of sustainable business
(22/02/2017 09:20:00)
Sustainability Leaders Awards 2017 speech
(26/01/2017 12:41:16)
A brave new era of sustainability leadership
(09/01/2017 12:14:07)
Time to upgrade: Building an operating system fit for the future
(14/09/2016 12:15:11)
The Overshoot Olympics: a world record we must not break
(10/08/2016 11:33:40)
The story of sustainability, green policy and Brexit (in 24 hours)
(06/07/2016 13:14:34)
Life after Brexit: A new road for the green economy, but the destination remains the same
(29/06/2016 12:57:47)
Better together on sustainability, better together in the EU?
(08/06/2016 12:33:13)
Breaking barriers: How to build a circular economy fit for the future
(01/06/2016 12:16:24)
The 'decade of disruption' starts NOW: an edie Live primer
(11/05/2016 13:00:12)
The known unknown of Britain's low-carbon progress
(27/04/2016 10:50:00)
Beyond borders: an international road to the new climate economy
(20/04/2016 11:00:00)
The 'Panama Papers' of effective energy management
(13/04/2016 12:37:54)
Renewable energy investment: a tale of two continents
(31/03/2016 18:57:05)
George's little red briefcase is lacking big green ideas
(16/03/2016 12:00:00)
Life is like a game of Jenga for green building developers
(09/03/2016 12:00:00)
Brexit: Another hokey cokey dance for green business?
(02/03/2016 12:00:00)
Who do you think you are kidding DECC and Defra?
(24/02/2016 12:00:00)
Robot Wars and the circular economy uprising
(17/02/2016 12:00:00)
Are you ready for the new era of sustainable business?
(10/02/2016 12:00:00)
Finding your energy saving 'Opportunity'
(03/02/2016 12:00:00)
Once upon a time: The untold story of sustainability
(27/01/2016 12:00:00)
Please state your (social) purpose
(20/01/2016 12:00:00)
Have we all been talking total, utter nonsense?
(13/01/2016 12:00:00)
Why 2016 could be the best year EVER for sustainable business
(06/01/2016 12:00:00)
One giant leap for mankind: A beautiful, peaceful revolution on the outskirts of Paris
(16/12/2015 12:00:00)
An early Christmas present for the green economy...
(15/12/2015 17:07:11)
Twelve days to save the world
(12/12/2015 12:00:00)
What makes a 'sustainability leader'?
(25/11/2015 12:00:00)
Celebrating our sustainability leaders: the cutting edge of business innovation
(18/11/2014 10:58:01)
View the Latest?