edie Live Mission Possible report launch: Inspiring quotes, key takeaways and the zeronauts
21/05/2019
I was thrilled to have formally launched edie's Mission Possible: 2019 report during a high-level panel discussion at edie Live on Tuesday (21 May). Here, I've rounded up my key takeaways from that session and the report for aspiring sustainability and environmental professionals.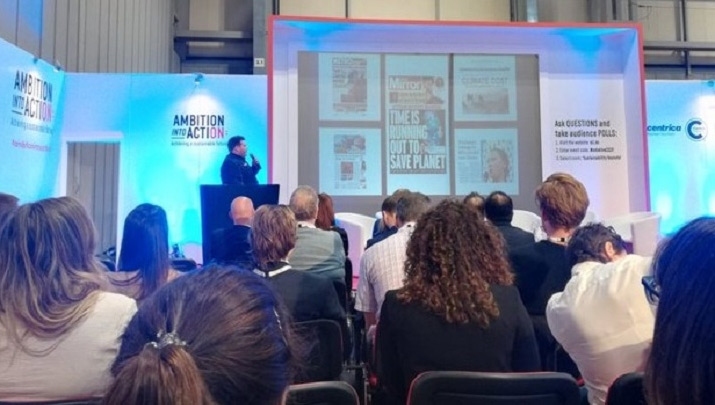 In a session titled Moving from ambition into action with your sustainability strategy, I convened a panel of industry leaders – including Chris Turner from B Lab UK, Jonathan Hampson from Zipcar UK, and Louise Clarke from Berkeley Group – to discuss the key findings of edie's flagship report.
---READ THE MISSION POSSIBLE: 2019 REPORT HERE---
I began the session by relaying three key insights from the report's foreword, penned by revered sustainability leader and former Unilever chief executive, Paul Polman:
"We need to work in far greater partnership. Individual contributions, I'm afraid, are simply not enough. We need to aggregate the aggregators."
"We need to win greater support from the financial community. Recognising right now primarily the risks, investors are starting to move."
"Business needs to step-in and de-risk the process for politicians by creating virtuous 'ambition loops' which encourage bolder action and more stretching targets."
1) Think in 'ambition loops'
Polman's last point about ambition loops leads nicely onto the first of my key takeaways from the Mission Possible: 2019 report, provided by BT's head of sustainable business policy Gabrielle Giner, who said:
"The 'ambition loop' between business and policy makers is driving change. If a company commits to a net-zero target, this sends a demand signal to manufacturers, which makes the government take notice, policy makers will then follow suit, and it enables a sustainability professional to go back to their board and say "we made a really good decision", which in turn incentivises the board to be even bolder and accelerate its targets even further."
This is clearly about how companies can drive government strategy. I think that is a really instructive idea that can help make sustainability policy live in the real world – and make companies proud of their targets. In terms of the 'Ambition into Action' element of this quote – it referred specifically to BT's work on renewable energy, where it sent demand signals to the market and, along with the RE100, was able to create change to the UK's energy infrastructure landscape.
2) Go BEYOND net-zero
The Mission Possible: 2019 report refers to the idea of going beyond net zero. This was posited within the document by Interface's regional sustainability manager, Jon Khoo, who said that companies needed to start looking at producing services or products that are not only carbon neutral, but that are carbon negative.
Interface's example of 'Ambition into Action' in this regard was the production of its own carbon-negative carpet tiles, which actually absorb carbon from the atmosphere.
3) Harness the power of partnerships
Peter Harris of UPS wrote in his piece of the need for greater partnership working as the most crucial element of turning ambitious sustainability goals into tangible action.
Harris specifically referred to a project UPS had with electric vans in London which required partnership working to make it feasible for the charging of the vans. Through creation of a smart grid, and collaboration, the company were able to achieve their goal and charge a large number of vehicles simultaneously.
3) Go all-in...
Ex-Ikea cihief sustainability officer and current chair of We Mean Business, Steve Howard, wrote in the report about companies' requirement to go 'all-in', along with his personal belief in setting 'total' targets.
Howard said: "I am a big fan of 100% targets as they create complete clarity around the future you are committing to."
It is this idea of going 'all-in' which ultimately undepins collaborations – there is a great example from Carlsberg in the report – setting ambitious targets, getting the board to buy-in, and indeed getting the whole company to buy-in.
The 'zeronauts' panel discussion
Today's panel discussion – which also included Martin Gettings from Canary Wharf Group and Andrew Donald of Centrica Business Solutions, our Mission Possible report sponsor – concluded that businesses as a collective must be more ambitious if we are to provide the 'climate emergency' response that's needed.
There was general agreement that the net-zero target of 2050 needs to be made more ambitious, with B Lab's Turner stating that this date was still "a long way away" and that "we would not know what the world would look like then".
Hampson of Zipcar agreed, adding that – through engagement with consumers and the general public – carbon reduction targets could be brought forward. And Donald of Centrica Business Solutions added that the current success stories – as demonstrated throughout the Mission Possible report - show that new actions are being taken and could be scaled-up.
You can read the full Mission Possible report here.
James Evison