edie's Mission Possible Thinkathon 2019: What it taught me about sustainable business
06/03/2019
There is a relatively new process that is shaking up the way organisations create and test new ideas - the design sprint.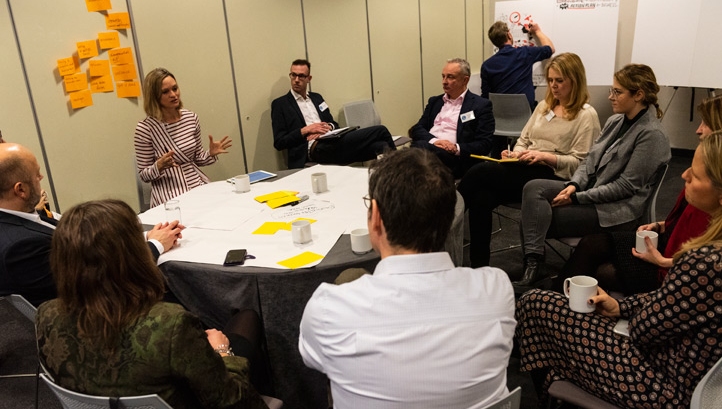 Developed by Google to align teams under a shared vision with clearly defined goals and deliverables, design sprints solve problems through ideation, prototyping, and testing ideas with specifically targeted users. The acclaimed success of the framework has triggered the interest of sustainability and energy professionals alike, who are searching for tools and techniques to embed innovation into their work.
It is this design sprint model that has been embraced by edie over the past couple of years, as we seek to help our sustainability and energy members think outside of the box and identify radical new solutions to key challenges.
It began at last year's Sustainability Leaders Forum, where edie and Cranfield University held an invitation-only workshop for some of the event's speakers over two sessions. The purpose of that 2018 workshop was to 'co-create the sustainable business of the future'. The session was led by a professional facilitator, and a graphic-recording partner, who was also on hand to provide visual coverage of the key points made across both workshop sessions.
Participants came to the conclusion that the 'sustainable business of 2030' would be: caring, adaptive, circular, transparent, regenerative, working towards re-defining value, communal and local, following diverse ownership models based on shared use and experience, and thinking of people as citizens, not consumers.
So, we had built up a decent understanding of what the sustainable business of the future must look like, but how are we going to achieve that future, today?
Introducing the 2019 Thinkathon
The 2019 edition of the Sustainability Leaders Forum, which took place on 5-6 February, was all about turning ambition into action. The event offered an ideal opportunity, therefore, to revisit the design sprint process with this audience of sustainable business decision-makers – again with the support of Cranfield University.
Based on the 'Business Leadership' pillar of edie's Mission Possible campaign, we decided to host a 'Thinkathon' which explored the essential elements of leadership in the context of environmental, social and economic sustainability. From purpose and values and collaboration through to systems thinking and behavioural change, the Thinkathon brought together a select group of around 15 sustainable business leaders, external thought-leaders and industry experts to co-create a new paradigm of business leadership.
Over the two sessions, this group mapped out exactly what business leadership looks like, and – crucially – what role edie's core audience of sustainability and energy professionals can play in adopting that leadership position. Participants sought to collectively identify the essential attributes of business leadership in the context of the Sustainable Development Goals (SDGs); and to develop a roadmap for corporate leadership through to 2030. They were also tasked with identifying the roles, responsibilities and abilities that must be held by edie's core audience of sustainability and energy professionals in order to steer their organisations to sustainability success.
The sustainability leadership challenges...
Workshop participants came together on Day One of the Sustainability Leaders Forum to map the system of leadership and look at what is holding it in a wrong place.
Participants agreed that:
There is a general lack of diversity in leadership positions
It is often too complex to demonstrate the value of a sustainability-first approach to all stakeholders
Businesses, on the whole, continue to prioritise convenience over accountability
There are no clear rewards for sustainable business leadership
A conflict exists between short-term incentives and longevity and wider purpose
... Businesses often lack an actual 'purpose' or true meaning
Many organisations have become too large and unwieldy to make necessary business model adjustments in good time
Legislation can lag behind and, when it comes, it is often too narrow-minded
With these challenges this in mind, Thinkathon participants were asked to consider what exactly could be done to empower sustainability professionals to create the business leadership needed to right the system. Specifically, which areas in the map can the edie community get involved in to help solve these problems?
"Let us learn your stories, good or bad"
It was broadly agreed that the desired future state for sustainable leadership is one in which every individual in every organisation is incentivised and/or rewarded for adding both long- and short-term value. Participants suggested that giving employees rewards that generate a long-term positive effect can prove invaluable for maintaining momentum within a business and ensuring that staff remain focused on goals – so long as it is done in the right way.
The group then looked for a moment at the role of edie. There was a call to action around bringing together interested parties within the edie community to share best-practice on organisation-wide KPIs and metrics. Some members of the group expressed a particular interest in participating in a new cross-sector business network where sustainability professionals can collectively chart successes and share knowledge. This would enable the edie community to highlight the companies who have led the way and understand the metrics which were used to define success, it was agreed.
Consequently, this network could help develop something of a 'Gold Standard' for sustainable business leadership. This could, in turn, lead to the development of a 'roadmap' to clearly illustrate the steps needed for any organisation to achieve such a standard.
Building effective collaborations
The second big focus area of the Thinkathon centred on the need for sustainability professionals to work closer together and more effectively to understand the key features of successful business collaborations. The group felt that this encapsulated the difference between leaders of today, and leaders of sustainability.
In particular, the Thinkathon participants agreed that businesses should look to move through the below process when looking to drive forward with any area of sustainability:
Identify and understand the problem
Acknowledge that the problem, in almost all cases, is

bigger

than any single organisation. But also hold this as an opportunity, not a threat to be ignored or shutdown
Seek, build and lead a collaboration that systemically solves the problem
It was suggested that edie could conduct a series of interviews with sustainability leaders looking at modelling behaviours, creating a model for how these leaders do what they do. This would be followed by a working group meeting for those who wanted to be part of this conversation, to decide how best to make use of the model within the wider community. The facilitator of the Thinkathon concluded that this approach would allow deep insight into how these individuals produce such great results; how they navigate all the challenges, and how sustainability professionals might both model these behaviours and also explain this new form of leadership to the leaders within businesses.
Concluding remarks...
The group concluded that sustainability professionals can only go so far themselves in acting to deliver a sustainable future. It was agreed that, for sustainable business leadership to become a reality in the future, support must be drawn on from key stakeholders, namely consumers, policymakers and investors.
And for edie, with our own wealth of regulatory and investor knowledge, we ourselves have realised that we can act as a go-between with policymakers and the investment community, bringing these actors closer to the needs and desires of individuals within the corporate sustainability profession.
George Ogleby